For Sale: 1986 Honda NS400R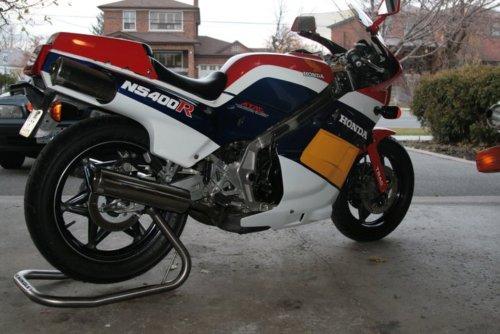 Take a moment to ponder those lucky Canadians. Long recipients of bikes never considered for import into the US, the "neighbors to the north" continue to be the source of some great machinery. In this case, a rare '86 NS400R V-3 two stroke. Today's bike is a clean looking example of the breed, with stock pipes and recent service.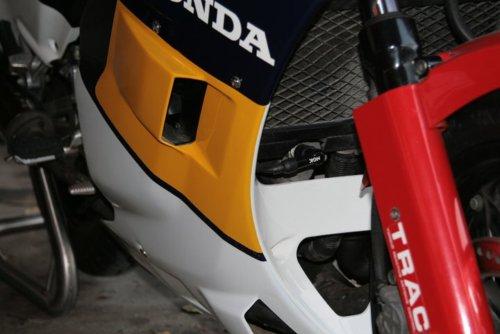 From the seller:
Up for auction is a 1986 Honda NS400R. Honda's biggest 2stroke street bike. The bike is take on Freddie Spencer's 1983 world championship winning NS500 triple. It is a 387cc V3. I have a clean title in hand.

The bike will need new tires. There are a few paint chips that have been touched up. The carbs were serviced by Rocket Cycle here in Toronto, ( NOT CHEAP ). The coolant was changed in October and the bike went into storage in November. I didn't ride the bike much this past summer only a handful of times, just to keep things moving. Its a fun little bike that does gets quite a bit of attention. It was a rare bike in 1986 because it was expensive when compared to what other bikes were being sold for. I believe they sold about 405 of these bikes in Canada. None were shipped to the US, but I did see one at the Barber Museum in October , when I was there for the RG gathering.

As there was a ban on tobacco ads back in the mid 80's, the Rothman's livery was not available in Canada. So the bike was only sold in the HRC scheme. It was a sweet looking bike back then and still looks good today. The comstar wheels really compliment the look of the bike.

The bike will be sold as seen. I will include the service manual which was hard enough for me to get. The infil part that sits behind the passenger seat will also be included, as will the chrome tie down hooks. They are not on the bike now because I don't like the look of chrome on this bike.

I bought this bike because I liked the look and mystique of this unusual bike, but now its time to move on. It was respectfully ridden and never abused.

Winning bidder must arrange there own shipping. I can deliver the bike up to 100 kms free of charge.

There is NO warranty implied, expessed or otherwise. It is a 25 year old USED bike. The bike is being sold as is. Pickup from my home is welcome. ASK ALL QUESTIONS BEFORE YOU BID.
The seller, who also has a Yamaha RZV500 (now sold) and Suzuki RG500 Gamma (not for sale), has offered a few videos of the NS400. Enjoy the popcorn sound of two strokes!
This video does not have the greatest sound, but it sure is nice to see these bikes out on the road – and it would be even better if those roads (and bikes) were in the US….
The starting bid for this Japanese-Canadian beauty is a cool $5,000 US. With 22,000 miles on the odometer, this is not a new, low miles bike. On the other hand, it has been ridden and appears in reasonable condition. I suspect the lack of a US title will impact the sale, but perhaps some savvy RSBFS reader can clue us in on how hard it is to import one of these beauties.
The auction is on now, and waiting for you to .
MI