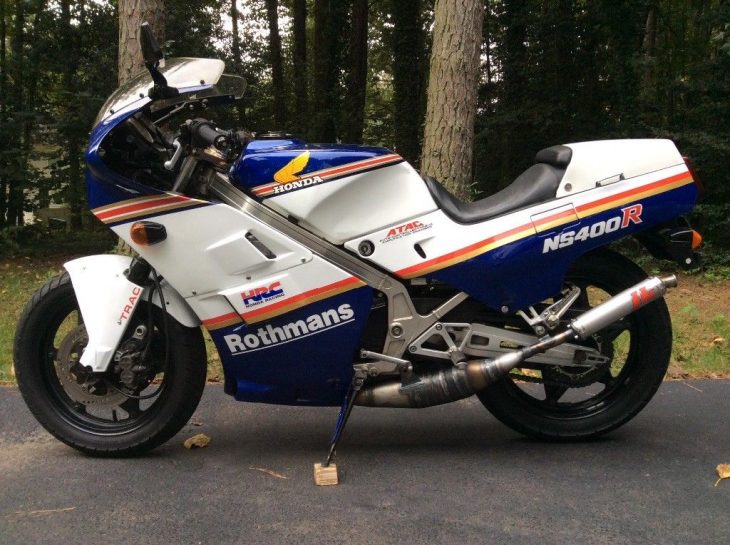 Not too long ago, all kinds of weird and wonderful sportbikes from the mid-1980s were available for reasonable sums. Until recently, they weren't really old enough to be considered classics in terms of styling, and they weren't even close to modern machines in terms of outright performance or handling. It probably didn't help much that they're just plain weird to modern sensibilities: consider Honda's NS400R, with its two-stroke V3, anti-dive forks, odd middle-of-the-road displacement, and the slightly awkward, upright styling common to bikes of the era.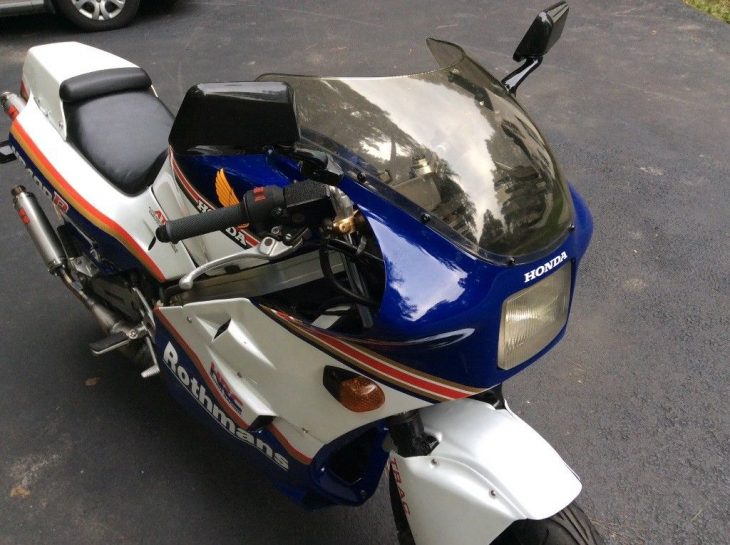 The 80s saw the Japanese brands finally come into their own and race and showroom success, combined with a strong economy, saw experimentation across the industry. Not all of it worked, of course, but that's beside the point. The bodywork of the NS400R seen here hid a liquid-cooled, 90° two-stroke V3 engine meant to evoke Honda's Grand Prix racing machines that used a similar configuration. The bike featured a six-speed gearbox, Honda's ATAC powervalve system, electronic ignition, TRAC anti-dive forks, a Pro-Link rear suspension, Comstar wheels, and radial tires that were considered very cutting-edge at the time.
Weight was very light, at just a shade over 400lbs wet and the bike's claimed 72hp means performance is a match for the RG and RZ, in spite of the NS400R displacing just 387cc. Why the smaller displacement, when an NS500R would have made for a more authentic Grand Prix experience? Well, regulations in the bike's home market meant significantly increased costs for 500cc machines: Suzuki actually sold an RG400 for Japanese two-stroke fans, and Yamaha detuned their RZ500 to meet power restrictions. Faced with the prospect of a detuned 500 or the need to sell two different models, Honda simply created one, very refined machine with their NS400R, but the perceived performance deficit hurt sales.
It's a shame: handling was superlative and the bike is often mentioned as a forgotten gem of the era. Of course, prices for bikes like the Suzuki RG500Γ have been rising rapidly over the past few years, dragging Yamaha RZ500 prices along with it, and the NS400R has been sucked into their wake. Two strokes are long dead and gone, and fans of smoky, lightweight sportbikes have been snapping them up quickly, especially really nice, low-mileage examples like this one.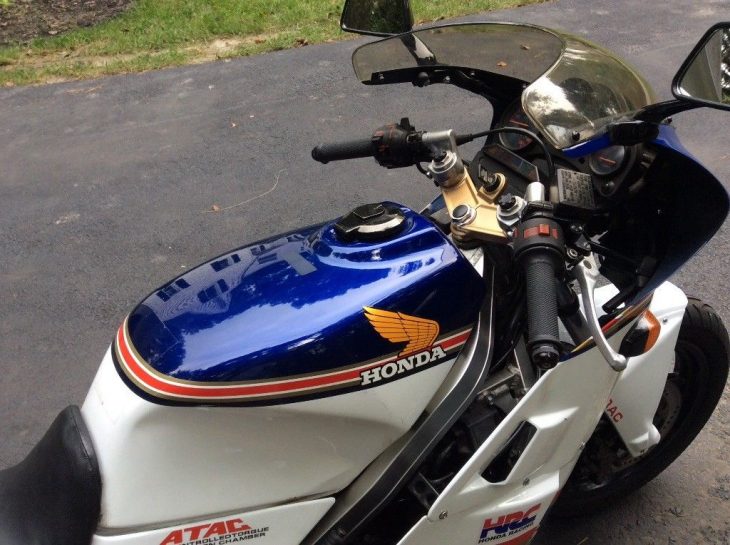 From the original eBay listing: 1985 Rothmans Honda NS400R for Sale
Very nice condition. Runs great. 1509 original miles [2429 kilometers]

This is not 100% OEM. The two main items that are not OEM include the:

Bodywork: brand new aftermarket bodywork (OEM bodywork included)
Brand new Jim Lomas expansion chambers (OEM exhaust included).

Carbs ultrasonically cleaned, rebuilt and jetted. Also synced with Motion Pro carb balancer.

When fitting the Lomas chambers I pulled the cylinders to inspect them. No issues and still see cross-hatching in the Nikasil.

New base and head gaskets and ATAC gaskets.
New clutch (metal and friction plates)
New chain/sprockets 
New air filter
Fresh antifreeze
New spark plugs
New rubber boots from air box to carbs
Rebuilt fuel petcock
New regulator rectifier
Tires are in great shape

Everything works like it should. No leaks at all.
I'd be curious about the condition of the original bodywork, if it's not the stuff in the picture shown off the bike. If it was an original Rothmans, why the replica bodywork? I'm not implying anything shady on the part of the customer. Honestly, I've said forever that if I got something weird or rare, I'd personally source aftermarket panels and paint them up, then store the originals safely away, but it's not clear that this is what the seller has done. Either way, it looks damn nice, and the seller helpfully includes a recent video of the bike. And, while the NS400R was sort of languishing, forgotten and a bit unloved compared to the Gammas and RZs for a while there, prices have begun to move steadily upward, and the seller is asking a $7,700 Buy It Now price for this one.
-tad