For those readers of a certain age, the 1980s were an amazing time to ride. Motorcycles were making quantum leaps in terms of performance, and technology was reshaping the design elements that we take for granted today. Take for example this wonderful 1986 Suzuki GSX-R1100. Only two years previous one of the top dogs of the sport bike world was the GPz1100 – an air cooled, two valve per cylinder dinosaur that had became technologically extinct. And while Honda went full bore into the world of liquid cooling (along with a size and weight penalty), Suzuki gambled with an innovative solution of air/oil cooling, saving precious weight and creating the lightest of the heavyweight hitters.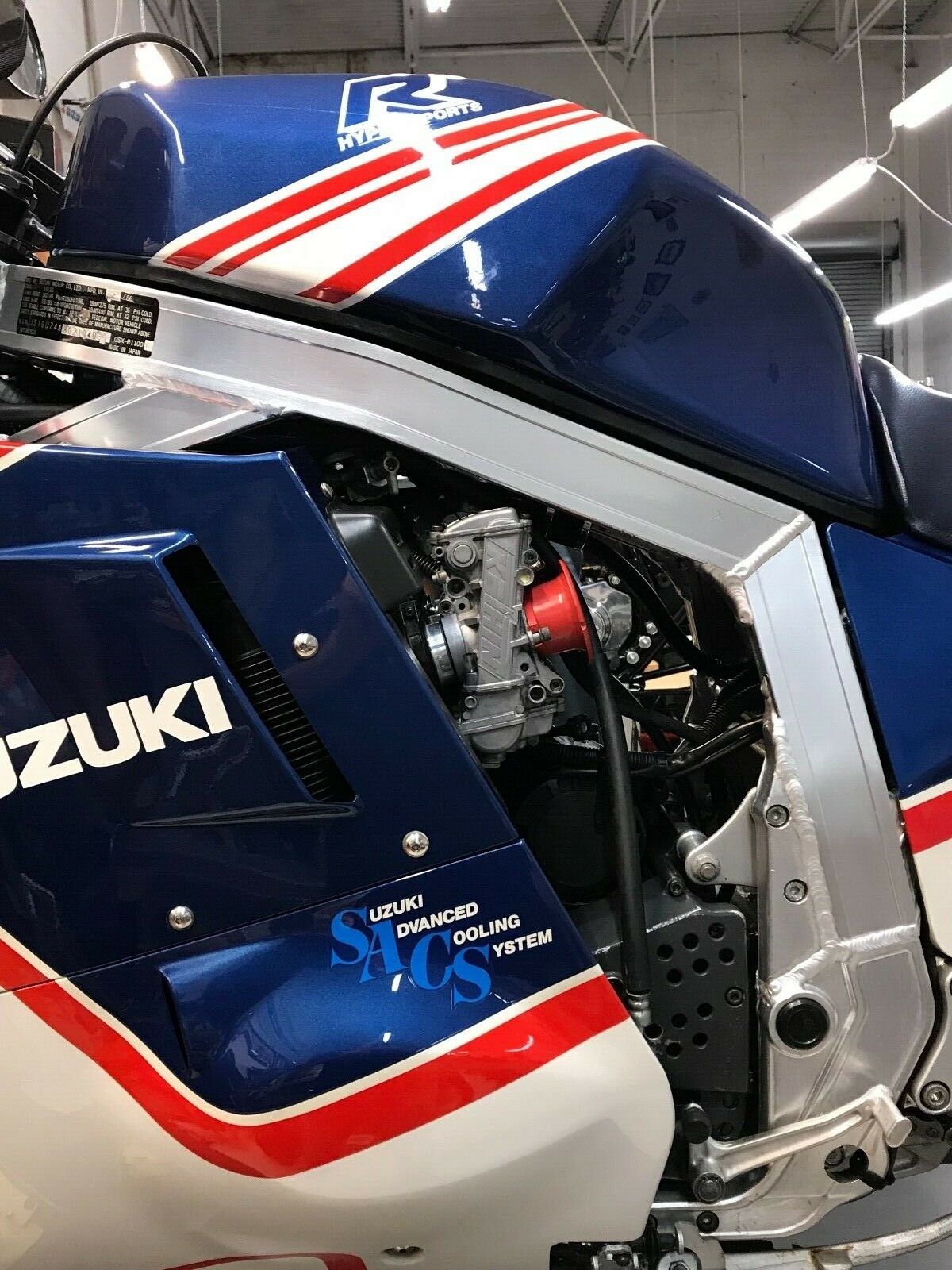 The Suzuki Advanced Cooling System (SACS) employed two oil pumps, an enlarged sump to hold additional oil, and an oversized oil cooler. By employing the engine oil as both a lubricating medium as well as a cooling source Suzuki reduced the complexity of the GSX-R while also reducing weight. And this was no accident: Suzuki experimented and developed the concept in the revolutionary (and rare) XN85 Turbo. A close look at the early GSX-R engine cases and heads show the same fins as utilized by air-cooled motors, this being used as a secondary form of cooling (and both free and lightweight). The rest of the motor was closely based off of the original GSX-R750, but with larger bores and various changes to handle the additional stress. With four valves per cylinder fed by four Mikuni flat slide carbs, the big Gen I Gixxer offered 125 horsepower through a 5-speed transmission. That was enough for high 10s in the quarter and a top speed in the 155 mile per hour range. Heady stuff indeed.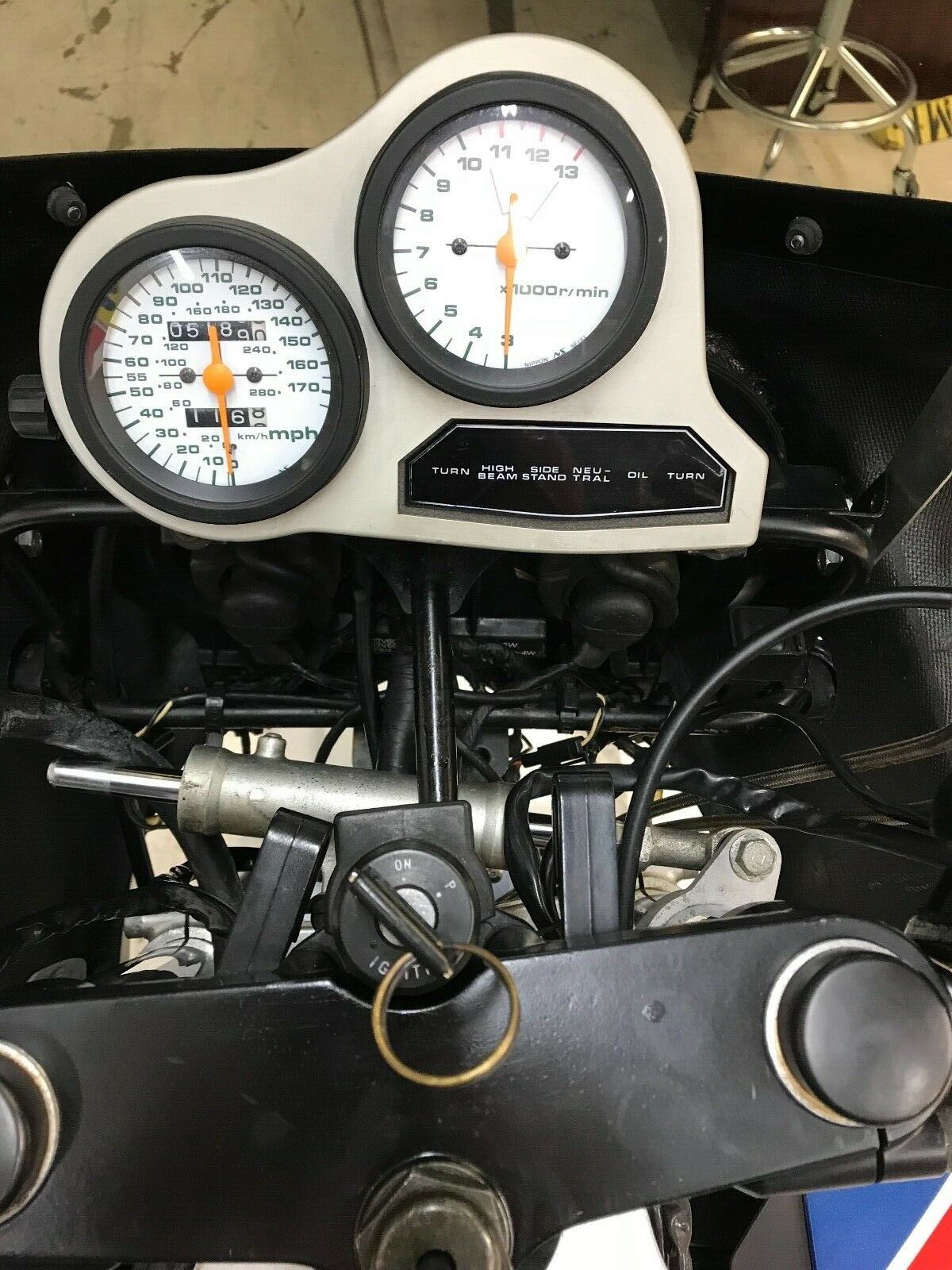 From the seller:
COMING OUT OF MY PRIVATE COLLECTION IS MY 1986 SUZUKI GSX-R 1100. THIS BIKE HAS BEEN CUSTOM PAINTED A FEW YEARS BACK IN 1987 SUZUKI BLUE AND WHITE WITH AN ADDED RED STRIPE. THE PAINT WORK WAS DONE TO MUSEUM QUALITY STANDARDS BY THE PREVIOUS OWNER IN BIRMINGHAM ALABAMA. THE BIKE WAS ONE OF THE HIGHLIGHTS OF HIS COLLECTION UNTIL I ACQUIRED SOME YEARS BACK WHEN HE STARTED SCALING DOWN HIS AMAZING MINI MUSEUM.

THE BIKE WAS SET UP FOR A SLIGHTLY MORE UPRIGHT SEATING POSITION BY ADDING VINTAGE PERIOD CORRECT CLAMP-ON RISERS, RAISING THE BARS 60 MM. TO FURTHER ACCOMMODATE THE RISERS THE FRONT UPPER COWLING IS ALSO SLIGHTLY TALLER. IT IS A PERIOD CORRECT FIBERGLASS UNIT THAT FITS LIKE AN "OEM" COWLING. THESE 2 MODIFICATIONS MAKE THE BIKE MUCH MORE ENJOYABLE FOR US NOT 25 YEAR OLDS TO RIDE. THE 2 MODIFICATIONS COULD EASILY BE CHANGED BACK TO FACTORY STOCK. I HAVE EXTRA "OEM" CLAMP-ONS AND COWLINGS.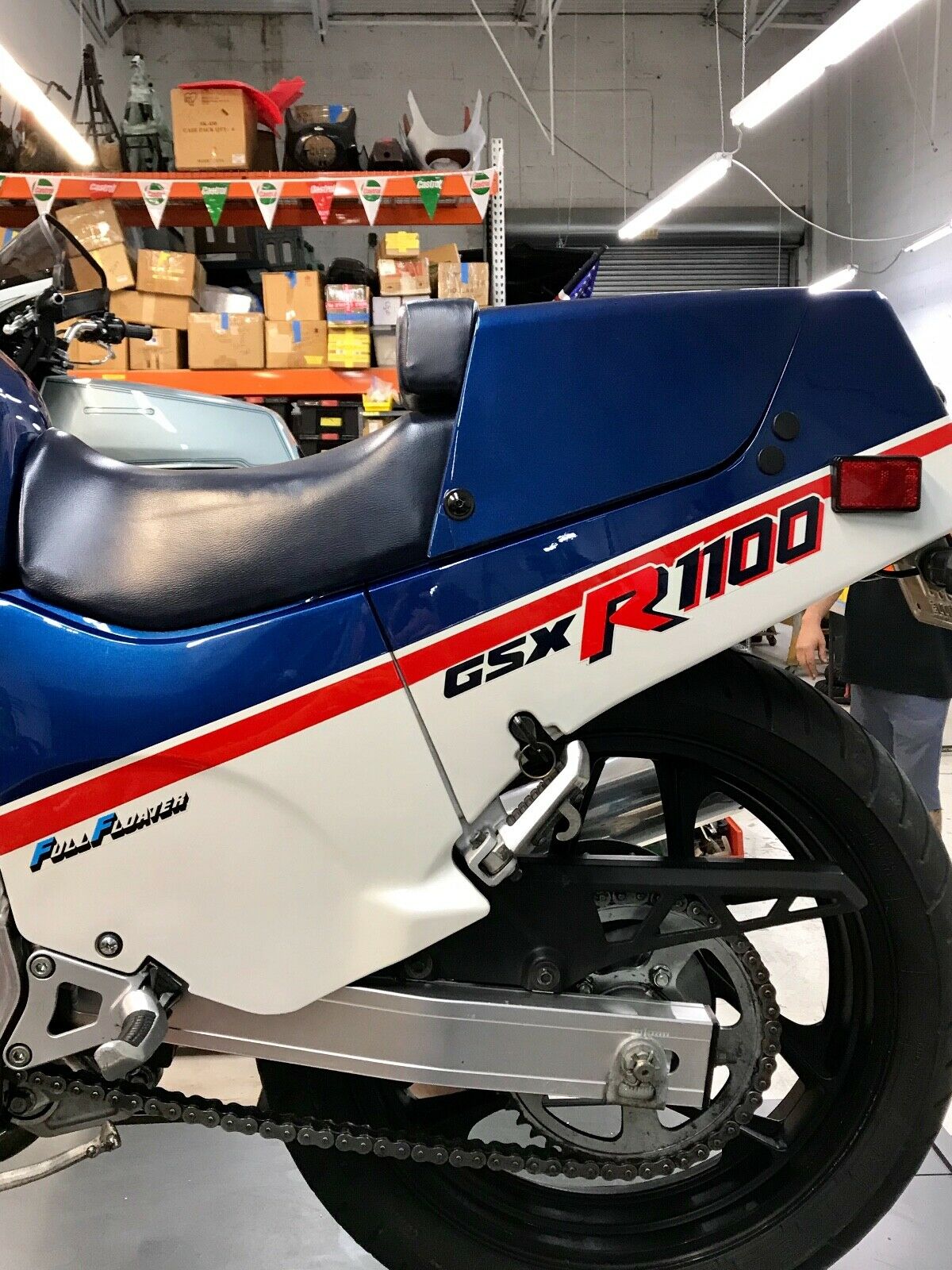 More from the seller:
THE ENGINE IS STOCK WITH THE ADDITION OF AN AMAZING SET OF 40MM KEIHIN CR FLAT-SLIDE CARBURETORS THAT MAKE THE ENGINE COME ALIVE. ALSO ADDED WAS AN IGNITION ADVANCER. THE ENGINE PERFORMS WITH AMAZING RESPONSE. IT IS IN NEAR PERFECT CONDITION COSMETICALLY AS THE ENGINE PAINT IS ALL ORIGINAL AND WELL PRESERVED.

THE FRAME IS IN AMAZING ORIGINAL CONDITION WITH NO BLEMISHES TO SPEAK OF. THE WHEELS ARE ALL ORIGINAL AND IN AMAZING SHAPE. SHE IS SPORTING A PAIR OF METZLER LASERS. STEEL BRAIDED BRAKE LINES HAVE BEEN ADDED TO IMPROVE BRAKING. THE SEAT IS ORIGINAL WITH NO RIPS AND HAS THE VERY HARD TO FIND SOLO SEAT COWL. THERE IS A SMALL REPAIR ON THE SOLO SEAT COWL. THE BIKE HAS A PERIOD CORRECT D&D EXHAUST IN PERFECT CONDITION. THE INSIDE OF THE TANK IS RUST FREE.

I JUST REBUILT THE CARBS AND SYNCED THEM. INSTALLED A NEW BATTERY, REPLACED THE SPARK PLUGS, OIL AND FILTER, AND FLUSHED NEW BRAKE FLUID THRU. SO THE BIKE IS READY TO BE DISPLAYED OR ENJOY RIDING HER. THE BIKE IS AVAILABLE WITH A RED SEAT INSTEAD OF THE BLUE ONE IF THE BUYER PREFERS. I HAVE A FEW PICTURES SHOWING HOW THAT LOOKS
More from the seller:
THIS BIKE IS SET UP JUST AS MANY OF THE 86-87 GSX-R 1100's WERE BACK IN THE DAY. I HAVE BEEN FIXING, RIDING, RACING, AND RESTORING BIKES SINCE BEFORE GRADUATING FROM AMERICAN MOTORCYCLE INSTITUTE IN DAYTONA BEACH FL. IN 1980. I HAVE 6 OF THESE SO TIME TO PART WITH THE NICEST ONE FIRST.

DON'T MISS OUT ON A VERY SPECIAL PART OF HISTORY THAT WILL APPRECIATE EVERY YEAR.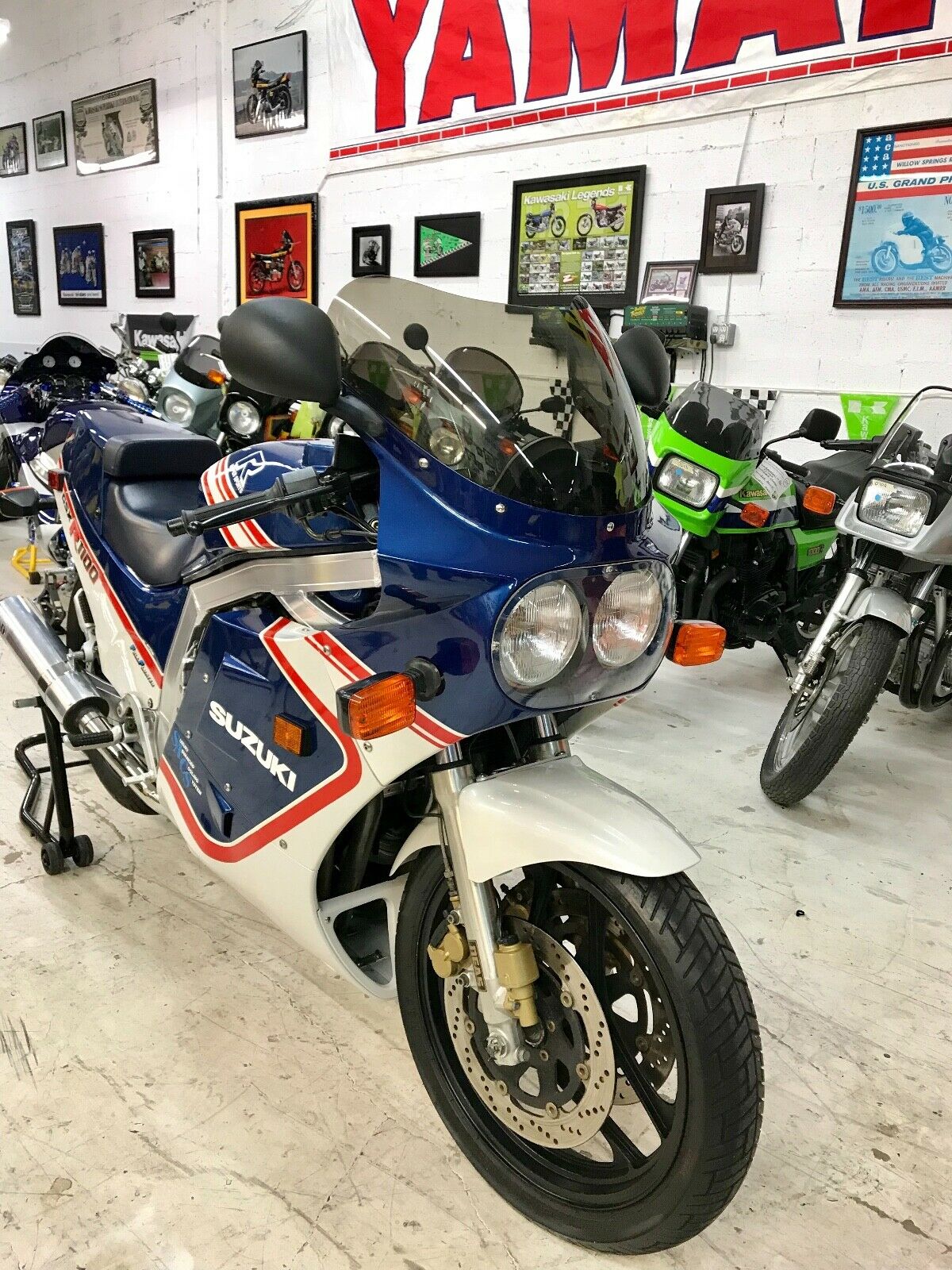 While the GSX-R750 blazed the trail, the GSX-R1100 followed with subtle changes. The overall dimension of the bike was necessarily bigger. However the aluminum square-section frame was similar (thicker walls and different dimensions in critical areas) during a time when aluminum was space-aged, magical and mysterious stuff. The Full Floater single shock rear suspension was a massive upgrade over twin shock designs, and offered rebound adjustment and an eccentric rising rate linkage. Up front the 41mm forks offered electrically operated anti-dive which was a decided improvement over hydraulic units. Tires on both ends were 18 inchers, the trendy GP 16 inch hoops blessedly a thing of the past. Bodywork was straight off the starting line of an Endurance event, with large, flat side sections and dual headlamps (a massive distinguishing element back then). The four into one exhaust signaled the sporting intent of this machine, as did the triple disk brakes (twin four piston calipers up front, a dual piston caliper out back).
The early GSX-Rs are often referred to as "Slabbies" given the slab-sided nature of the bodywork. They are instantly recognizable and have become tremendously collectible. This particular example shows only 5,100 miles on the clock, and is extremely well kept. Many of these bikes found their way to the race track (these were fantastic club racers, along with the 750), or were thrashed, crashed and sold – repeat cycle as necessary. And while today's bike is not wearing original paint, the paint that is there is attractive and subtle – looking close to a stocker, but with a little extra class. The rare solo seat cover is color matched. There is an upgraded pipe installed as well, making this a period correct and clean Slabbie versus a 100% original and NOS stocker. But that needn't be a negative, as those who ride are more concerned with a clean and functional bike than a collectible garage queen. This is about as clean a Gen I rider that you could hope to find, has a cool history as described by the owner, and is near enough to stock to pass off as a wonderful example of the breed. Check it out here and drool over the pictures. These Gen I bikes are becoming more difficult to find; if you've been looking, it might be time to act. Good Luck!!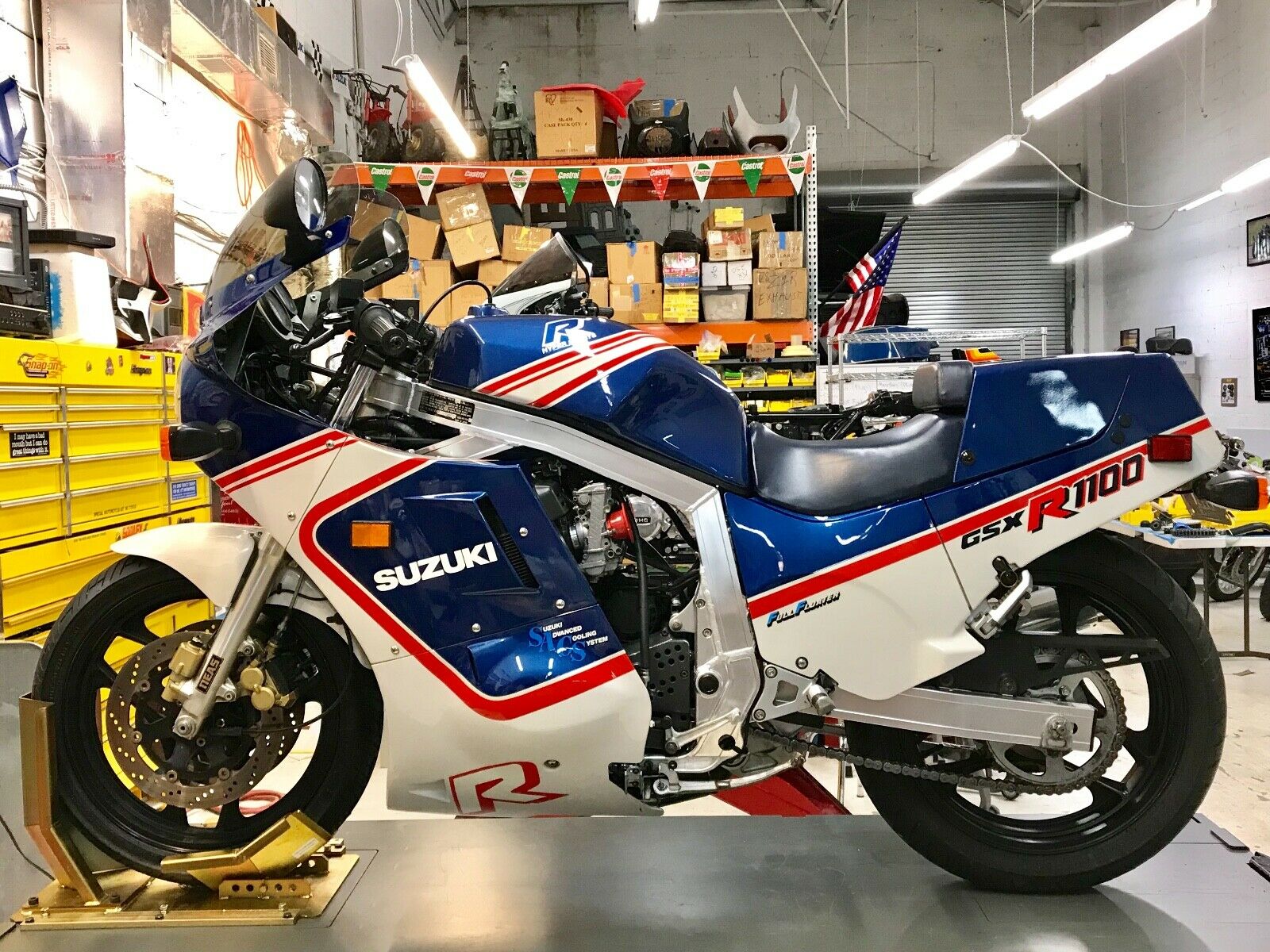 MI