Warning!
This post is in our archives. Links in this post have been updated to point to similar bikes available to bid on eBay.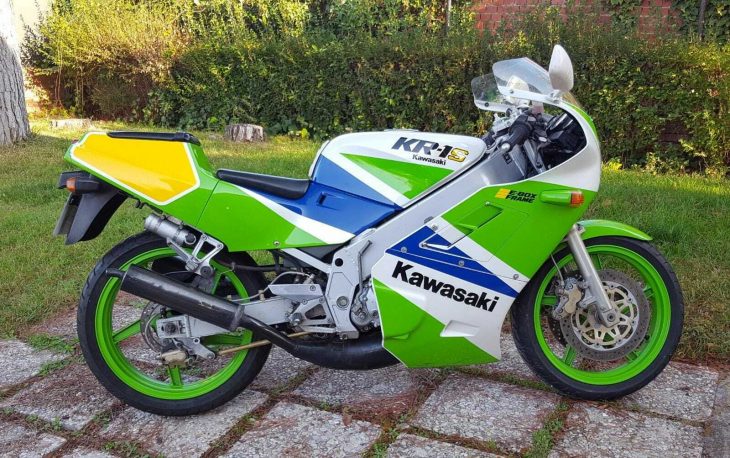 The entire class of 250cc two-stroke sportbikes has alwasy been forbidden fruit for US-based sportbike enthusiasts. The last real road-burning stroker was the RZ350, a bike that can certainly hang with much more modern machines and punch well above its weight, but the 18" wheels and bikini-fairing mark it out clearly as a bike from a much older era. In recent years, it's become pretty common to see NSRs, RGVs, TZRs, as well as the much less common Kawasaki KR-1S up on eBay, as importation laws here allow bikes and cars older than 25 years to be brought in and used on the road, although state laws regarding actual registration vary wildly.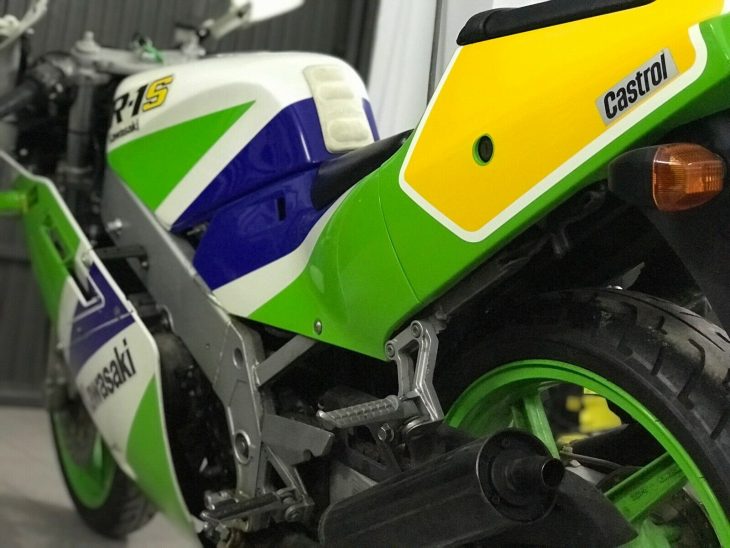 Overseas, and especially in their home market of Japan, the quarter-liter sportbike class was hotly contested and although, in principle, a two-stroke is mechanically relatively simple, these little machines ended up being at the cutting edge of motorcycle design, as each manufacturer tried to eke out any small advantage over the others. But despite Honda, Suzuki, and Yamaha's serious interest in small two-stroke sportbikes, Kawasaki chose to mostly sit the whole thing out, producing just 10,000 KR-1s during the entire run from 88-92, and the bike saw no significant updates during four years of production, nearly an eternity by standards of the class.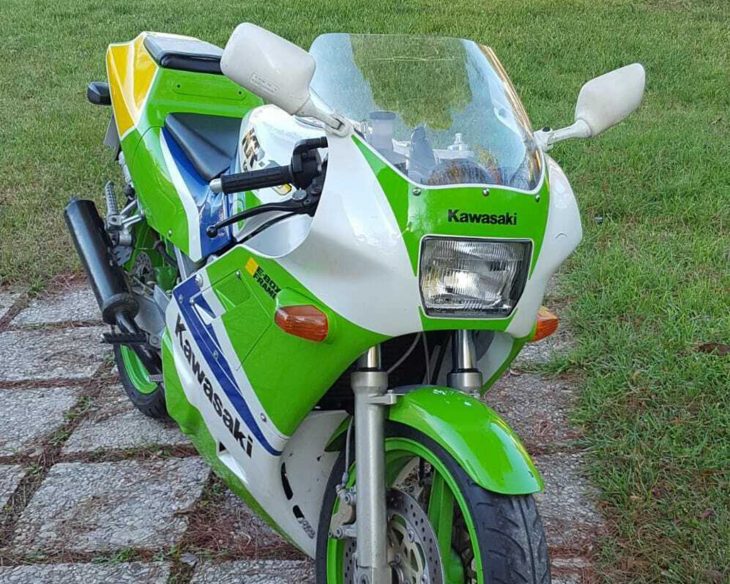 Maybe that's because they got it very right the first time, and the bike certainly wasn't lacking performance, with a class-topping 139mph tested top speed from a KR-1S. It was fast, with excellent, if slightly twitchy, handling. Claimed weight was 270lbs dry, and the liquid-cooled, 249cc parallel-twin slung beneath the aluminum beam frame made the expected… 45hp, as required by Japanese regulations, although it was obviously capable of much more and was highly tuneable. A six-speed gearbox helped riders make use of the available power and a KIPS powervalve system helped make the available power a bit more accessible.
Three versions of the bike were produced, the KR-1, KR-1S seen here, and the extremely rare KR-1R. The S model had wider wheels at both ends, compared to the regular KR-1 and, unlike other bikes in the class, the R model didn't feature magnesium wheels, a dry clutch, or much else in the way of fancy accessories, although it did have larger carburetors and a close-ratio gearbox. Just a few hundred were supposedly produced.
Note that the bike is currently located in La Chopera, Spain, so be prepared to deal with shipping if you're not currently enjoying your vacation home in Madrid…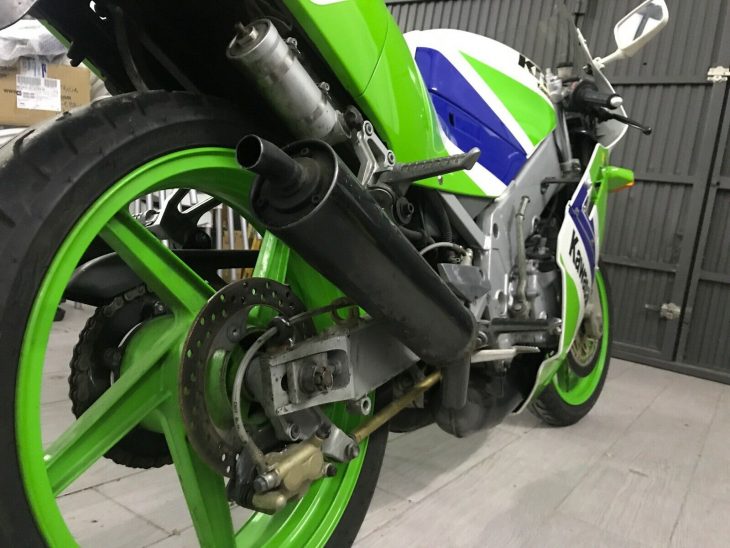 From the original eBay listing: 1990 Kawasaki KR-1S for Sale
"Well preserved. Some minor scratches and fairing defects."
The seller also includes the usual copy/paste specifications, if you're interested, although some history might be nice. Has it been serviced? Is it ready to run? Good information to have, since parts for these are pretty scarce, considering the age and low production numbers. There's not much time left on the auction, and bidding is only up to $2,550, so maybe take a chance and see if he'll take a lowball offer?
-tad