Warning!
This post is in our archives. Links in this post have been updated to point to similar bikes available to bid on eBay.

For Sale: 1984 Kawasaki Ninja ZX 900 A-1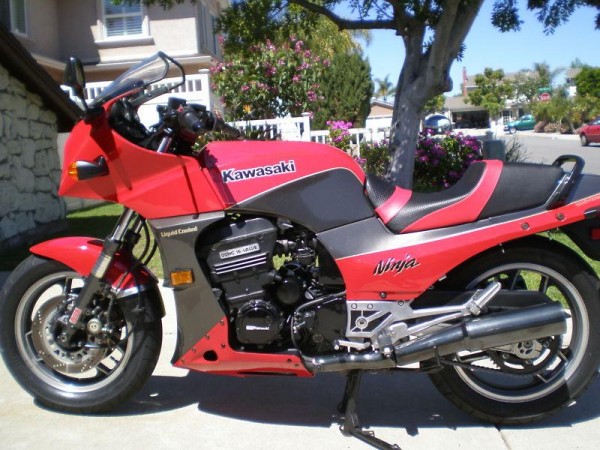 It seems to be classic bike month here on RSBFS, and I am not complaining one single bit! For example, check out this VF1000R or the other VF1000R posted just this week – great stuff indeed. And don't forget to scoll down through the older posts if you haven't been to visit us in a while; you just might have missed this classic FZR1000, or this wonderfully preserved GS1150ES. Of course there are also great classics posted over on CSBFS as well. The 1980s were significant years for motorcycle manufacturers, and many revolutionary bikes were produced during this decade.
Of all the bikes of the era, however, the 900 Ninja of 1984 was the first real revolutionary move in the sportbike wars. For until this time, liter-class sportbikes grew bigger in size and weight as they gained additional cubic centimeters. When this 750-sized 900cc liter-bike killer was released, it replaced the contemporary big sportbike of the day: the company's own air-cooled, two- valve GPz 1100.
With the Ninja, Kawasaki simultaneously introduced liquid cooling, a four-valve head, and a way of packaging the engine and transmission components that dramatically reduced the width of the bike. This allowed for much tighter packaging overall, significantly reducing the size of the motorcycle. While the arms race of size and weight continue to this day, the original Ninja was a milestone step along way.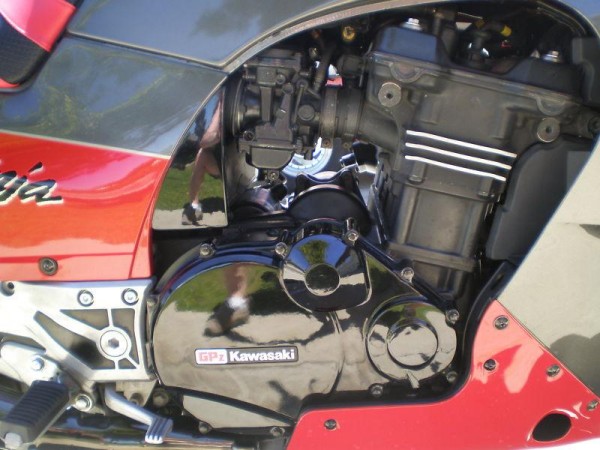 From the seller:
FOR SALE A CLASSIC 1984 NINJA IN PERFECT LIKE NEW MINT CONDITION.THIS BIKE IS A 10,I AM THE 3RD OWNER OF THIS BEAUTIFUL ALL ORIGINAL STOCK 900 NINJA.I BOUGHT THIS FROM A COLLECTOR THAT WORKED FOR KAWASAKI FOR OVER 30 YRS AND CAME FROM HIS STORAGE AFTER 20 YRS IN STORAGE.I SERVICED THE BIKE AND SPENT A GOOD DEAL OF $$$ GETTING HER BACK TO PERFECT RUNNING ABILITY.THIS IS A ABSOLUTE STOCK MACHINE AND IS IN PERFECT RUNNING AND SHOW CONDITION.YOU WILL NOT FIND ANOTHER CLASSIC BIKE LIKE THIS IN THIS CONDITION,IT IS IMPOSSIBLE,UNLESS YOU GET THIS TYPE OF BIKE FROM THE KAWASAKI MUSEUM IN JAPAN OR I KNOW OF A COLLECTOR IN ORANGE COUNTY CA THAT HAS THE VERY FIRST NINJA 900 A-1 IMPORTED TO THE USA AND HIS FRAME NUMBER IS 1.GO AHEAD LOOK AROUND THE WORLD YOU WILL NOT FIND ONE AS IN ORIGINAL CONDITION AS MINE.THIS BIKE IS PROBABLY THE # 3 IN THE TOP SPOT.ABOUT THE BIKE : SHE HAS NO SCRATCHES DENTS,DINGS OR FLAWS OF ANY KIND.LOOKS LIKE YOU WENT BACK IN TIME 27 YRS.

LOOKS LIKE IT WAS JUST ROLLED OFF THE SHOW ROOM FLOOR AND THAT IS WHAT THIS BIKE IS,SHOW ROOM CONDITION AND ROAD READY.THE BIKE LOOKS AND RUNS JUST LIKE NEW.NO EXSPENSE WAS SPARED GETTING THIS BIKE READY AND OPERATIONAL AND RUNS PERFECTLY AND IS STILL VERY FAST AS IT WAS DESIGNED TO BE WITH GREAT HANDELING AND RELIABILITY.ORIGINAL SEAT COMES WITH THIS PURCHASE AS DOES THE ORIGINAL BIKE MANUAL AND ALL RECENT RECIEPTS.THIS IS A CLASSIC MOTORCYCLIST DREAM.IN THE FUTURE THIS BIKE WILL EASILY BE WORTH 15 OR 20 GRAND AS THEY ARE A TRUE CLASSIC FROM ERAS PAST.IT WAS SAID BY THE KAWASAKI DESIGNER THAT DEVELOPED THIS BIKE THAT THIS IS THE MOST SIGNFICANT MOTORCYCLE THAT KAWASAKI HAS EVER DEVELOPED.
This bike is in amazing condition for a 27-year old bike. All of the plastics look OEM, the paintwork is in good shape, and the modifications have been kept to a minimum. Despite the seller's enthusiastic claims that it is stone stock and could have come right off the showroom floor, the seat is a glaring aftermarket item that is clearly not OEM. The number of owners and number of miles might also keep the purist collectors away, but their loss is your gain. These are fantastic bikes by any standards – and were the very pinnacle of motorcycling greatness in 1984.
Like most mass-produced Japanese sportbikes, the collector market is still emerging. That means that these are not necessarily a great short-term investment. That being said, these are historically significant motorcycles that will likely have collector value in the future – and can be picked up for much less than your "average" collector bike. The best part is, having not spend the better part of a small house on a bike, you will be more inclined to ride it…which is what it is all about!
This great 900cc Ninja is on eBay right now, and the current bid is a paltry $1,125 with reserve not yet met. The last '84 Ninja listed here on RSBFS went for just $100 more than that, so the barrier to entry on these future collectables is quite low indeed.
For more pictures (there are lots!) and to get in on the action, click the link and jump over to the auction. Good luck!
MI