It's Good To Be Blue:  2003 MV Agusta F4S
Update 10.1.2012: SOLD!
There is absolutely nothing wrong with being blue when it  comes to this F4S.  Calm yourself just for a moment as I know you are probably kneeling,  thanking a higher power for the opportunity to finally purchase an F4S with the  "Viper Kit".  This is what I would call a very classy reproduction of that stunning Tamburini designed kit.  Frowning?  You shouldn't be, as the Viper Kit  was strictly a cosmetic kit and only 50 were produced.  You know what comes next with MV Agusta and limited numbers; a very limited price.  The only one I could find for sale was listed for 46,000 GBP.  I think you will pleasantly surprised as to what is offered here.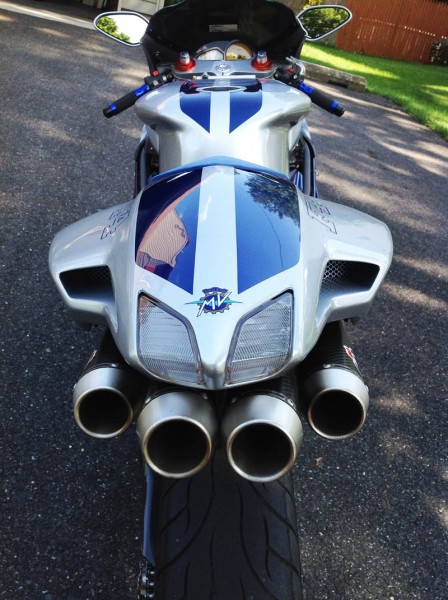 The best four stroke butt in the business!
Let us tempt you with a few specs:
 Arrow –Ti Headers& Mid-pipes with Ferracci/Silmoto CF Mufflers

Power Commander                              (Ferracci-installed)

Rizoma-Bar End Weights & Grips

Blue Alcantara-(suede) Seat Cover          (Factory accy)

3M-Protective Fairing Film

Dunlop-17" Sportmax 209's

Integrated LED Tail Lights

Carbon Fiber-Factory accessories

Front Fender  /  Rear 'Hugger' Fender      (Factory accy)

Air Intakes  /  Radiator Deflector             (Factory accy)

Ignition Guard  /  Dash Bezel                  (Factory accy)

Foot Peg Guards  /  Chain Guards (2)      (Factory accy)

Exhaust Shields  /  Fairing Covers (4)      (Factory accy)

License Plate Holder                              (Ferraci accy)

Tools and Extra Parts for Bike:

Factory Stand for single swingarm (color matched to bike)

Chain Adjustment Spanner  /  55mm Axle Socket (1/2" drive)

Triple Clamp Multi-Pin Wrench  /  5 extra Key/ Blanks

Ferracci-Riser Clip-ons (not installed)

Have the Original-steel Exhaust pipes

Matching Alpine Leathers (Blue/White-1pc)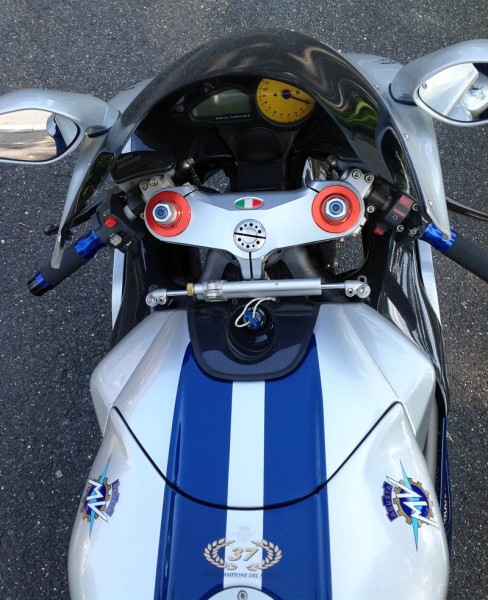 Think it has been ridden much?  It hasn't; the  clocks read 6024 miles.  You probably guessed the next part; garage kept and never seen a drop of rain.  The bike has only seen the inside of Fast By Ferraci for service, with no exceptions.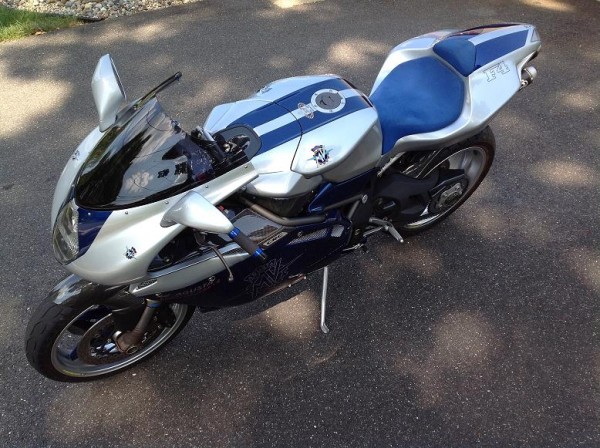 In my humble opinion the blue/silver just transforms the bike.  MV's have sexy lines but the silver/red does get a bit stale over time.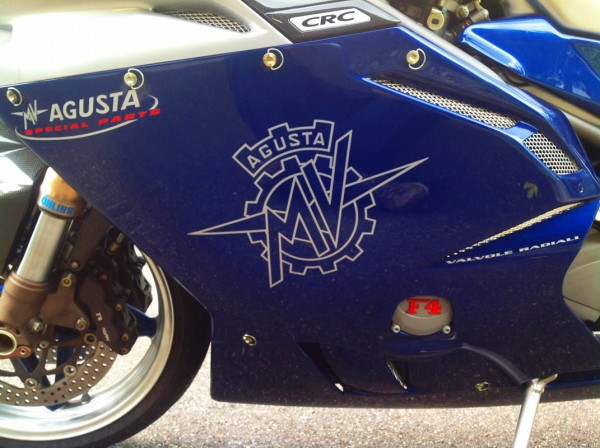 I don't generally consider MV owners has horsepower  chasers but if you are curious the seller states it pumps out 145HP  at 12,600RPM with the Power Commander.
This proud owner has done the work for you, you just need to write the check and enjoy.  In the grand scheme of things the check doesn't have to be all that big.  The seller is asking $11,000 to rider away with her.
The bike is located in New Jersey.
Ian