For Sale: 1985 Honda NS400R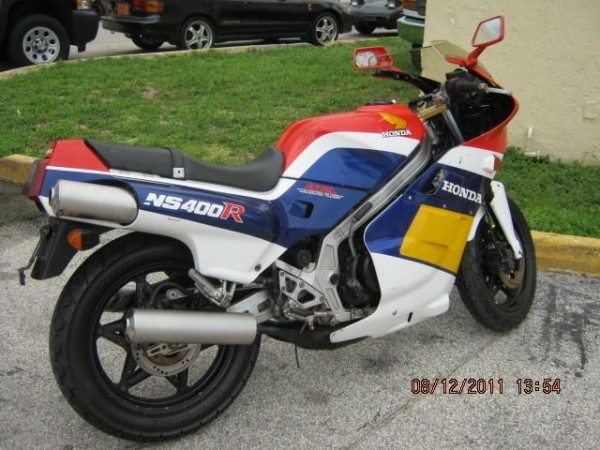 We have seen a number of these rare birds on RSBFS (click here to search the RSBFS archives), but nowhere near the numbers of the twin cylinder Honda 250s or the 500cc RZ/Gamma set. You see, this NS400R is an odd bike in many ways, and that generally kept interest low – which is a real shame. In the end it was emissions, not interest, that kept the NS400R out of the United States. Still, with an odd-ball displacement (400cc vs 500cc), odd-ball configuration (V3), and lack of importation into the US, the NS400R is not the most loved of the two-stroke coveting set.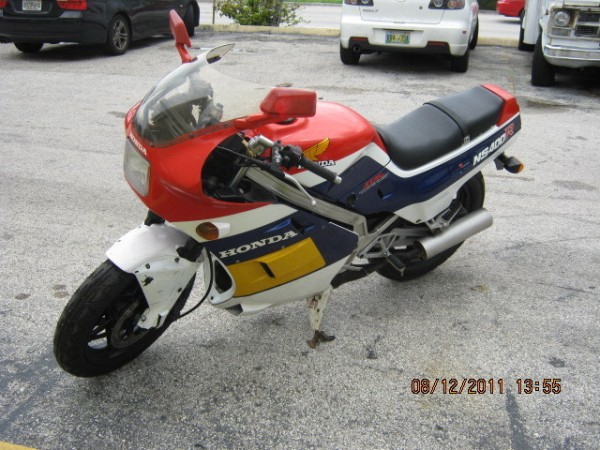 For those wanting to be different, the NS400R is a great place to start. With peaky two-stroke power (59 hp stock), mini-GP bodywork, sharp and responsive handling thanks to light weight (about 350 lbs), the NS400R might be everything you dream about in a canyon carver. Back in 1985 it sure was – except that it was missing a cylinder and about 100cc on the competition.
From the seller:
THIS I A VERY RARE GOOD RUNING NEW TUNE UP CARB CLEAN TIRES BATTERY BIKE RUNS GOOD 3 CYLINDER 400 CC FAST BIKE WE HAVE FLORDA TITLE READY TO RIDE SERIUS BUYERS ONLY
Given the relative rarity of these models, one has to wonder how this one got in such forlorn condition. What is left of the paintwork was intended to celebrate Freddie Spencer's championship livery (he won both the 250cc and 500cc classes that year) – this is a very sharp color scheme when found in original condition such as this one. Unfortunately this bike got a little beaten up along the way to the auction, and is not exactly in what we would call "pristine" condition. It certainly doesn't help that the seller has very little to say about the bike – except that it has a Florida title and has approximately 16,000 miles on it.
In a proper state of tune, the NS400R is a fantastic machine. It has some innovative engineering tricks such as the ATAC (auto-controlled torque amplification chambers) exhaust servo to boost low-end torque. Aerodynamically, the bike is very sound and complete, right down to the little fairing attached to the side stand. All in all, this is a very desireable model to own and ride.
This particular example is available at auction right now. There have been no bidders with a $4,000 opening, so if you act quickly you might get yourself a deal. For more info and pictures, click on the link and jump over to the auction. Good luck!
MI