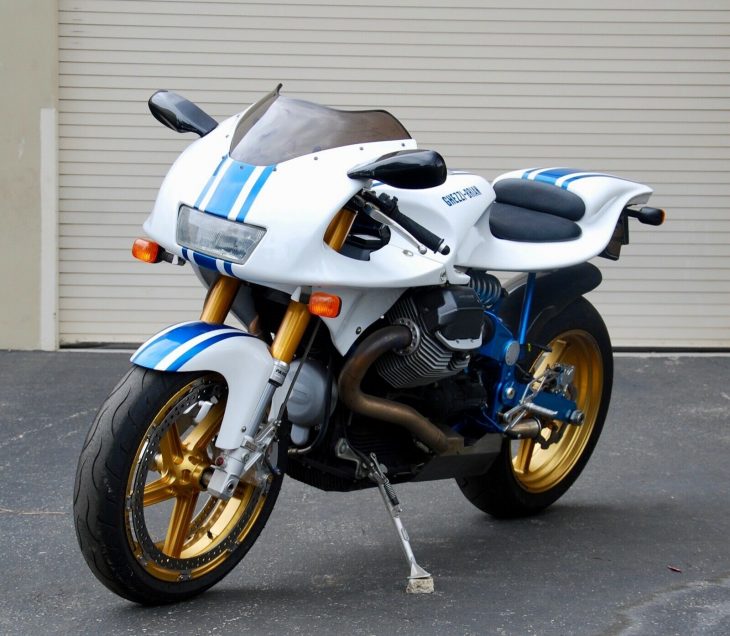 The Daytona/Sport 1100i were very entertaining machines, with plenty of grunt from the nearly 1100cc v-twin, matched with quality suspension and brakes. Unfortunately, they were also burdened with shaft drive and nearly 100 extra pounds of weight, compared to other Italian sportbikes of the era. So basically a charismatic engine in an overweight package. Sadly, Colin Chapman wasn't available to help out, but Giuseppe Ghezzi and Bruno Saturno, two halves of the Ghezzi-Brian team, stepped up to build the lightweight, but very pricey Supertwin that cost nearly $15,000 in 2001 money.
There's a lot of clever engineering going on here, and the completed machine supposedly weighed in at nearly 70lbs less than a Daytona or Sport 1100i. The bike certainly looks lighter and more agile than a Sport 1100i, although I feel like the colors on this example date the bike a bit. Perimeter brakes similar to Buell's ZTL or "zero tortional load" system supposedly reduce unsprung weight up front and look really trick, the frame channels air through to the airbox below the rear shock, and a redesigned rear suspension helped to reduce the torque reaction of the shaft drive.
I have an old "all Italian" issue of Bike magazine that features one of my favorite comparison tests of all time: an Aprilia RS250 versus a Ducati 748 versus a Bimota YB9 versus a Moto Guzzi Daytona RS. Obviously, the "big old bus" Guzzi didn't fare well in such light-footed company, but their big, longitudinally-mounted v-twin could still be entertaining slotted into something like this Ghezzi-Brian Supertwin. And this wasn't the end of the line for Ghezzi and Guzzi: in the Supertwin you can see the kernel of ideas later used in the stunning MGS-01.
From the original eBay listing: 2001 Ghezzi-Brian 1064cc Supertwin for Sale

Frame no. FP1239

As Roland Brown of Motorcyclist puts it:

"I'm carving through a series of immaculately surfaced bends in the hills near Lecco in northern Italy, aboard a stunning new V-twin whose jutting cylinders, grunty power and off-beat exhaust could only come from Moto Guzzi.

"The Guzzi factory at Mandello del Lario is only a short ride from here, but this bike isn't the first dramatic result of Guzzi's recent acquisition by Aprilia. This is the Supertwin 1100, now being hand-built in small numbers by Ghezzi & Brian, a specialist firm from the nearby village of Perego.

"As you ride it, carving through the twisties, the aural clues don't match the experience. The grunty power and off-beat exhaust could only come from Moto Guzzi. But this isn't just a Guzzi from the Mandello del Lario factory, this is the Supertwin, a hand-built, low production superbike from Ghezzi-Brian, the specialist firm from the nearby village of Perego.

"Moto Guzzi is one of the oldest and most storied motorcycle manufacturers in existence, but they've drifted pretty far from their sporting roots, owing to their purchase by Piaggio, a move that has kept them afloat, but forever relegated to building vintage-styled and cruisers to prevent them competing with more sports-oriented bikes from sister-company Aprilia. Really though, the downward slide began long before that, as Guzzi just couldn't keep pace with the ruthless development of modern sportbikes from Japan. Luckily, there've been a few bright spots along the way, like this Ghezzi-Brian Supertwin that point out just how much life is still left in Moto Guzzi's v-twin.

"Produced by Giuseppe Ghezzi and Bruno Saturno this is a race-replica designed around Ghezzi's successful racing machine, the Supertwin features quality suspension at both ends and clever engineering designed to reduce weight. The slim bodywork reveals the iconic longitudinal v-twin and contrasts nicely with the hulking mechanicals. The huge perimeter front brakes look incredibly trick on the OZ Racing wheels and should offer up excellent stopping power to go with the increased straight-line performance that comes mostly from a huge weight reduction: the Supertwin weighs in at a claimed 427lbs dry, down 55lbs from the largely stock V11 Sport that donates its engine. Power is a modest 91hp but the 1064cc motor puts out impressive torque to match the amazing soundtrack. 

"Ghezzi's frame is based on a steel spine and uses the motor as a stressed member, but that's where the similarities end. The Supertwin spine doubles not as the oil tank but as the airbox, taking in air under the tank to feed the intakes that run back from those jutting cylinders.  There's plenty of clever engineering rearward, too, where a multiadjustable Bitubo shock lies horizontally and is worked by a rising-rate linkage. In Guzzi fashion the Supertwin's box-section steel swingarm incorporates a parallelogram arrangement to cancel torque reaction.  But this bike's real innovation is up front, where its multiadjustable, inverted Paioli fork holds a 17-inch wheel whose twin discs are a massive 420mm in diameter and are fixed to the rim rather than the hub. The entire system, incorporating four-piston calipers biting on thin discs that are fully floating to allow for heat expansion, has been developed by local firm Braking."

The bike offered is presented in truly excellent condition throughout with the gentle patina of a sparingly used, but meticulously kept near 20-year-old machine. The odometer reads an original 7,500 kms from new, most of which were enjoyed earlier in its life, as it has been on static display in three prominent private California collections for the last half of its existence.

The bike is offered in a Bill of Sale, but I can assist with titling. Please contact me.

For additional photos and details, please visit Classic Avenue.
The $24,900 asking price is a lot of cash for a Guzzi-powered special with pushrods and two valves per cylinder. In the plus column, 90hp should provide plenty of poke in the relatively light machine, the design is extremely exotic, and Guzzi engines are very durable and easy to service. Unfortunately, the bodywork is nearly unobtainable, and I'm not sure where you'd pick up a set of those perimeter brake discs, or a replacement wheel if you ding a rim.
-tad