Warning!
This post is in our archives. Links in this post have been updated to point to similar bikes available to bid on eBay.

1995 Moto Guzzi Sport 1100 on eBay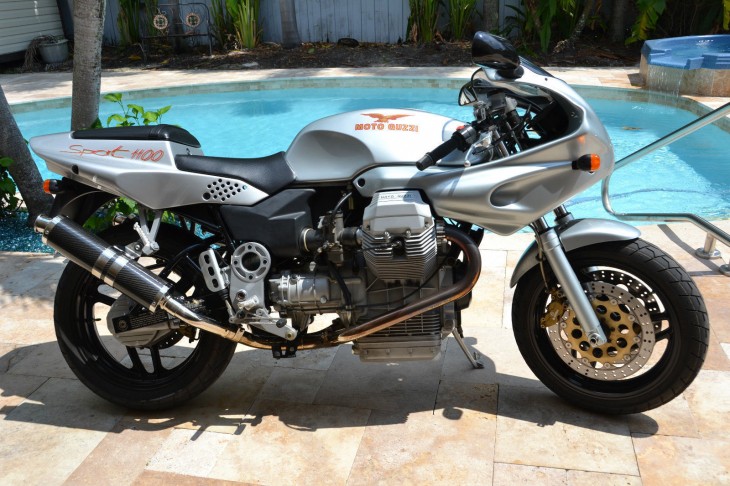 If you like being the guy on something different, here is a nice way to stand out.  Full of character, history and heritage, Moto Guzzi is the oldest European motorcycle manufacturer still in constant production.  Guzzi's are described as an "acquired taste" full of idiosyncrasies that set them apart for better or worse from other motorcycles.  The most obvious thing to jump out at you is the longitudinally mounted 1064cc v-twin engine which, in theory, should allow for a shorter wheelbase.  As you can see, this didn't exactly play out.  The Sport 1100 is big, it's long and it's heavy.  It is not quick to turn, but once it's cranked over, it holds a line extremely well.  Contributing to this stability is the outsourced WP forks which also hold Brembo brakes.
This particular Sport 1100 is showing a very low 2300 miles and is in near flawless and original condition, down the to 20 year old OEM tires (you may want to address this if you plan on doing any actual riding).  It is striking to look at, and like many Italian bikes of the era, would make a great Sunday cruiser, but is probably not very practical for daily riding.  You can check out the eBay listing here:  1995 Moto Guzzi Sport 1100 on eBay.
1995 MOTO GUZZI SPORT 1100, TWO OWNER MOTORCYCLE, THE FIRST OWNER KEPT IT IN HIS COLLECTION IN CONNECTICUT AFTER BUYING IT NEW IN JUNE 10, 1996 FROM MARSH MOTORCYCLES IN EAST WINDSOR CT. AND PUT LESS THEN 1900 MILES ON THE BIKE, SECOND OWNER HAD A LOT OF MOTORCYCLES AND WAS VERY BUSY WITH HIS FLYING JOB AND HARDLY RODE IT.  TODAY IS HAS 2270 ORIGINAL MILES!
THAT IS NOT A MISPRINT, THE BIKE HAS LESS THEN 2270 ORIGINAL MILES!!!

THIS HAS TO BE THE FINEST, LOWEST MILE, MOST PERFECT 1995 MOTO GUZZI SPORT 1100 ON THE PLANET!!

IT IS MY UNDERSTANDING THAT ONLY 100 OF THESE WERE IMPORTED INTO THE UNITED STATES THAT YEAR!

I HAVE THE ORIGINAL OWNERS PAPERWORK, BILL OF SALE ($9752.00 IN 1996!) AND THE BROCHURE FROM THE DEALER THAT IS BEAUTIFUL WITH MANY COLOR PICTURES.  BIKE WAS ONLY AVAILABLE IN THREE COLORS, BLACK, RED AND SILVER AND THIS BIKE HAS THE SILVER PAINT, EXCEPT FOR ONE TINY SCRATCH ON THE TAILPIECE (PICTURED) THE PAINT AND DECALS ARE PERFECT DUE TO THE FACT THE BIKE WAS INSIDE STORED ALL OF THESE YEARS! IT LOOKS LIKE IT WAS NEVER OUTSIDE IN THE SUN, IT IS THAT PERFECT AS ARE THE DECALS AND HAS NEVER BEEN IN THE RAIN ACCORDING TO THE TWO PREVIOUS OWNERS!