Located in British Columbia, Canada (a beautiful place where the evils of meters, KMs and liters lurk) is this good looking Honda NS400R. My wife likes to call this model the "primary color" bike and it is easy to see why; the red/white/blue livery really stands out. The bodywork is reminiscent of 80s era GP bikes (of which this is a replica), and the rest of the bike is typical Honda; well-built, functional, and pretty bulletproof.
NS400s are 3 cylinder affairs in a vee formation. Two cylinders make up the forward part of the vee, with a single cylinder in the back. This configuration helps with mass centralization and weight bias, all while keeping the bike narrow and agile. While power is not quite on the same level as a 500cc Gamma or RZ, the NS400R makes due with lithe handling and lighter weight.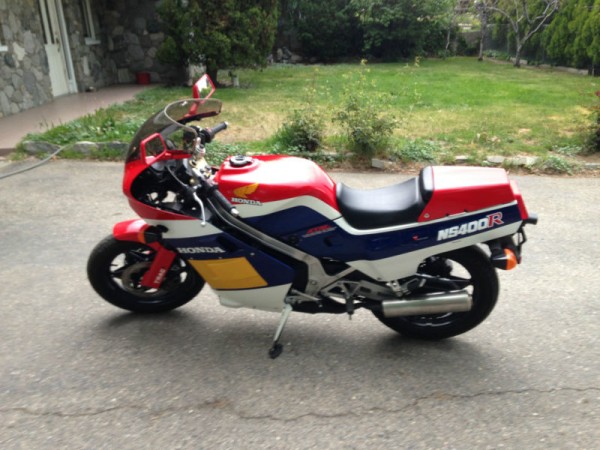 From the seller:
Up for auction is my extremely rare 1986 Honda NS400r 2 stroke, 3 cylinder,kick start motorcycle.There is about 300 NSR motorcycles imported into Canada in 1986.The bike is in very nice original condition with only 8777 miles on the odometer 14000 kms.Tires are in great condition, runs and drives very nice. I purchased the ns from a insurance company, with scratches on the fairings, so there for it has a rebuilt title.The bike was repaired to original specifications. It looks fantastic, and I am sure the new owner will be very happy with there purchase.
There are some important details peeking out of the seller's comments. There is no chance of mistaking this for a cleanly titled, all original bike. The title is marked as "Rebuilt, Rebuildable & Reconstructed" indicating that this was a crash-damaged bike. However that need not be too bad an affair. Given the miles (sorry, kilometers) of plastic and paintwork on a NS400, you can hardly suffer a tipover without risk of insurance totalling out the bike. Of course it could have been a wreck worthy of Randy Mamola. I do note some apparent welding/brazing on the upper fairing stay. Prudent buyers will want to check more closely.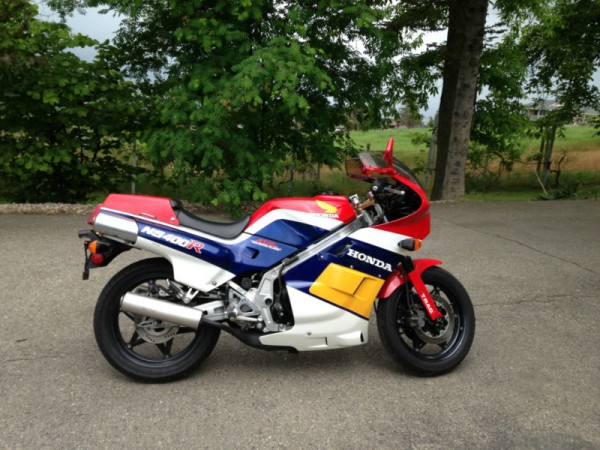 This great looking bike is available north of the border. The bidding is only up to $2,729 thus far, with reserve in place. Depending upon where that reserve is set, this bike could end up being a deal or simply another mark on the appreciation price curve for the model. Check out all of the details here, and then jump back and let us know what you think! Good Luck!
MI