Location: Augusta, Georgia
Mileage: 4,275
Price: Auction
How much fun a bike is depends on many factors. Power, weight and handling all figure into it. But if a bike has tons of power, does that make it fun? If it handles great, does it make it more fun? What if you sacrifice power for weight and handling? Many people have many opinions, but there are no guarantees. Some bikes just speak to certain individuals. To me the 400 seems to have a winning formula. Good power, good weight and good handling. Something flickable and street friendly. Something like this Honda CB-1.
Here's the seller's basic points-
1989 Honda CB-1

Motorcycle

For More Pictures Visit

photobucket.com/marks89hondacb1

4275 Miles
All original
Second Owner
Always Garaged
New Battery
Fresh Powder Coated Exhaust Header
Very Rare
Only imported 2 years
Few nicks on engine case (side stand not very trustworthy)

For More Information,Call, Please leave voicemail!
Some basic pics with a link above to photobucket-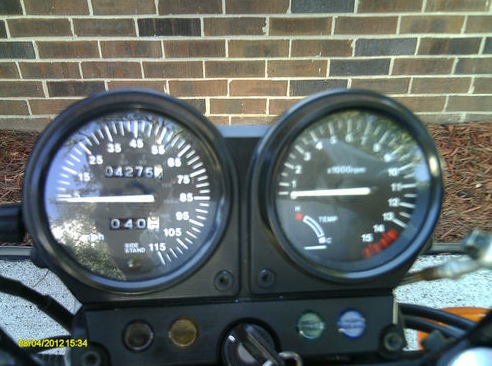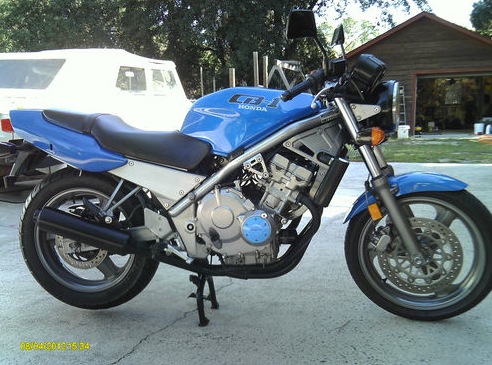 The mileage on this bike is low and it looks original. The seller highlights powder coating on the header and some minor scraping on the engine case. Otherwise, this looks like a clean, well cared for example. These bikes are rare here cause the U.S. never took to the 400cc bike. Our mistake.
So if you want fun, and rare, this could be your ticket. Looks like this one has no reserve, so you know right up front what you may get it for. If this bike looks like fun to you, check this auction out!
-RN