Update 9.6.2018: This bike is now SOLD! Congratulations to buyer and seller! -dc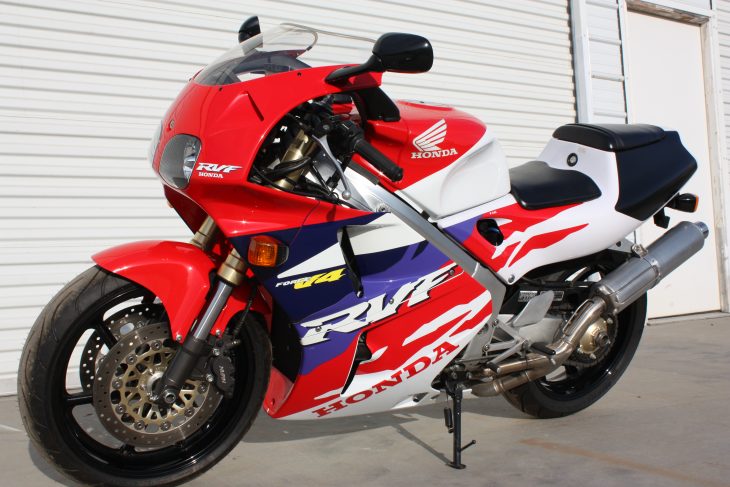 There's nothing like comfort food and family on Memorial Day, and in that spirit, we present this 1995 Honda RVF400. These little grey-market rippers and their ilk have been our bread and butter, our comfort food, here at RSBFS and this glistening example is particularly tasty. It has quite clearly spent its life indoors under the watchful eyes of a caring collector, and the attention shows.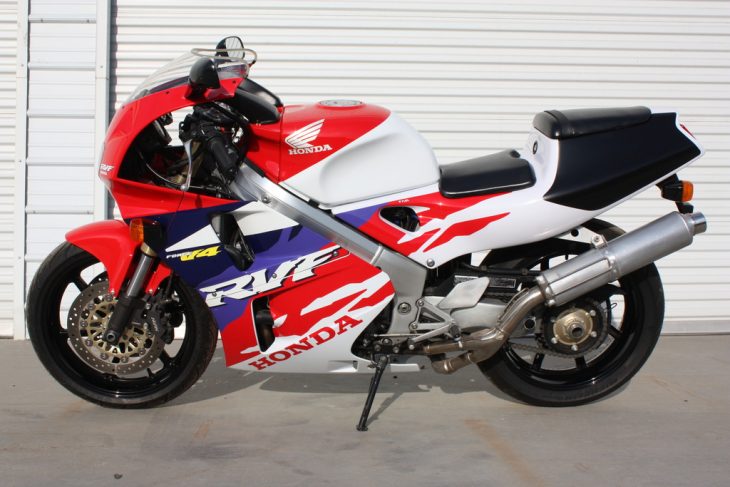 Though the bike is registered for road use in Arizona, it has only seen 2,100 miles over its life. Unlike the vast majority of grey market imports we feature, this one was brought here nearly 20 years ago. In a nod to US standards, the speedometer has been treated to a MPH sticker overlay, though we'd rather use the stock gauges and do mental math.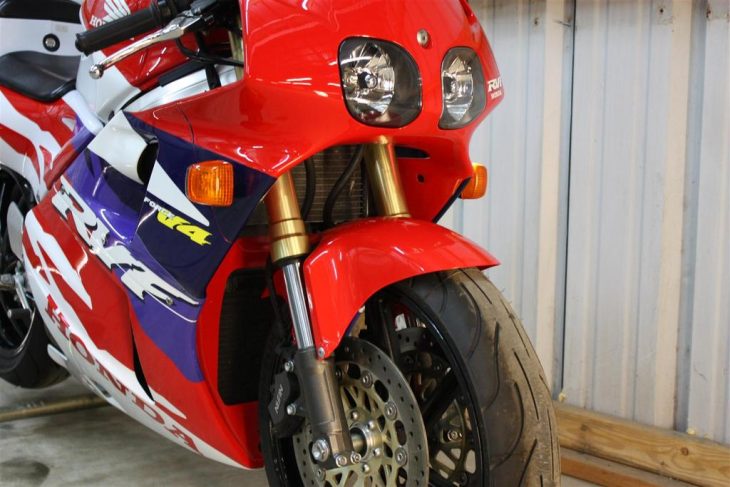 The RVF400 was famed for truly being a miniaturized RC45, blessed with jewel-like build quality, flawless handling and the attention to detail Hondas of the era were famous for. Road tests from the time not that they're a little heavier than some of their competitors, but more than make up for it when the going gets twisty.
From the eBay listing:
I purchased this bike from a friend of mine who got it from another friend of ours, over the last 15 plus years it has only been stored on display in a climate controlled living room or office. It came over from Japan in the late 90's so it displays none of the typical corrosion or wear as many of the bikes that have lived in Japan and been exposed to the climate there.

I have looked over many years in the States and in Japan and have never seen another NC35 with these miles in this condition. I truly believe this is one of the finest anywhere in the world, let alone in the U.S. I am sure there is a zero mile one out there, ( I did not see one at the Collection Hall in Motegi! ) but I think you will be hard pressed to find another in this condition with these miles…and yes it is titled.

Last week after deciding to sell the bike I pulled the carbs and gave them a quick cleaning (bike was previously stored without fuel) and the bike starts, runs and idles exactly how it should. I have not ridden it as I do not want to put any miles on it. I pulled the lowers and photographed the bike so you can see exactly what you are getting.

The bike has brand new tires but they are several years old…so if you intend to actually ride it, new rubber and a change of all the fluids would be a good idea, but the bike was stored with fresh oil, coolant, brake fluid. Will come with a brand new battery installed and a small amount of Avgas in tank / carbs so will be turn key.

The bike is currently titled, plated and 2018 tags in Arizona with original 11 digit Japanese VIN.

Both original keys, original owners manual, and tool kit.

Passenger foot rests are not installed or shown in photos but I have them and they go with the bike!

100% stock, original, there is a MPH overlay on the speedo that could be removed. Everything works as it should, all lighting, electrical, etc….as it should, it is basically a NEW bike!!

Two small scratches in left lower as shown in photos, tiny bit of touch up on the H on right side lower, no rash, cracks, broken tabs. Inside of fuel tank is like new.

If you could step back in time to the 90's and buy a nearly new RVF400 that had been babied and only had a couple thousand miles on it, this is what it would look like. It is probably the nicest bike out of all in my collection, and over the years of buying NC30's 35's and NSR's I have never really seen a grey bike this nice and original. One's like this really no longer exist in Japan, and if they did they would bring well over $10k as decent ones at auction are already over $6000 and climbing now. The NSR prices are already out of sight.

There are a LOT of pictures here, please take a moment to check them all out but do not hesitate to contact me if you need me or have a question about a certain part of the bike!

I can ship most anywhere in the lower 48 for $499, if you are within 500 miles of So. Cal I think I can ship it for under $400 with Haul Bike, the best (safest) shipper I have used. You are also welcome to pick it up and inspect in person. Happy to assist with a shipper of your choice as well…and I would be willing to ship overseas, please contact for a quote to your nearest port.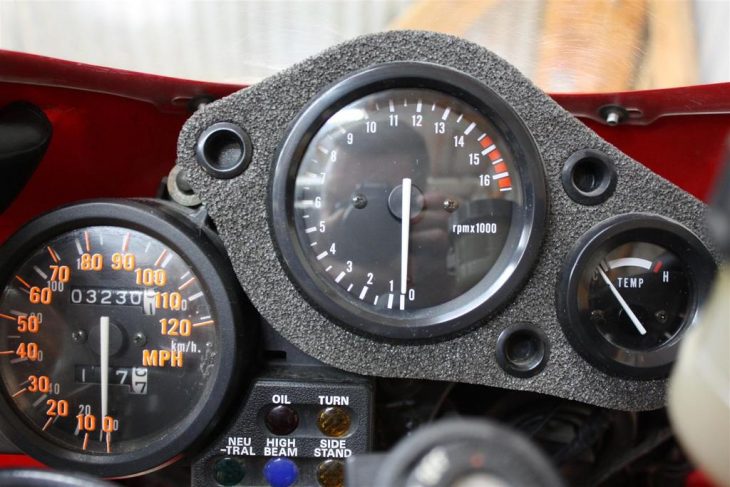 Thanks to its condition and legality, the seller has set the reserve above $5,000. For a bike this rare and special, that shouldn't phase the dedicated collector.