Update 6.28.2018: This bike has sold to an RSBFS reader! Congratulations to buyer and seller! -dc
It's pretty rare that someone selling anything, whether it's a motorcycle or a tennis ball, is totally honest about the condition it's in. As dedicated Craigslisters, we come to accept that "no rust" really means, "stored at the bottom of the Atlantic." It's a fact of life.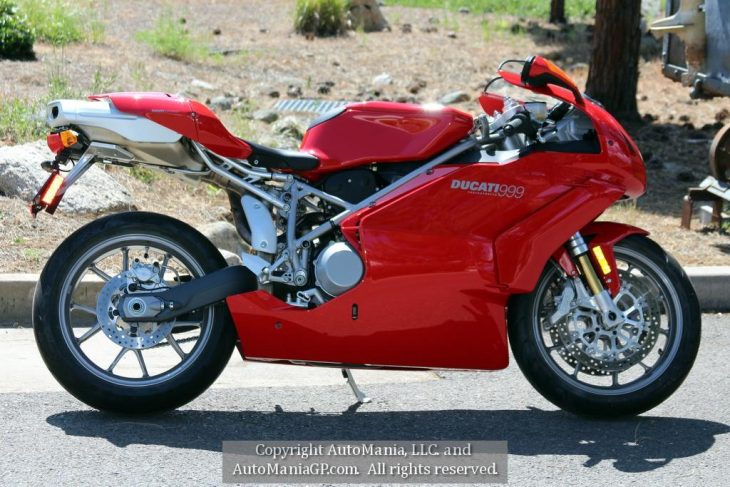 This 2004 Ducati 999 is the exception. The seller says the only signs of use are wear on the front brake rotors, and he's not kidding. OK, fine, if you want to nitpick, the odometer does not say zero and the tires are not the ones it left the factory on. But beyond that, the description is accurate.
The 999 followed the iconic and better-loved 916-998 series, but are deserving stars in their own right. The bikes won the World Superbike Championships in '03, '04 and '06, and threw in a British Superbike Championship in '05 to make a four-year run of championships.
The bike listed here is a base 999, which means it carries none of the expensive tchochkes of the S and R models. From the seller:
No holds barred, I cannot ride a Ducati. I am too large, too old and need a cush in the seat department to make it more than 50 miles at a whack. I am "one of those". I guess that was same conversation about "you can't trust anyone over thirty" forty years ago. It is just a separation of reality and perceptions with little gray areas in-between. But I am not prejudice! "Someone of my best friends ride Ducatis". What is the world coming too?

Which leads us to this absolutely gorgeous, Ducati Red, one geriatric owner, bought new at Hansen's, almost no miles 2004 999. We get a lot of bikes in, mostly in excellent condition, unabused with minimal signs of use. And then there is this bike.

The only signs of use you can see are the front brake rotors. Nothing else shows any signs of use. All of the factory stickers are still in place, even the ones on the mirrors. Not a single bolt was modified, nothing changed, nothing added. It still has the factory clutch cover! It is in as close to new cosmetic condition as when it was delivered as vehicle could be having been driven 7,600 miles.

The 999 was the base model of the range, but that meant in reality, $10,000 less at the dealer, 15hp less than the R version and 15#'s heavier and more than adequate suspension. I had a riding friend who received the greatest of joy riding his 999 standard and beating up the R model bikes at track events in the day owned by "checkbook" enthusiasts. It was a great bike, more than most could realistically handle and a bargain for the time.

Our selling price of the motorcycle is $6,495. VIN# ZDMIUB5T04B008511 and miles are 7,639. For other interesting bikes and collectable vehicles, visit our web site http://www.automaniagp.com , 541 479 8888 or come by and see us at 895 SE Gladiola Drive, Grants Pass, Oregon, 97526. Oregon Dealer DA1287
Short of a dealer leftover FZ-07 or an SR400 or something, there ain't much you can find in this condition for that price. I hate to gush, but honestly. Get on it.