Warning!
This post is in our archives. Links in this post have been updated to point to similar bikes available to bid on eBay.

Update 7.8.2019: We'd like to take this opportunity to thank Amatumoto Grand Prix Motorbikes for being a sponsor of RSBFS! From Amatumoto, "This 2017 Suter MMX500 at reduced price will not last long, so if there is someone out there that has been pining for a reliable 2-stroke GP500, they should act soon." Contact Amatumoto today! -dc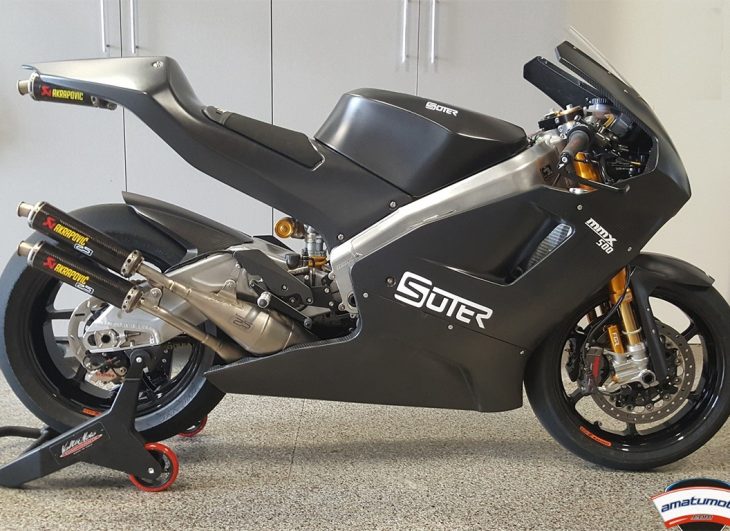 So, I'm going to have to try not to gush uncontrollably here, because this is one of the coolest bikes we've featured recently. A real, live Suter MMX500, a "what if" race-replica from a parallel universe where MotoGP racing never made the switch from two-stroke to four-stroke power. A labor of love built by Eskil Suter of Suter Racing and a bunch of guys who never got over their addition to premix fumes.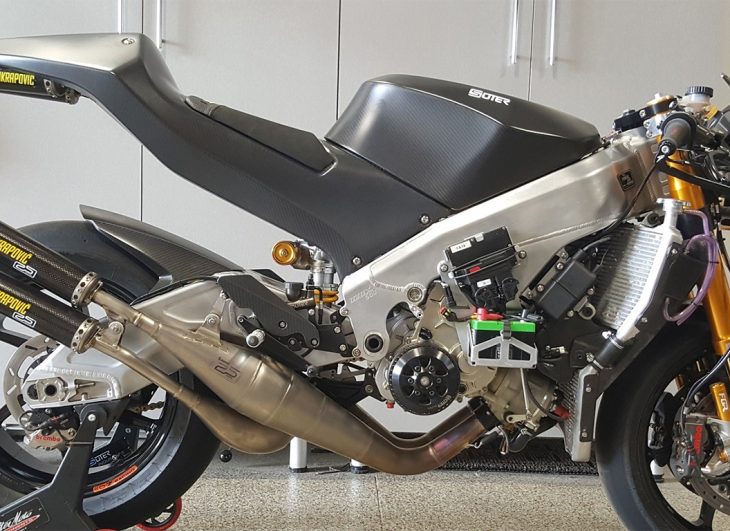 Forget all of your shed-built Grand Prix homages with RZ500 engines stuffed into R6 chassis and painted up in Marlboro racing colors. No disrespect intended, but this is what you're looking for, the ultimate paean to the snarling, lethal machines that carried Rainey and Schwantz and Mamola to greatness.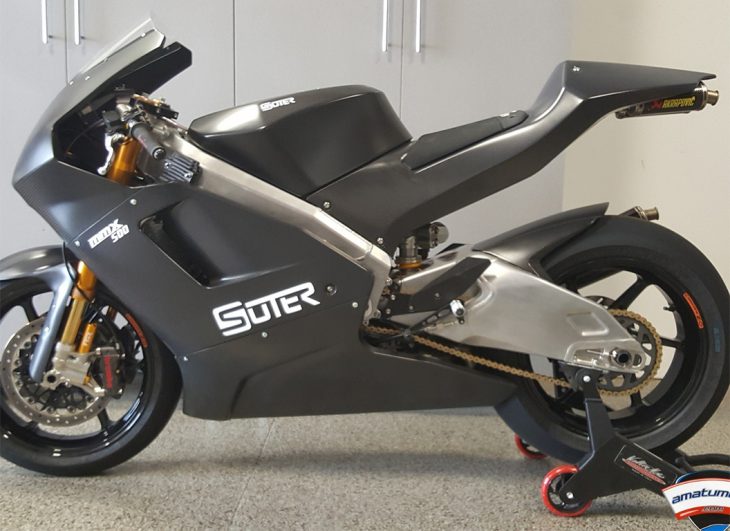 The looks may be stealth-fighter modern, especially in this example's matte carbon finish, but the spirit of those older machines is still there, married to absolutely state-of-the-art racing technology. It's powered by a compact, fuel-injected two-stroke V4 with a pair of counter-rotating cranks based on the Swissauto/MuZ500 raced by Suter in 1998 and 1999. Apparently Suter "had a few crankcases kicking around from the 500cc V4 design," and frames are, obviously, their specialty.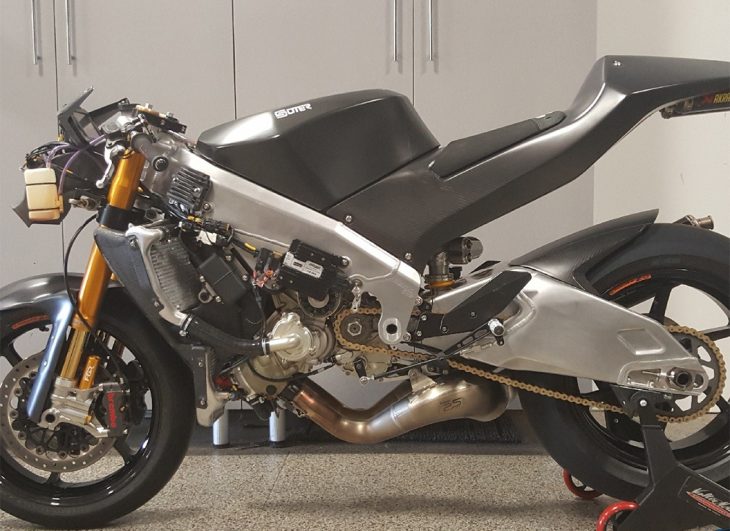 I'm always fascinated by how two-strokes can be mounted in the frame: a lack of cams, cam-drives, or valve gear means they're ludicrously compact, and often oriented in ways not at all intuitive for someone weaned on four-strokes. In this case, the engine is laid over on its side, rotated 90 degrees from what you'd expect, facing forward. So more like a >4 really, at least if you're looking at it from the left-hand side…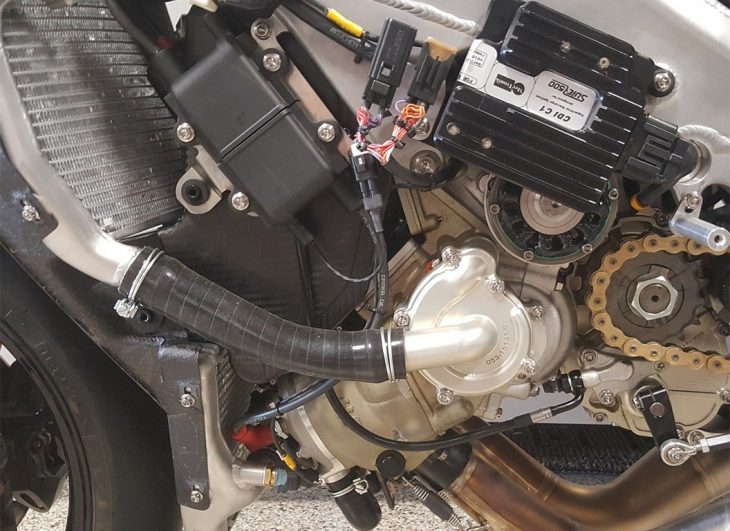 The bike may be tagged as a 500, but it actually displaces 576cc, with an undersquare 56 x 58.5mm bore and stroke in an effort to deliver a bit more midrange and help the bike avoid racebike service intervals. Suter acknowledges that most of its customers are skilled enthusiasts, not win-or-crash racers, and the changes to the formula make for a more manageable ride that still captures the feeling of a two-stroke MotoGP machine, but is less likely to spit a rider off in an evil highside when they get in a bit over their head…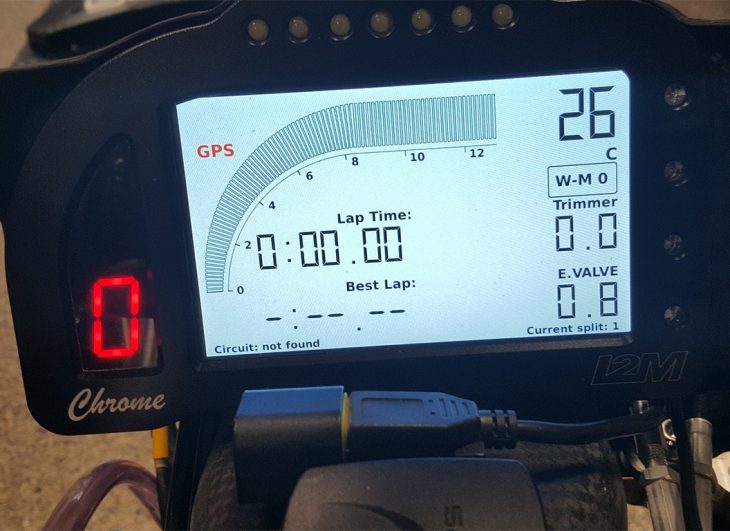 Modern electronics and fuel injection help there as well, while offering improved rideability and a better spread of power. Of course, the delivery is still two-stroke abrupt and, with 195hp at 13,000rpm pushing just 280lbs, power-to-weight is still fairly astonishing, so the two-stroke GP character is intact, just slightly more refined.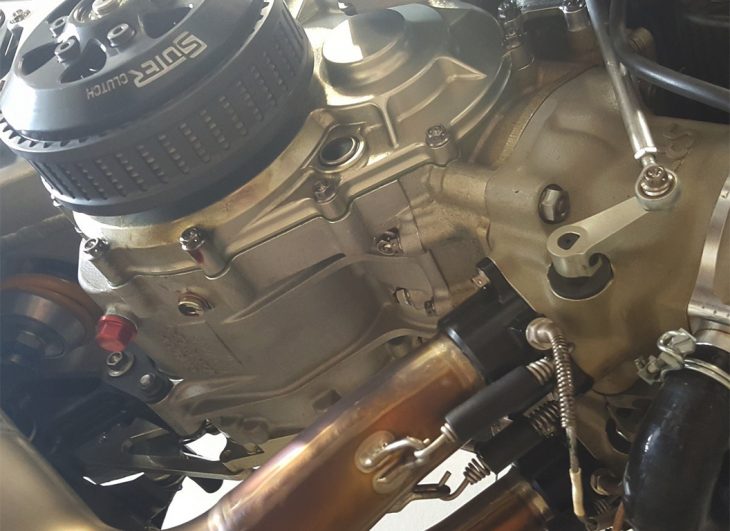 Head on over to the original listing for the bike, as there are plenty of additional photos for you to drool over.
From the Seller: 2017 Suter MMX500 for Sale
SUMMARY

Model: Suter MMX 500

Origin: Switzerland

Engine: Suter

Last Service: 490 km

Colour: Carbon

Suspension: Ohlins

Brakes: Brembo

OZ 17″ wheels

Availability: Immediately in our store of USA

MODEL INFORMATION
Bike in good condition and ready to race. Extra parts included with the bike: rear stand, pistons, rings, reeds gaskets, fiber+steel clutch plates, plugs + caps, filters, front stand, windscreen, seat, engine stand, service manual, owner manual, cover.

Spares list:

Pistons, rings, carbon reeds, gaskets, and o-rings; enough for 2 complete rebuilds

fiber/steel clutch plates

plugs & caps

Spare seat #5 of 99

Engine stand, front & rear service stands

Parts, service & dash manuals

bike cover
This is the very first Suter MMX500 I've seen for sale. With just 99 made, I'm assuming they were all snapped up before they were even finished by well-heeled track day and racing fans. If you've got $115,000 $95,000 lying around and decide to buy this, please let me know what track days you'll be attending, because I need to see an MMX500 in action. The craftsmanship and passion that went into its creation are impressive, as you can see from the images. Of course, the price is shocking, but this is a very rare opportunity to purchase one at any price, so refinance your home, sell that sailboat, or sell that kidney, and pounce before someone else does.
-tad