Update 11.27.2017: Seller has notified us that this bike has sold. Congratulations to buyer and seller! -dc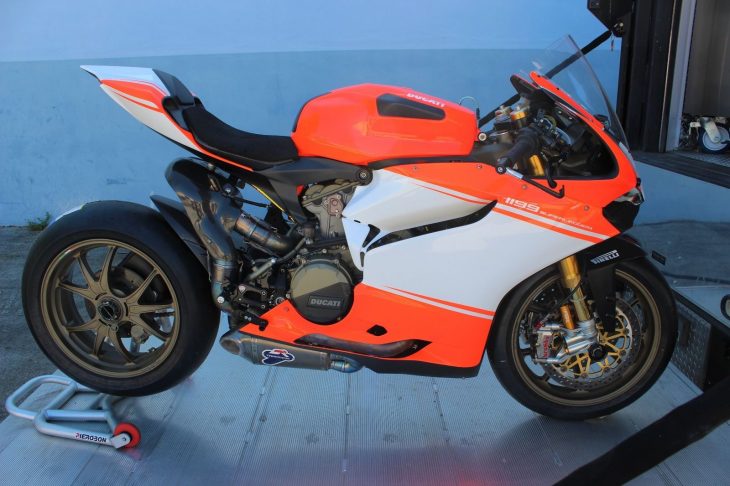 What we have here is the result of a massive checkbook and exclusive access to trick go bits, fueling a habit forming need for speed! Not for the faint of heart or wallet, this 2014 Ducati 1199 Panigale Superleggera has been fully worked over into a World Superbike-level race package for one very lucky and well-heeled enthusiast.
As the ad says, this bike sports a Magnesium monocoque frame that is so light it is illegal for use on a WSBK grid. Translation: this bike is too cool even for Chaz Davies. The build kit is as long as War and Peace, but boils down to a few key figures: 209 hp, 346 lb. (wet) and a build cost of more than $220k. That makes the $103k asking price seem a little less steep, doesn't it?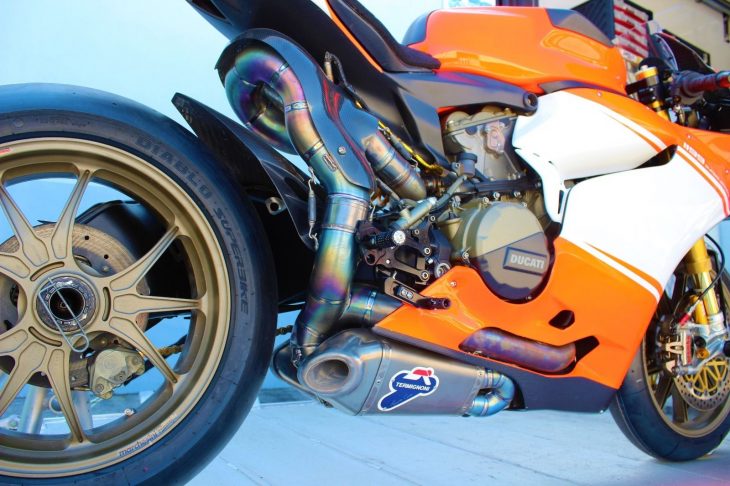 The bike was built last year and developed extensively by Brian Sharp of Boulder Motorsports, Mick Boasman of Bikesport Developments and Pete Friedland. It has won club-level races under Friedland and saw a host of track days last year. It spent the winter getting freshened up for the '17 season.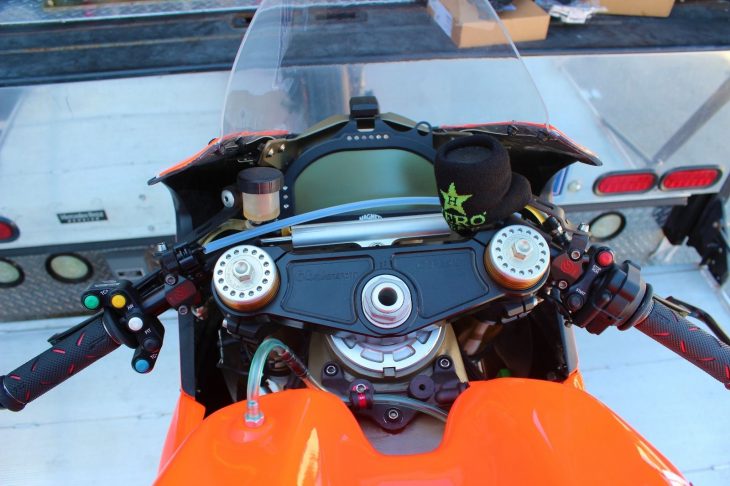 The build list is too long for us to do it justice, so here it is from the horse's mouth:
Offered for sale is Superleggera #157 of 500.  This particular bike is likely the only true magnesium-monocoque Ducati Superleggera built to a Superbike specification.  Competition only, not street legal.  Boulder Motorsports performed the engine build with an open checkbook.  The rest of the machine was treated the same way and utilizes the very best of everything.   Although ironically illegal for World Superbike rules for being under weight and non-homologated components (Mag frame, etc).  This machine has had countless hours of development time under technical hands of Mick Boasman of Bikesport Developments, Brian Sharp of Boulder Motorsports and Pete Friedland.  Completed in the early spring of 2016, it was brought to Road America on June 11, taking an easy win in Formula Thunder with Friedland on board..  The bike ran at two track days following and at Barber Motorsports Park and Daytona (1 race) in October 2016.  This past winter the bike was gone through and refreshed by Chris Boy & staff at MotoCorse Performance to showroom condition including new paint, tires & services, where it exists now on display.  The engine has only 400+ minutes of total run time on it and the entire machine has been gone through to make sure you are getting a gem of a bike with tons of spares and extra parts.  (Run time is logged via Marelli ECU at different levels of RPM for maintenance purposes).  You will not find another Ducati to this level of specification.  $220,000+ invested.  All invoice documentation will be provided to assist you with identifying part numbers and maintaining the machine.  Let the details below and pictures tell the story.  209 RWHP & 346 lbs wet.  Please contact Pete Friedland at 803-315-8665 if additional questions need to be answered.

Engine:

Due to the intricate nature of all parts and components used, this is only a high-level summary.   Ti hardware used throughout engine and chassis.

Ducati Factory Corse SBK Race Piston & Cylinder Assemblies
Ducati Factory Corse SBK Vertical & Horizontal Camshafts
Ducati Factory Corse SBK Titanium Intake & Exhaust Valves
3-Angle Valve/Mill Head
Ducati Factory Corse 1199RS WSBK Throttle Body Velocity/Trumpet Kit
Ducati Factory Corse SBK Steel Gears for Oil & Water Pumps—replaces stock plastic drive gears
Rod bearings sized for racing, updated main crankcase bearings, balance & blueprint, supertech surface finish internal engine parts
Ducati Factory Corse SBK Cylinder Head Gaskets
Ducati Factory Corse SBK Close Ratio Geabox (ratios provided on Magnetti Marelli software files)
New Clutch Pack & Basket
Full Titanium Corse SBK D114 Exhaust System—non-production Termignoni handmade unit for WSBK privateer teams
WSBK Sprint Poly Air Filter Kit w/ Carbon Frame
GB Racing Engine Cover
Oil Pump Cover (race)
520 ERV3 G&G x 120 Chain
Motul 300V 15W50

Chassis:

Magnesium Monocoque front subframe (original)
Ohlins FGR300 Gas Pressurized Superbike Forks, Ti Bolts
Ohlins WSBK Specification Rear Shock, Nitrogen Preload Adjuster w/ Tool—Factory Ducati Team Custom unit
Ohlins Front Wheel Speed Sensor Bracket (Ohlins FGR)
Brembo Billet Monobloc SBK Front Radial GP Calipers (XA3J7F1/F0), 108mm, Nickel Finish, Pinless, Ti Bolts
Brembo 320mm HP Front Rotors + Brembo Z04 Race Pads, Ti Bolts
Brembo XA7G7G0 MGP Forged Brake Master Cylinder, Ti Piston, Ti Pin
Brembo 406X98A7C0 Remote GP Adjuster, 404110A26374 RA Bracket
Brembo XA2N650 GP Clutch Master Cylinder
Sicom Carbon Rear Rotor + Ferrodo ZRAC Carbon/Carbon Pad, Ti Bolts
Titanium Front Axle 30x25mm, Captive Spacers, Quick Change System by Fast Frank
Forged Adjustable Offset Triple Clamps, Ti Bolts
52mm Clip Ons
Ducati Corse Factory SBK Swing Arm—WSBK specification additional length, Ti Bolts
Motocorse Aluminum 21L Oversize Fuel Tank w/ 50% Larger Airbox provision & Carbon Sliders (stock 19L)
Stabuli Red Quick-Disonnect Brake Line Connectors w/ Custom-length brake lines, Ti Bolts
Pierobon Front & Rear Stands
Anodized Foot Peg Brackets, Ti Bolts
CNC Racing RPS Adj Rearsets—Reverse Shift, Ti Bolts
Superlite 520 Chromoly Drilled Drive Sprocket 16T
Machined & Lightened Rear Axle Spindle
Pro Grips

Cooling:

H2O Performance Oversized Radiator w/ Oil Cooler, Al & Ti Bolts
1199 Kit Solicon & Aluminum Hoses

Electronics:

Magnetti Marelli Superbike Kit System—1199 SRT Kit, Enhanced GPS Module, 5-Way Handlebar Switch Option, HD Camera System Option (AIM Smarty Cam).  System Capabilities & Details:

Race proven traction control with your choice of tyre slip maps.
Handlebar mounted TC controls for map level and 'turn off'.
Wheelie controls for each gear and track position.
Launch controls coupled with rev limiter and anti-wheelie + rider on/off override via push button.
Programmable engine braking controls for seamless cornering as well as 'closed-loop' 'backing-in' slip controls.
Clutchless down shift 'auto-blipper' via load cell on the shift rod.
Quick shifter via the same load cell with both cut and 'post-shift' torque reduction settings.
Closed loop fuel control for each cylinder via NGK wide-band lambda sensors in each exhaust.
Individual fuel/ignition and throttle controls for each cylinder—all of which have been pre-mapped.
Pit lane speed limiter.
Built-in data logger ready programmed and ready to download.
10Hz GPS system for circuit mapping and lap timing.  Push button where you want to trigger the lap time display and the location will be remembered for all subsequent sessions at that circuit.
Chassis sensors for Fork Travel, Shock Travel and Braking Pressure.
Electric starting is retained as well as ECU control of the starter to inhibit use when in gear or engine is running.
Standard wheel speed pickup sensors are retained front and rear.
Super-fast Ethernet PC communication.
AIM Smarty Cam system is fed all on-track data gathered via an ECU-Bridge which can be rider-selected to appear on recorded sessions (Throttle, Speed, RPM, Gear, Map Level, Brake Pressure, Engine Data, Chassis Data, Lean Angles, etc)

Component Details:

Magnetti Marelli SRT ECU running Bike Sport Licensed software specific to the 1199 Panigale + Integral 64Mb data logger.
Aluminum ECU mounting bracket – ECU.
Magnetti Marelli MDU220 multi page digital display.
Aluminum dash mounting bracket.
One-piece race specification Raychem wiring loom using type 55 motorsport wire.
Gear shift load cell including rod ends and link rod.
Inertial sensor and mounting bracket placed in rear subframe.
Shock potentiometer (+ carbon mounting brackets needed for prototype shock).
150mm Fork potentiometer and aluminum mounting brackets.
35 Bar Front brake pressure sensor and all mounting brackets.
10 Bar Oil pressure sensor option.
5-way aluminum handlebar switch for TC+, TC-, Anti-Wheelie off/on, Pit lane speed limiter, Lap time marker.
2-way aluminum handlebar switch for Stop/Run and Starter.
GPS module and remote antenna.
2 wide band NGK UEGO lambda sensors.
Wintax 4 analysis software.
Vision 5 software dedicated to the 1199 installation.
Aim Smarty Cam system w/ HD Bullet Camera mounted in fairing nose.

Mapped for VP MRX02 & MR12
Ducati QT Throttle Control

Body:

Full Six (CDT) Carbon Bodywork & Carbon Monocoque Rear Subframe / Tail Section (1 piece), Ti Bolts
Tall Race Screen—Clear, Ti Bolts
Superbike Seat Neoprene Foam/Pad on Full Six Carbon seat plate

Included Extra Parts / Spares list:

CD ROM, Download Cables & Manuals for Magnetti Marelli Kit
Spare Fork Potentiometer
Spare Brake Pressure Sensor
Spare Oil Pressure Sensor
Spare Start/Stop switch
2 spare HD Bullet Camera mounts
HD video card
Spare Front Speed Sensor/Harness
Ohlins rear shock springs for Prototype SBK unit – 9.5, 9.75
Ohlins rear shock preload tool & quick release hose
Ducati Superleggera piston & cylilnder set
Ducati Superleggera transmission gear set
Ducati Superleggera camshaft set
Ducati Superleggera oil pump & water pump drive gears
Ducati Superleggera throttle body intake trumpets
Assorted Superleggera original internal engine parts
CNC Racing RPS Rearset—assorted parts
36T, 37T, 38T, 39T, 40T, 41T, 42T Sprockets
Kyle Racing rear ride height measuring tool
Pierobon Aluminum Racing Stands
6 assorted mm offset spacers for triple clamps
Spare 52mm Clip on
Spare Clutch Pack
Rizoma lever guards
Spare Front Axle (steel) w/ pull cup

Shipping:

I can assist with helping the arrangement for shipping and have used Forward Air many times.  Shipping costs will be the responsibility of the buyer.  Please use Fort Lauderdale, FL as the origin shipping point for quotations.  Also please reach me at 803-315-8665 for questions.
Buy-It-Now is set at $103,000, with six days left on the listing and four people watching the action. Find out all you need to know at the eBay auction.