Warning!
This post is in our archives. Links in this post have been updated to point to similar bikes available to bid on eBay.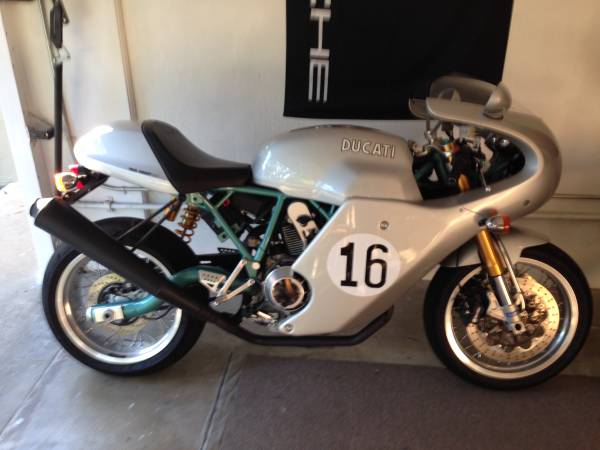 For all the grief he received for his redesign of Ducati's superbike, it's still pretty clear that Pierre Terblanche had some great ideas for Ducati. Aside from the iconic but rare Supermono, he managed to evoke Ducati's classic style in modern machinery with his line of SportClassics and, while the style of the original MH900e might have been a bit overwrought, there's certainly no denying that it looks like nothing else on the road. Fortunately, the Sport1000, GT1000, and Paul Smart that followed were much more conservative, yet still striking and very elegant. After an initial rush of buyers, demand for the SportClassic line tapered off, and only the GT1000 is still in production today.
Today's Featured Listing is among the rarest of the breed: just 2000 of the 2006 Paul Smart Limited Edition bikes were built, and all featured silver half-faired bodywork and a green frame designed to evoke the bike ridden to victory by Paul Smart at the Imola 200 in 1972.
The SportClassic models were all powered by Ducati's venerable air/oil-cooled, two-valve "L" twin 1000DS engine. The "DS" signified "DualSpark" twin-plug heads that allowed efficient combustion across the relatively large surface of the pistons and, in this configuration, the twin put out a claimed 92hp, although it's not a motor known for top-end revs and generally runs out of breath well before redline. But with a fat midrange and charisma to spare, it's a spectacular street motor and, obviously, valve-float is never a problem on a Desmo motor…
Original versions had a wild tubular swingarm with a shock/spring combo on the left side, like a twin-shock setup with one side missing. Shotgun pipes on the right balanced the look out. Unfortunately, this configuration precluded passenger accommodations and early Sport1000 and Paul Smart SportClassics are solo affairs.
Later versions changed to a dual-seat but lost the cool swingarm, going to a more conventional dual-shock set up at the rear. Wire wheels were a clear nod to style over performance, although they did feature tubeless Pirelli Phantom tires designed with vintage looks and modern performance in mind.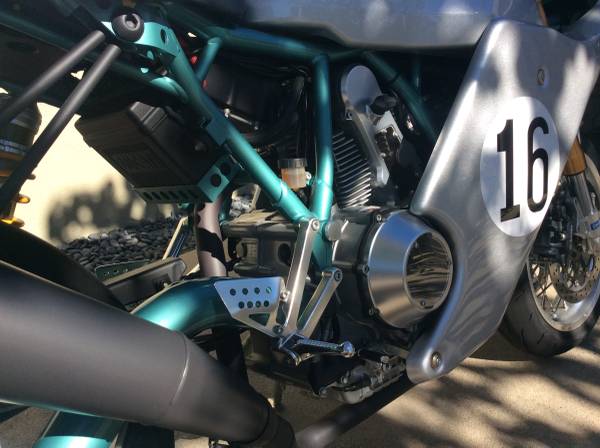 From the original CraigsList posting: 2006 Ducati Paul Smart Limited Edition for Sale
Selling my 2006 Ducati Paul Smart Limited Edition – very, very, rare!

This bike is a two owner bike with only 1,000 miles. No stories, issues, accidents, etc. and has been stored in a heated garage. This bike is extremely rare and comes with the two best 'unobtanium' accessories:

– Factory lower side fairings (factory ~ not aftermarket knock off's)
– Termignoni 2×1 single exhaust with up map (black powder coated to match original look)

I've also installed the clear clutch and belt covers for an extra clean look. No other modifications of any kind and all factory parts (exhaust, chrome clutch cover and black belt covers).

If you are looking at this bike you know that they are extremely hard to find, especially given low miles and accessories. Please note that I'm not interesting in selling the lower side fairings or Termi separately

Perfect bike for the enthusiast / collector and in absolute pristine shape. Feel free to contact me at three one zero six nine nine seven three seven seven if you are interested. Please no low ball offers, scams, etc. or text messages.
Demand for the SportClassic line petered out after just a few years, but they have held their value extremely well and all versions command very good money on the used market. The seller is asking $22,500 for this Paul Smart, which is pretty big money for a SportClassic, but the bike does feature the factory side fairings that more closely resemble the ones on the original race bikes, along with a classic Termignoni exhaust. While I prefer the truly wild Zard two-into-two pipes for the early SportClassics, you can't go wrong with Termi pipes on a Ducati.
In nearly-new condition with just 1,000 miles on the clock, this particular example is one of the best you're ever likely to find, so if you are looking to add a SportClassic to your collection, you can't go wrong with this one.
-tad