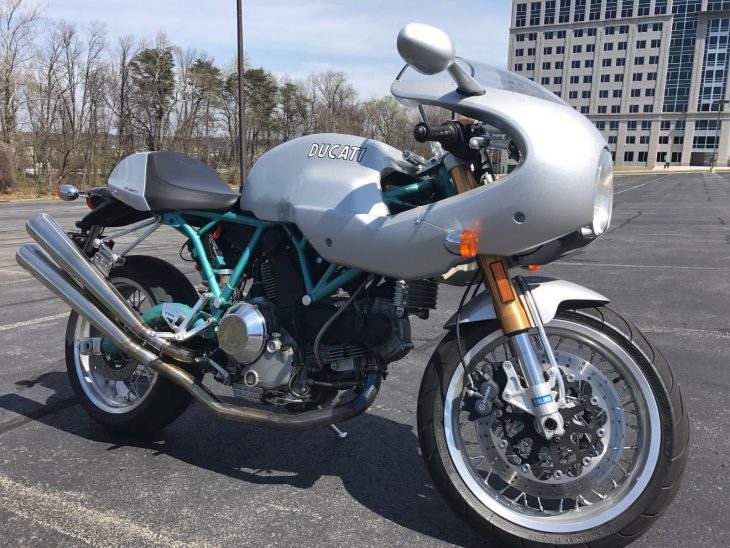 Different motorcycle manufacturers have different ways of mining riders' nostalgia and their own history: Triumph makes motorcycles that look like they rolled straight out of the 1960s but perform like modern machines, while Harley Davidson makes actual 1960s motorcycles, only heavier and with 1980s brakes and electronics. Ducati's retro bikes manage to straddle the line between vintage and modern styles, so designs for their Sport Classic and Scrambler models have classic colors and shapes, but you'd never mistake them for actual vintage machines. When released, bikes like the Paul Smart 1000LE caused a sensation, but demand died out relatively quickly and the line was discontinued after just a few short years, with only the GT soldiering on until 2010.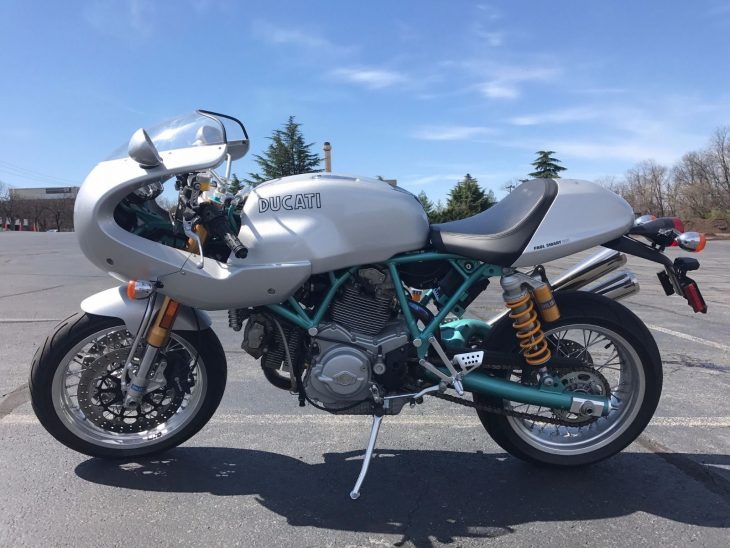 Values for them second-hand have been surprisingly strong however, particularly for the 1000LE and Sport models. I'm a huge fan of the offset monoshock that looks like a dual-shock setup from the left side and the tubular swingarm, although that setup on the original bikes meant a solo-seat option only. Performance was fairly tame on paper, although 92hp is really nothing to sneeze at and can be put to good use because of the bike's excellent handling. This was a bike pitched at a more mature crowd and experienced riders who appreciate a fast motorcycle but weren't interested in bench-racing or pointless horsepower-measuring contests.
Paul Smarts show up pretty regularly on eBay, considering how few were built, often with low miles and exorbitant prices. This particular bike certainly fits that description, as the asking price is $27,500 only with even lower miles and the added bonus of Paul Smart's signature on the bodywork, which should be like catnip for Ducati collectors. I'm glad the factory pipes are included for originality's sake, but they are very ugly things clearly designed to be replaced by the owner as soon as possible. The Keihan exhausts currently installed suit the classic style of the bike, but are almost too vintage for my tastes, and are likely too quiet as well. Maybe some Termignoni pipes would be more appropriate? Or those wild Zard high/low pipes that only work on the solo-seat models?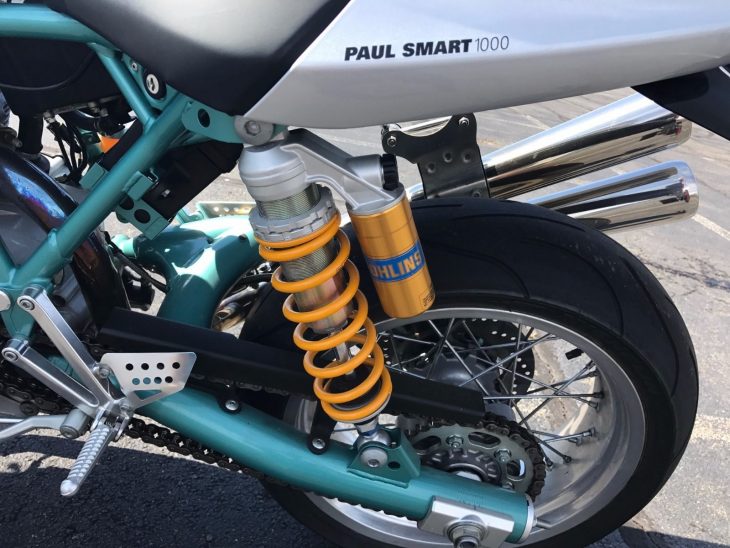 From the original eBay listing: 2006 Ducati Paul Smart 1000LE for Sale 
2006 Ducati Paul Smart 1000LE Limited Edition. Perfect condition with just under 700 miles.  Autographed by Paul Smart on the tank and tail. Both have had a clearcoat applied over them. Always garaged. Collector owned. The bike is located in Washington DC, but I can arrange for shipping anywhere. Aftermarket Keigen pipes, but the originals will be included in the sale. More photos available upon request.
Aside from a relatively uncomfortable riding position, the 1000LE makes for a pretty great roadbike, with excellent handling, adequate power and a rich midrange, wind protection, decent fuel economy, and reasonable reliability, assuming you take good care of it. But in such perfect, low-mileage condition, and with that Paul Smart signature on the bodywork, I doubt anyone would want to destroy the bike's value by actually riding it. So it's a shame that such a practical exotic will  probably spend most of its time in an office, living room, or heated garage, sealed away as an investment.
-tad