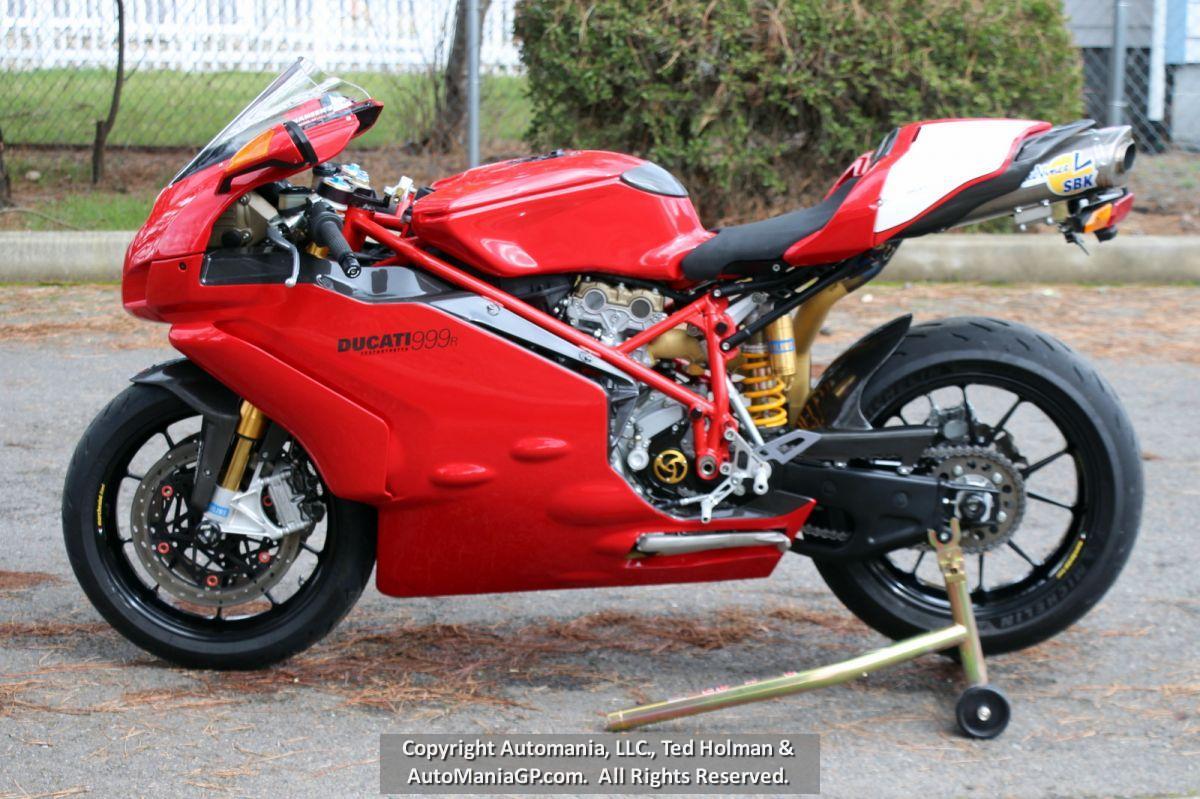 I'm going to go on record here, and tell you that I was wrong. In fact, I think many people were wrong. We just didn't notice. You see, when the Ducati 916 was released it blew the world away with what a motorcycle should look like, sound like, and how one should move. Massimo Tamburini penned an instant legend; a svelte scalpel with a booming, throbbing heart. We fell in love. The world fell in love. And copy cats followed with the ensuing years – the 996, and the 998 just to name two. More of the same was good when it looked this good. And ultimately, we fell into a rut. Everything had to have the same narrow slit twin headlights, single sided swing arm, and exhaust cans hanging way up high. It was a look, and we liked it that way. Enter 2003, and the Pierre Terblanche-designed 999. Gone was the familiar face, the coke bottle side view, and that rear wheel hanging out with no visible means of support. The Ducati 999 climbed out of the rut in such a fantastic manner that people had a hard time following. History will show that the 999 failed to capture loyal Ducati buyers due to the polarizing looks. It was a love it or hate it sort of thing. But everybody who rode it loved it.
Featured Listing: 2005 Ducati 999R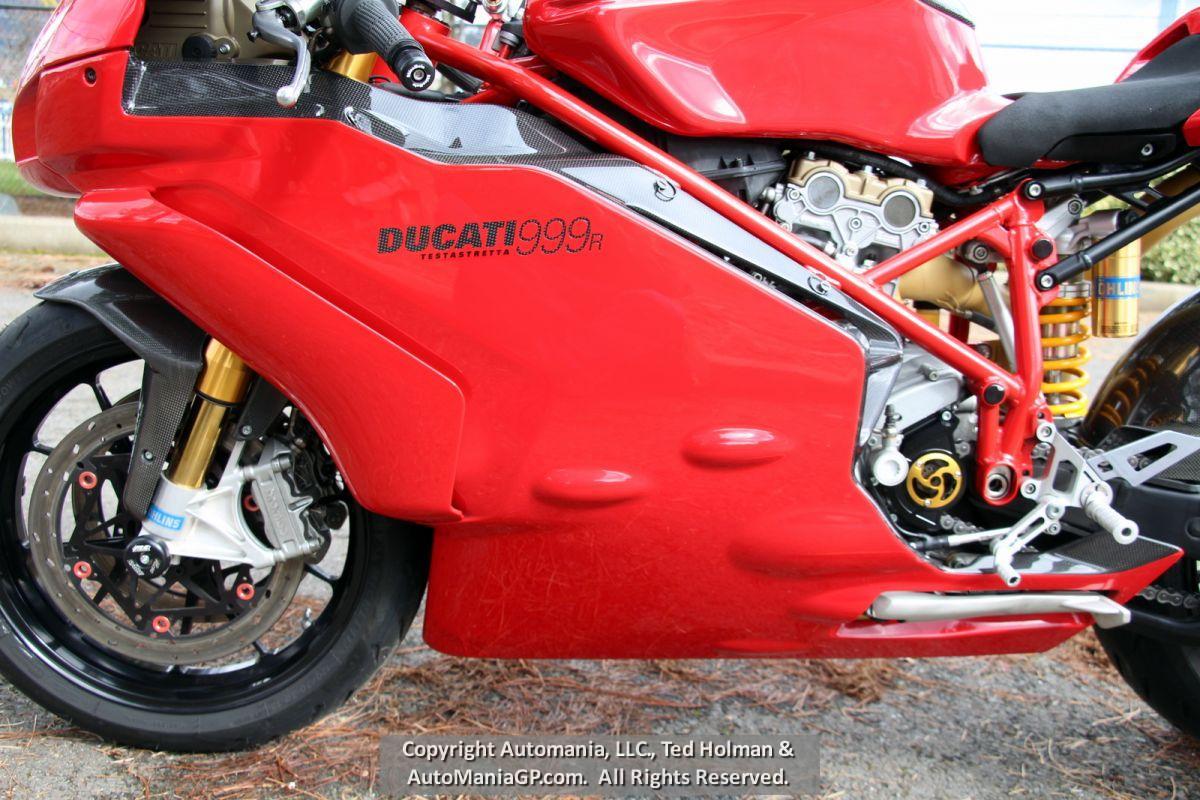 Today the 999 is starting to get recognized for the amazing machine that it is. In person the lines and details on the bike make the 916 look like a Jr High School crush. And while pictures do not do it justice, the real thing draws your eye in to see more. This is a motorcycle that has presence with a capital P in a way the 916/996/998 simply cannot compare. And speaking of comparisons, let's talk performance. With a power plant based on the 998R unit (itself a major revision of the Testastretta engine), the 999R promised 150 HP pushing a sub-400 pound machine. That is both more powerful and lighter than the R bike that preceded it, and it shows on the road and on the racetrack. Stopping this missile is easy, thanks to the race-spec radial mount Brembos. And unlike the trio of bikes that came before, the triple nine has yet another crazy trick up its sleeve: comfort. With revised ergonomics that include a range of adjustments, the 999 is actually a platform you can ride without planning a trip to the chiropractor. The seller has good detail about this bike, so I will let him pick up the tale on this one:
From the seller:
The Ducati 999R was one of the most expensive to manufacture motorcycles Ducati created other then the Desmosedici. It had an invoice of $29,995 when new, $7000 higher then the S model which was the next lower upgrade over the standard 999 offered. The R had the same Ohlins Suspension, but the engine was treated to all sort of exotic changes including being a true 999cc in size from the 104mm bore, having Sand- Cast Crankcases, revised Ports with larger Valves, more aggressive Cams, higher Compression ratio, Titanium Connecting Rods, Knife Edged Crankshaft and 12-Hole Injectors feeding 54mm Throttle Bodies that added up to almost 15 HP more then the S model.

The end result was one of the most amazing refined motorcycles produced. It combined an incredibly smooth engine with insane amounts of torque along with an incredible chassis delivering unbelievable handling and astonishing brakes. It then wrapped all of this engineering and handling in Carbon Fiber Body Work finished in Ducati Red with fit and finish that has not been seen since.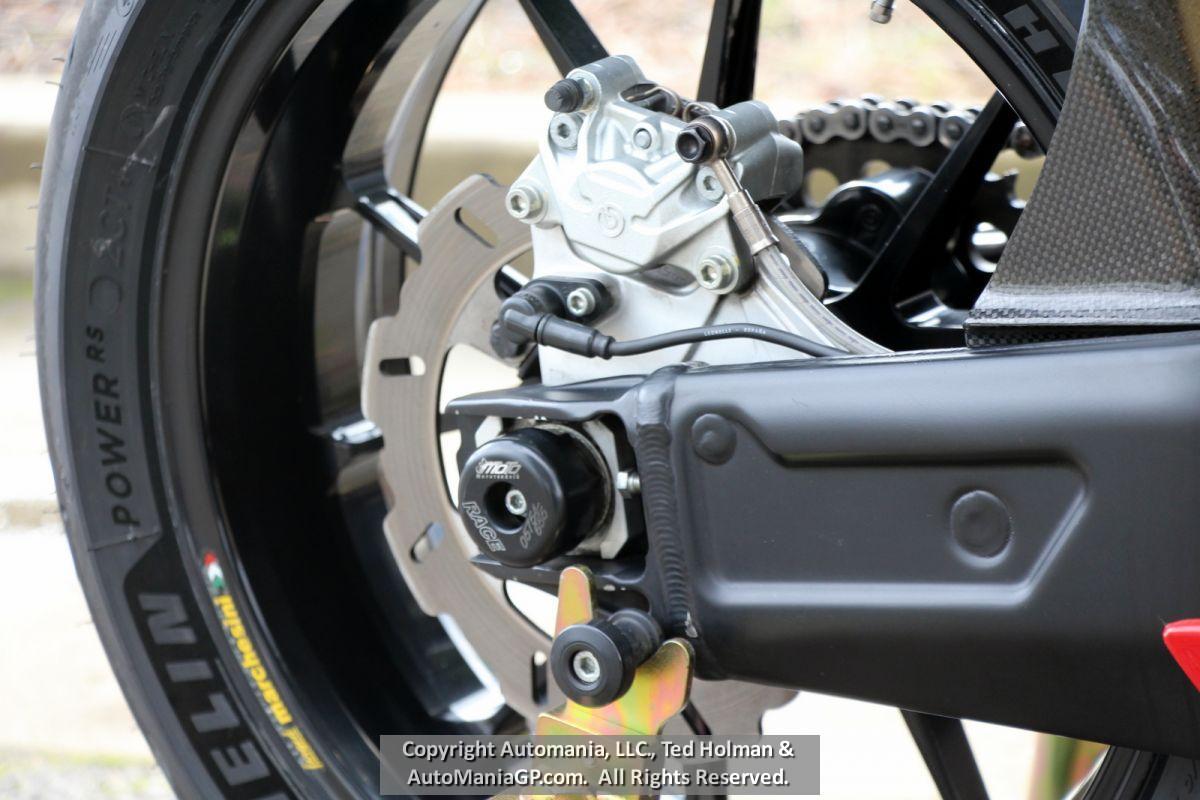 More from the seller:
Living the Ducati dream, the owner (dealer) then installed all sorts of what have become "normal" Ducati ad on's. The Leo Vince Titanium Exhaust System sitting in a box new was close to $4,000. The Speedy Moto vented Clutch Cover and Pressure Plate was a foregone conclusion. The AMS Triple Clamps create a beautiful sight from the rider's seat along with the Pmoto Master Brake and Clutch Reservoir billet covers. After Market Front Brake Rotors were dramatically lighter and replaced the stock Ducati items. The infinitely adjustable Rear Seats may take an engineer to adjust there are so many variables allowed. Also installed was Ducati's Factory Shift Assist which can be seen to the left of the instrument cluster. There so much more as you can see in the images. What is great about this bike is that all of the stock parts (except the front brake rotors) are included with the sale.

A full service has been completed including Belts, Tires and Fluid changes. The motorcycle was inspected, the gas replaced with clear treated fluid and test ridden by a Ducati trained Tech.

The selling price: $16,495
Mileage: 3,642
VIN# ZDM1UB5W85B013323

For more information please contact: ted@automaniagp.com
You can also visit the Automania website

This is one very beautiful 999R, and it is sporting a wealth of upgrades and very few miles. It has had a recent service. If you dream of a Ducati R bike, this should be your wake up call. The 999 series were superior in every way to the previous generation. These are also the bikes that are next up on the value-appreciation escalator. As people realize how capable these machines really are AND begin to understand how good these bikes really look you will see a run on them. They have come of age. There is subtlety in this beauty; the 999 just needed a few years for us to mature – and admit we were wrong. But I'm not wrong about this – there is a whole lot of bike for $10,000+ less than a heavier, slower 998R will fetch. That is a bargain in the making, and a future standout for collectors. Look closely. Then admit it. You were wrong too. Give Ted a ping when you are ready to 'fess up. Good Luck!!
MI