Update: Email link corrected: dan@gravitycavity.com
As much as the original 916 set the superbike world on its ear, the last year 916 SPS was worth waiting – or changing horses – for.  The new 996cc engine, enhanced suspension, and lightweight wheels made the SPS an homologation special worthy of the name.  As presented by RSBFS reader Dan, number 830 ( of a around 1,000 ) is immaculate and shows just 5,674 miles.
1998 Ducati 916 SPS with just 5,674 Miles!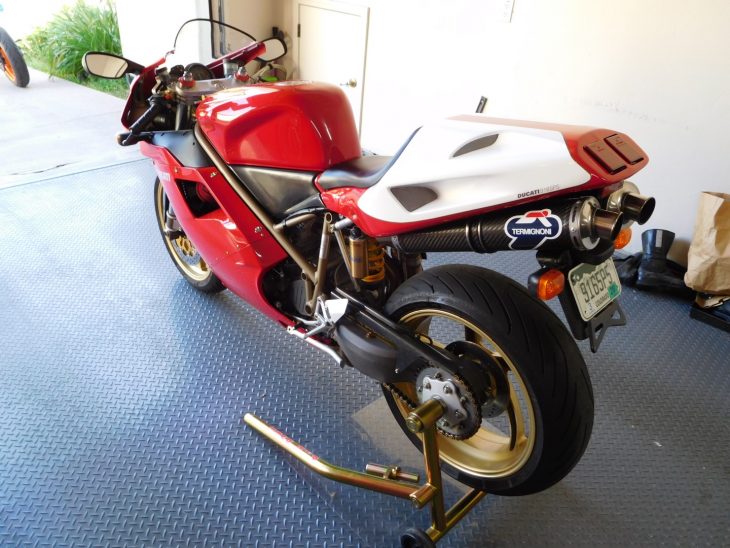 Ducati jammed a lot of WSB goodness into the new 996 engine cases – the bigger bores, bigger valves and downpipes conspired with 11.5:1 compression and two fuel injectors per cylinder to report 134 hp.  Camshafts capitalized on desmoquattro experience to deliver a wide torque band.  While the trellis frame was unchanged, improved 43mm Showa forks and Öhlins monoshock were multi-adjustable.  Front brakes were fully floating Brembos for 1998.  The now-iconic good looks of the Tamburini design were rendered in Anniversary red with white number areas.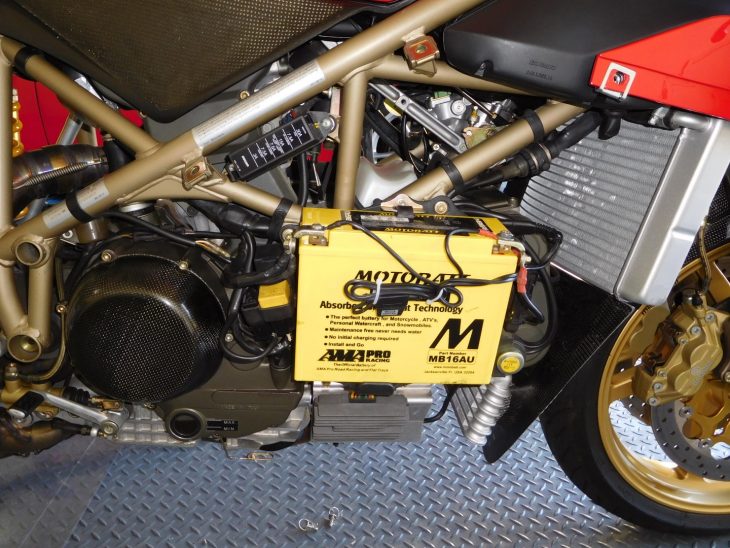 Dan picked his SPS up after it had sat for a year or so, and beside going through the fuel system, did quite a bit to return it to super-nice condition.  Recent tune-up parts, Michelins, and fairing lowers, and a mammoth amount of detailing, as the unfaired pictures show. 
Dan's comments about the bike:
It would not start when I bought it due to the fuel pump being all gummed up. I replaced all the fuel system parts that are in the fuel tank. I also put some marvel mystery oil in each cylinder and spun it over before starting it. I have all the receipts for the parts that were replaced.

I also think the bike must have been dropped (not crashed, just dropped) at one time due to the scratches on the original body work. The bike came with a factory new replacement upper fairing and I purchased both left and right side panels new from Ducati shortly after I bought it. That is what is on the bike now. Everything else on the bike is original, except for the ECU (see below).

After getting it running, I replaced all the fluids, spark plugs, air filters, and timing belts. I also put a new set of Michelin Pilot Power 3 tires on it. The original owner claims a full service with valve adjustment was done on the bike at around 2500 miles.

The bike is wicked fast and everything works flawlessly on it. In the five years I have owned it, I have ridden it only a few hundred miles a year. Just enough to keep it rideable and it has been carefully maintained and garaged during that time.
I did have one issue with it back in 2017. It started cutting out and shutting off intermittently when riding it. After much trouble shooting I wound up replacing both ignition relays (the two that are under the seat) and the ECU and that 100% fixed the issue. I have put about 500 miles on it since then and it runs flawlessly. I still have the original ECU and the stock EPROM that came with the bike.
More from the seller:
For those that have never ridden one of these wicked machines, I must say the experience is heart pounding! When you grab a handful of throttle you better have it pointed where you want it to go because the torque and power delivery is explosive and it pulls extremely fast and hard all the way up to the 11,000 RPM redline. I rarely take it that far just because of how explosive the mid range torque is. You are doing triple digit speeds in no time just short shifting it. The sound of the Termi exhaust with the tuned EEPROM is intoxicating and the chassis and brakes are phenomenal. Riding this bike always reminds me of those glory days of seeing Anthony Gobert and Ben Bostrom racing in AMA superbike and of course Carl Fogerty, Troy Bayliss, and Troy Corser in World superbike. I loved watching them race the big twin Ducati's and hearing how different the bikes sounded from everything else.
A game-changer for superbikes, the 916 led riders to expect complex underseat exhausts, steering dampers and single-sided swingarms on premier models.  With five Superbike World Championships in six years ( 1994-99 ), the model continues to define beauty in the superbike sense.  Dan is asking $19,900 for number 830, and can be reached by email – here –.
-donn