Warning!
This post is in our archives. Links in this post have been updated to point to similar bikes available to bid on eBay.

1.31.2020: This bike has SOLD! Congratulations to buyer and seller! -dc

This Featured Listing is part of the The Edinger Ducati Collection. Thank you for supporting the site, David! -dc
The Ducati 851 is one of the all time greats; a watershed bike that defined a company, dominated a racing class, and lives on as a lust-worthy dance partner in the canyons. Everything about it screams "Ducati" from the miles of blood-red paint to the big, booming exhaust note that only a 90 degree v-twin can produce. The design silhouette is distinctive – and sexy. This is an Italian exotic at its finest, and at its most collectible. And yet this is a bike that you can buy without mortgaging your house, and you can live with day to day.
Featured Listing: 1992 Ducati 851 Strada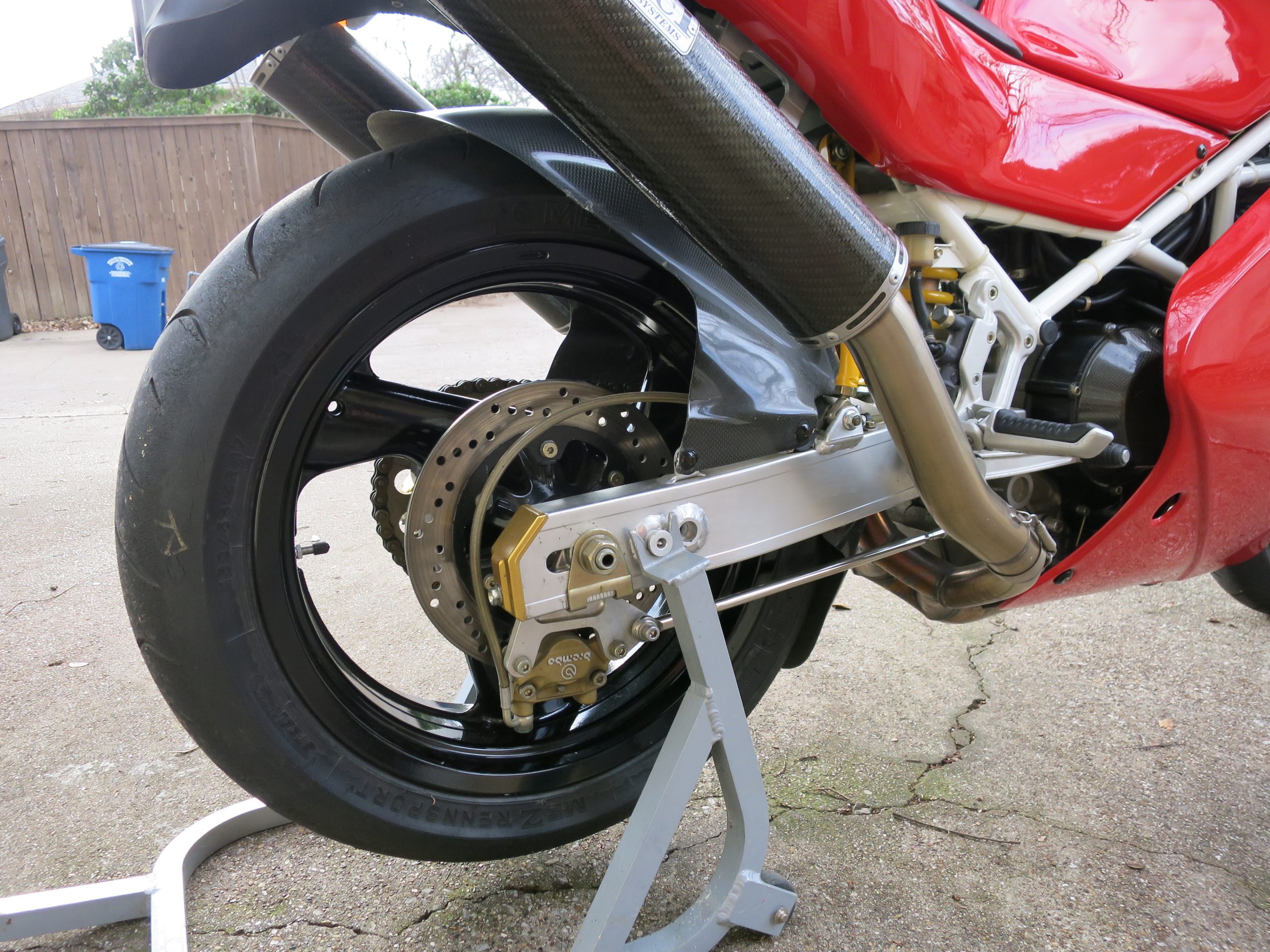 What makes the 851 such a big deal is the manner in which it burst onto the scene. Ducati leapfrogged the evolutionary process by simultaneously moving the Pantah-based platform from air cooling to liquid cooling, from a two-valve desmo head to a four-valve arrangement, and switching from carbs to fuel injection. That is a lot to pull off in one fell swoop, but given the performance, reliability and longevity of these motors it is obvious that Ducati cut no corners. As a result the 851 is a great choice if you are looking for a collector that you can ride. It makes usable power (but not outrageous amounts), offers strong brakes and willing suspension, and a decently upright riding position.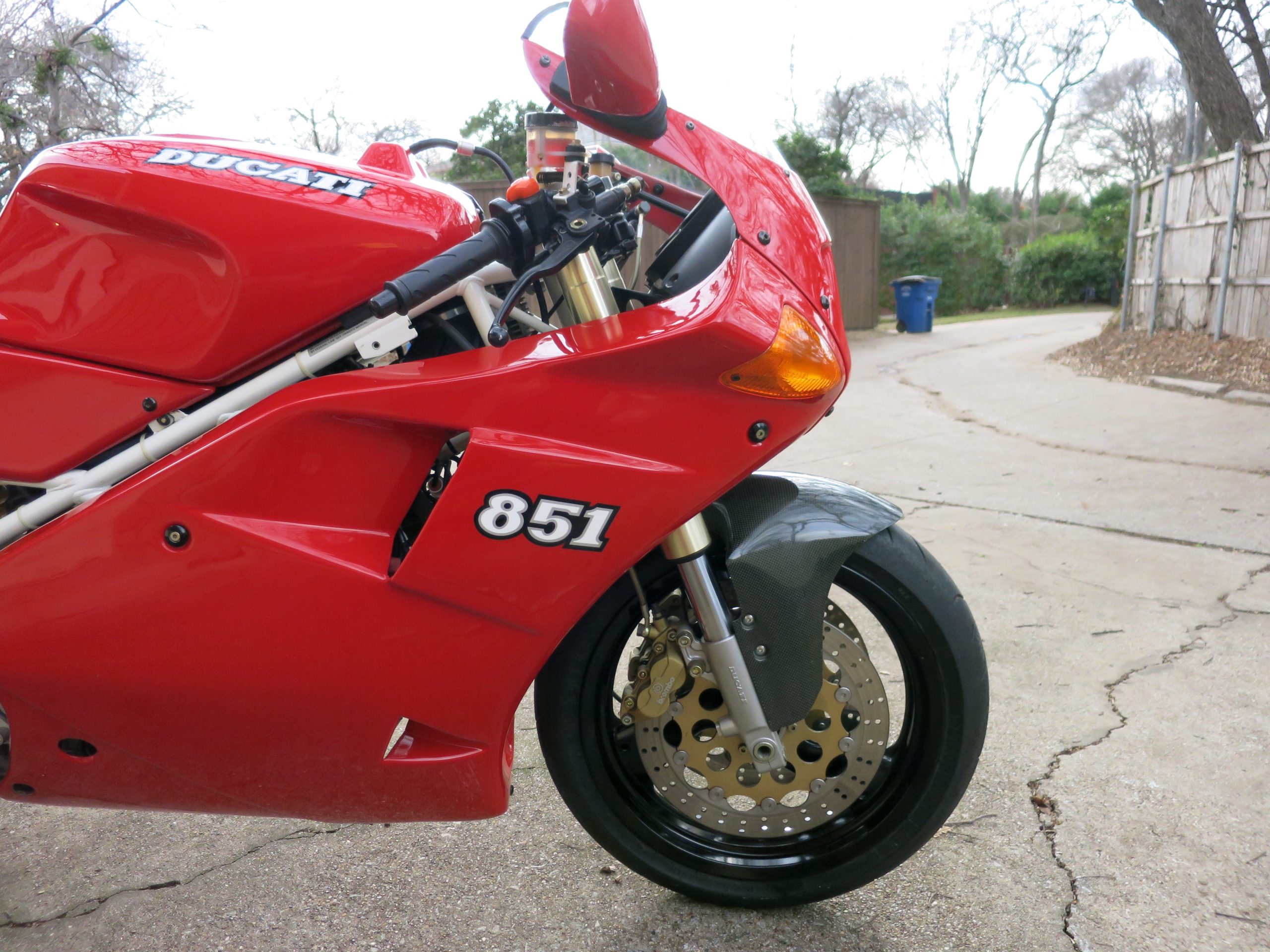 From the seller:
1992 Ducati 851 Strada
This model 851 was only made for two years and only 1200 were produced. This is a two owner bike with the rare Euro tail section added. The original BiPosto seat is included with the sale of the bike.

The Ducati 851 was the successor to the air-cooled two-valve Ducati 750 F1. After buying Ducati, Cagiva invested in the development of anotherV-Twin, but with liquid cooling, and four-valve Desmdromic heads. Based on the Pantah motor, but with liquid cooling, fuel injection, and desmodromic four valve heads (with an included valve angle of 40°), the 851 made Ducati once again competitive in motorcycle racing.

Bordi collaborated with Cosworth to develop the heads, but in the time they had, they were only able to reduce the included valve angle of the desmodromic engine to 40°, while less than 30° was possible with valve springs. Ducati stuck with the desmodromics. The subsequent 851 road bike had stronger crankcases, while the heads and valves remained the same; designed to fit above the 88 mm bore of a 748 cc version.

1.31.2020: This bike has SOLD! Congratulations to buyer and seller! -dc
This particular 851 is a Strada (street) model, but has been uprated with a carbon front fender, carbon mud guard, a sweet Fast by Ferracci high-sweep carbon exhaust (sounds so good!), and a solo section tail. In other words, this particular model is well-suited as a rider. The asking price is right in the ball park for a clean and cared-for example. That is the interesting thing about these models; while the SP4 and LTD models have higher resale value, clean base model Stradas continues to trade strongly. This is a testament to how great these bikes are to ride and own (author confession: my wife rides one as her commuter). Check out the pics of this extremely clean example and then drop David a line – he would love to see this beloved ride from his collection find a good home.
MI