Update 8.24.2019: This bike has SOLD to an RSBFS reader! Congratulations to buyer and seller! -dc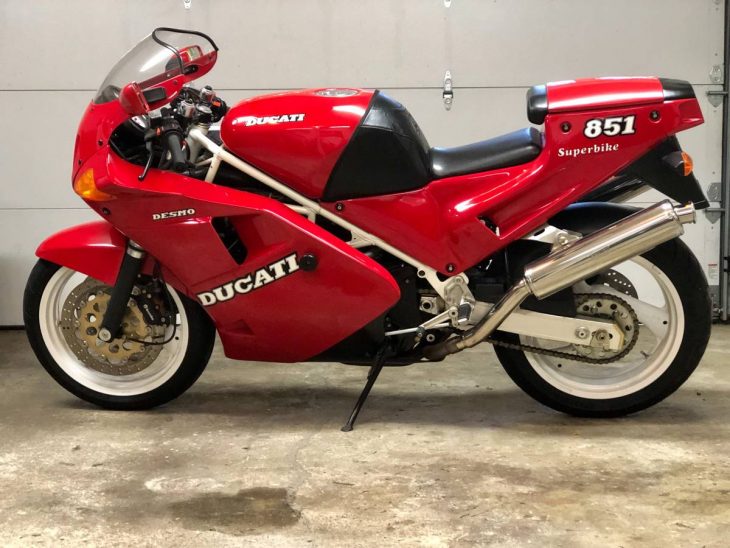 Ducatis tend to evolve gradually, rather than in sudden leaps, and the 916 was no exception. Sure, the wasp-waisted styling was a shocking change but, underneath, much of it had been seen before, in one form or another. Significantly, the four-valve, liquid-cooled Desmoquattro engine had been increasing in size and improving since it was introduced in today's Featured Listing Ducati 851, and the trellis frame was a development of the 888 that followed.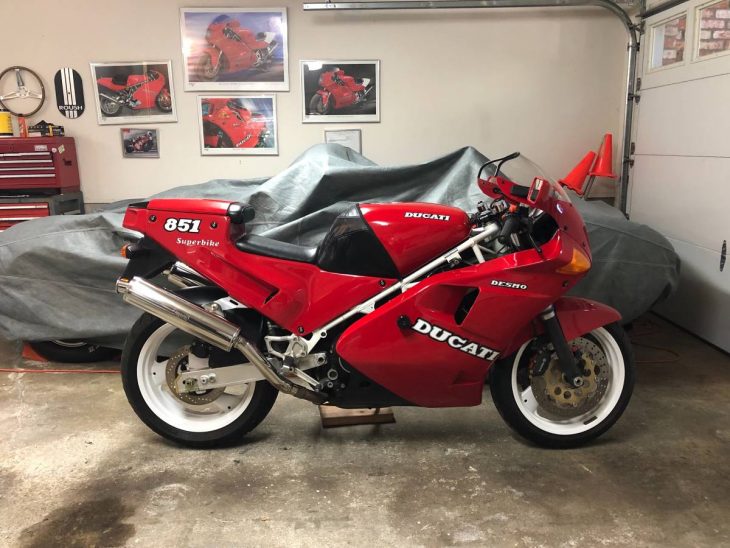 Introduced in 1987, the 851 was the first production four-valve Ducati sportbike, their first bike in years able to compete on relatively level terms against the Japanese manufacturers in top-level classes, and Ducati had their eye on the new World Superbike series where the new bike would go head-to-head against a host of inline fours. It weighed in at around 405lbs dry, and the new v-twin was good for 105hp and a top speed of 155mph. And while the switch from carburetors to fuel injection was a tricky one for many manufacturers, Ducati's Weber-Marelli set up was very refined and responsive.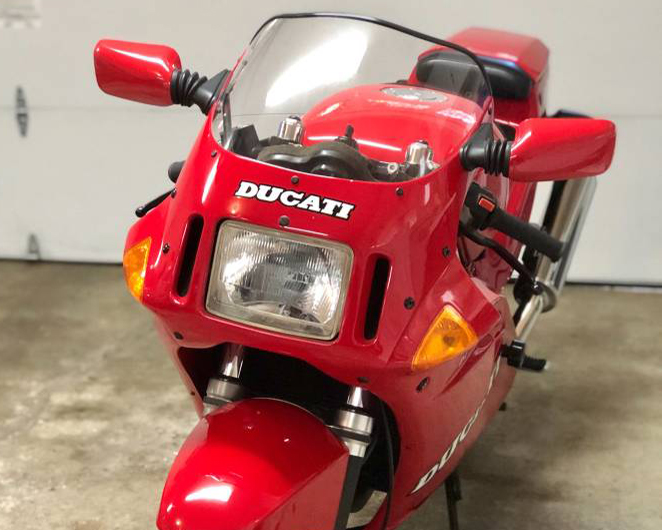 Early 851s came with a 16″ front wheel that pretty much ruined the handling, but that was quickly rectified and subsequent versions were considered some of the best handling bikes of the period. The aluminum tank replaced by steel in 1992, a curved radiator replaced the standard unit, and the styling was revised slightly. But visually, differences are pretty subtle, even between the 851 and 888, so it helps that they have "851" or "888" emblazoned proudly on the sides of the bike to help differentiate them.
Today's Featured Listing is a very nice example of what appears to be an 851 Strada. As always, the Italian lack of imagination is visible here, as the 851 obviously describes exactly the engine's displacement and this "Strada" version simply means it's in roadgoing or "street" specification, as opposed to the "Kit" or "Corsa" models intended for racing. or conversion into race bikes. The bike is also listed on Craigslist and the seller is asking $10,000 for this very clean example of one of Ducati's most significant sportbikes, with just over 5,500 miles on the odometer.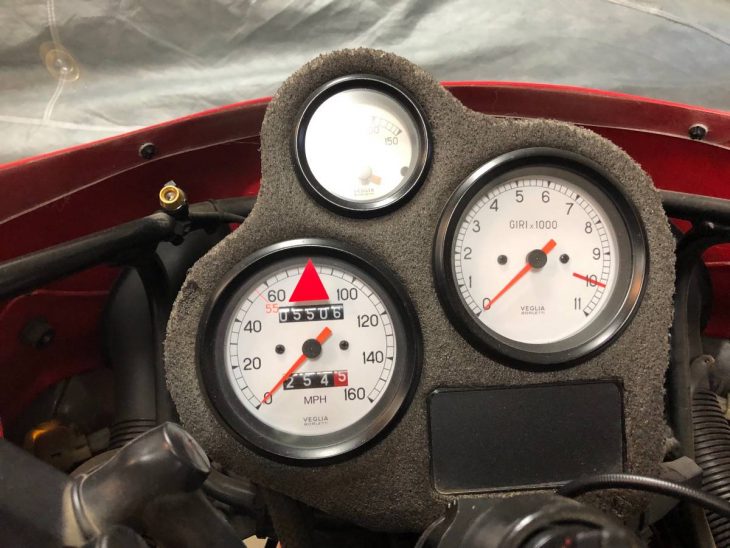 From the Seller: 1990 Ducati 851 Strada for Sale
This is a highly collectible, modern classic, show-winning super bike. I purchased this bike 14 years ago with 1,800 original miles. Upon purchasing the bike I took it to Ted's BMW in Scotts Valley and the bike was given a complete maintenance service under the supervision of Adam Cecchini. All maintenance recommendations by Ducati were completed at that time. Cecchini MotorSports also did the most recent safety/maintenance check. The price reflects the care and maintenance lavished upon this bike as well as its collectibility. According to Ducati expert Michael Cecchini, the 1990 white frame and white wheels with the contrasting Anniversary Russo red paint give the 1990 the freshest look of any Ducati. Michael has also stated that he feels that the 1990 is the most appealing. You may find a cheaper 851 but you will not find a better 851.

This bike is original with the exception of after market Staintune High Rise exhaust, Penske rear shock and mirrors. I have all original parts to revert back to stock. I also have detailed maintenance logs. Included in the sale are 4 numbered limited addition Ducati prints.
The Staintune exhaust is a quality, period-correct upgrade with a bit more bling than traditional Termignoni carbon tubes. The frame sliders should be good for protecting the bodywork in tipovers, and appear to use existing mounting points to avoid needing holes cut. It also looks like there is a headlight modulator installed, as you can see the light sensor mounted in the cockpit. If one is installed, removal should be very easy if you want to return the bike to a more stock configuration. Certainly, white frames and wheels are a total pain to keep clean, but they do look very classy and I doubt any new owner will be riding it often enough to make dust and grime a problem. With all the evolution going on, there's a good bit of parts-interchangeability between Ducati models, so it should be relatively simple to maintain your superbike in the years to come, in some cases with updated or improved parts! Or as long as gasoline is still available, in any case… It's not one of the rarer SP or Tricolore bikes, but is in very nice, collectible condition, the perfect thing to complete your Ducati superbike portfolio!
-tad