Update 11.18.2019: This bike has SOLD! Congratulations to buyer and seller! -dc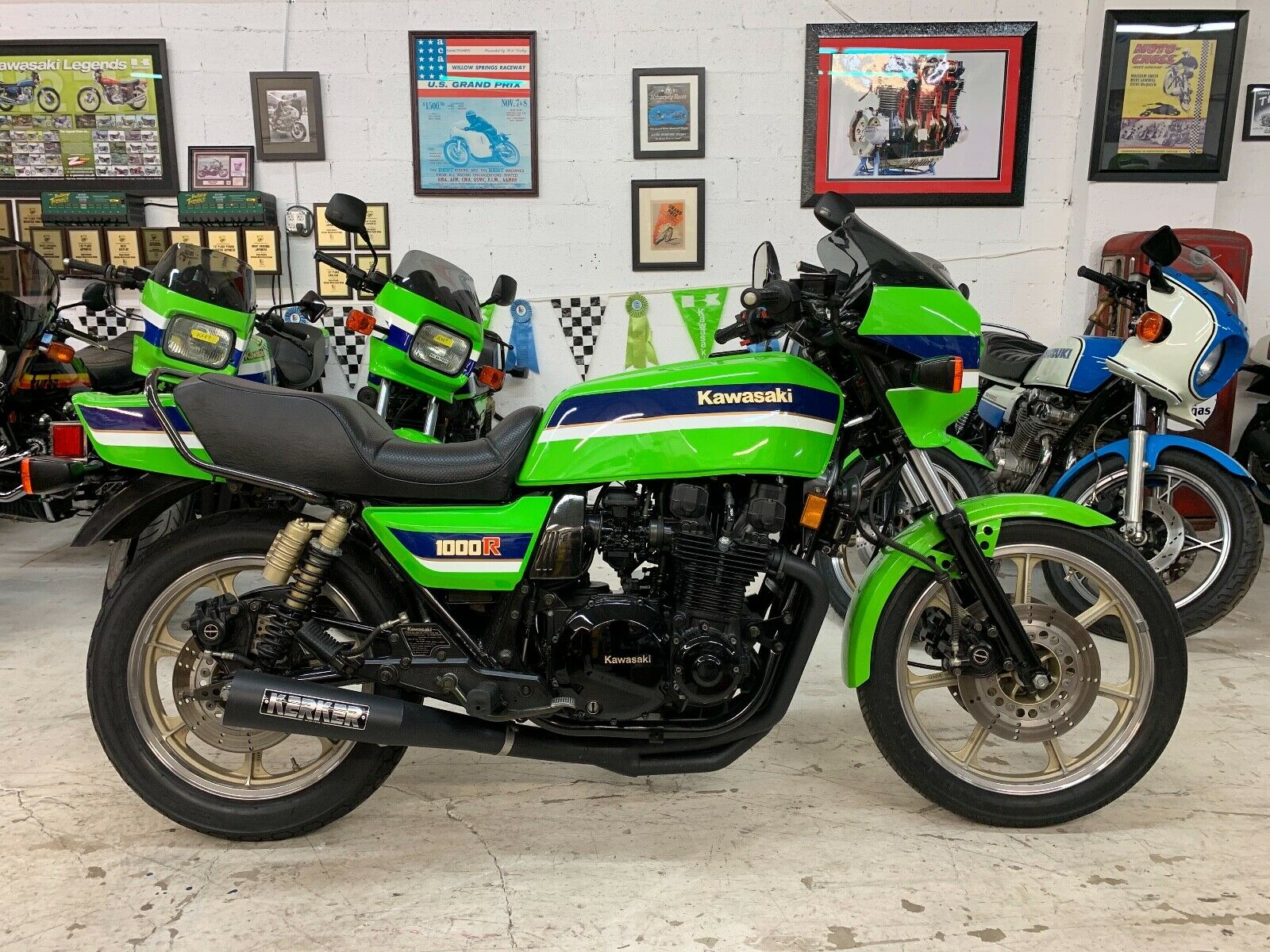 Eddie Lawson won the AMA Superbike championship in 1981 and 1982. That alone should be enough to cement his name in the history books. But "Steady Eddie" did not stop there. He went on to become a 4-time 500cc GP champion, bettering the likes of Kenny Roberts, Freddie Spencer, Kevin Schwantz and Wayne Rainey. And while this KZ1000R ELR – or Eddie Lawson Replica – commemorates his success with Team Green, what you are really looking at is a tribute to a two-wheeled legend. Unlike many "limited edition" models these days that have little to do with the men that raced them, the ELR stands out as a time capsule hot rod honoring the hero that rode it to victory. As such, it is glorious.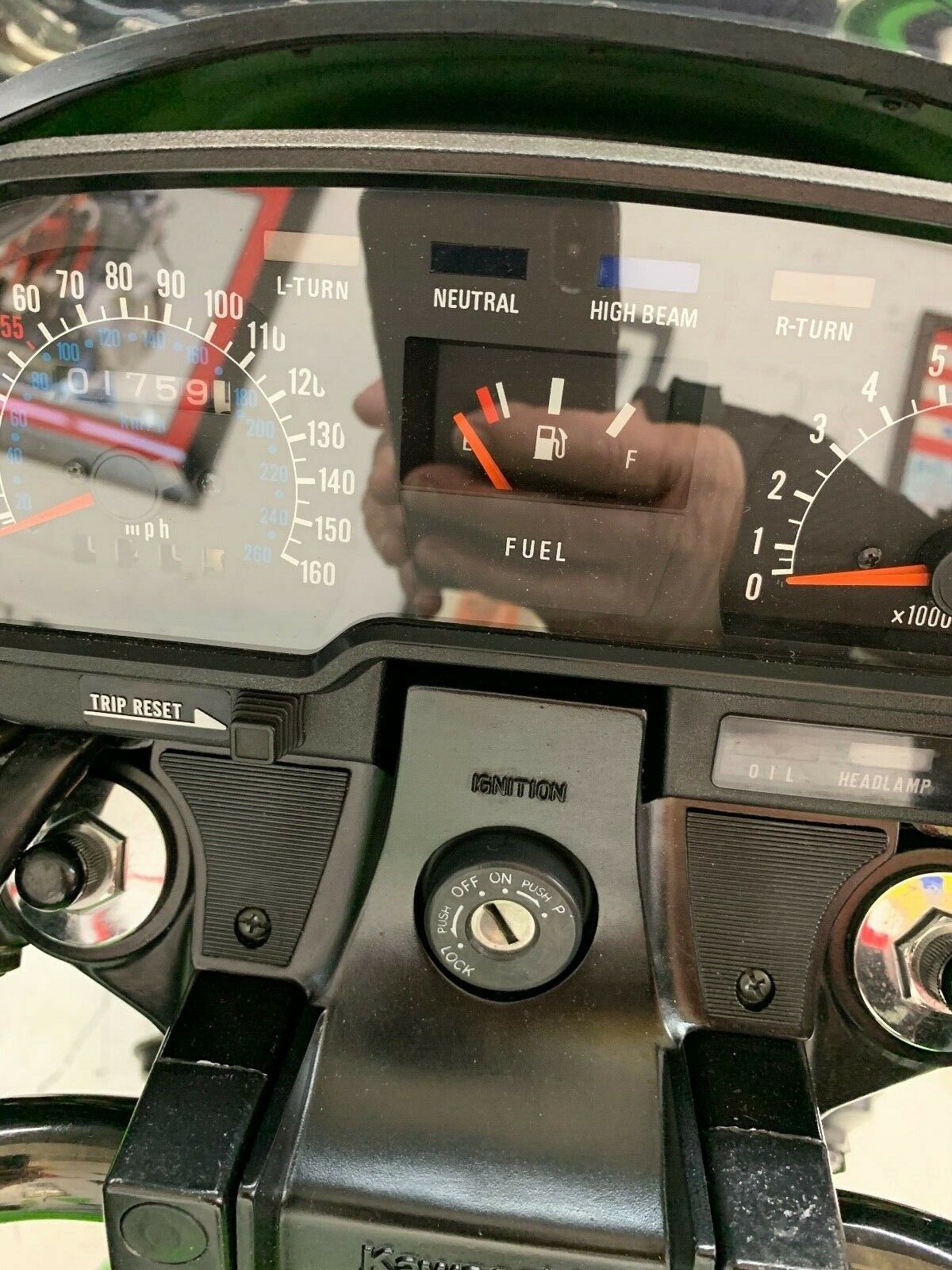 There is a lot of Kawasaki family DNA in the ELR. The basic format harkens back to the 1970s, when the Z1 ruled the streets. All motor (old-school air cooled, with 2-valve heads no less) on paper, the Z1 began the shift whereby Japanese manufacturers realized the key role of the frame when it came to handling. And handling meant winning races. Still a far cry from the aluminum spar frames to come, the basic back-bone chassis was beefier than the competition, and continually evolved into the 1980s. The bodywork has the classic GPz theme to it, yet appears much different than a GPz with a green paint job. The twin piggy-back shocks were high-tech for the day, as were the triple disk brakes. Everything about this bike screamed "racer!" right down to the Kerker 4-into-1 pipe that looked like it came right off the factory works bike.
From the seller:
VERY LIMITED EDITION 1983 KAWASAKI KZ 1000R EDDIE LAWSON REPLICA THIS LOW LOW MILAGE JEWEL IS COMING OUT OF MY PRIVATE COLLECTION. 100% ALL ORIGINAL NEVER RE-PAINTED!!!!

I OWN 4 OF THESE AMAZING BIKES. THIS ONE IS ALL ORIGINAL NEVER MOLESTED WITH ALL ORIGINAL NOS BODY PARTS. THERE IS OVER $7000 IN THE NEW OLD STOCK "NOS" PARTS; TANK, COWL, FENDER, TAIL, SIDE COVERS, AND SIDE COVER, TANK, AND EXHAUST EMBLEMS, ECT. AGAIN ALL NEW OLD STOCK "NOS" OEM NOTHING AFTER MARKET ON MY BIKE.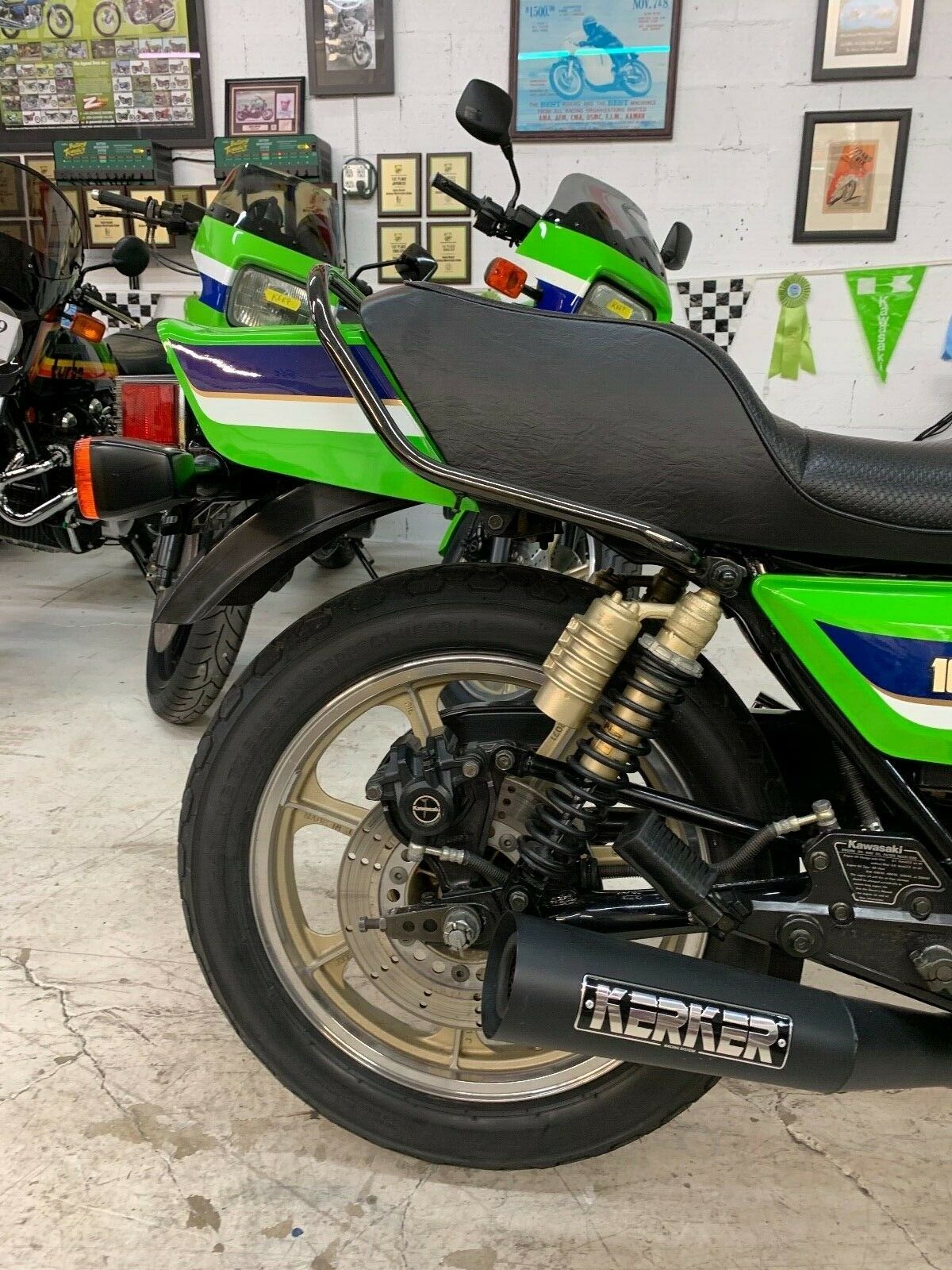 More from the seller:
IF YOU HAVE NOT OWNED OR RIDDEN A KAWASAKI ELR YOU ARE SERIOUSLY MISSING OUT ON WHAT I BELIEVE TO BE THE MOST FUN BIKE OF THE ERA TO RIDE! YES I HAVE TOO MANY ELR's ALONG WITH TOO MANY OF MY OTHER FAVORITE BIKES SO A FEW WILL BE OFFERED TO A NEW CUSTODIAN.

THIS EXAMPLE IS A PRISTINE ONE OWNER ALL ORIGINAL VERY LOW MILES 1983 KZ 1000R ELR THAT HAS BEEN PRESERVED IN MY CLIMATE CONTROLLED MINI MUSEUM. SHE IS UN-MOLESTED UNLIKE 90% OF THE ELR's OUT THERE. THE ONLY CHANGE IS THE TIRES THAT ARE AS PERIOD CORRECT AS I WILL RIDE ON, YES MUCH SAFER TO RIDE ON. THIS IS A PERFECT RUNNING BIKE THAT NEEDS NOTHING AT ALL JUST TO BE RIDDEN AT LEAST A BIT WHEN YOU GET HER.

I HAD THIS BIKE WITH A FEW OTHERS AT THE BONHAM AUCTION IN THE BARBER MUSEUM DURING VINTAGE FEST THIS MONTH AND I TURNED DOWN THE HIGH BID. I SOLD ANOTHER OF '83'S 2 YEARS AGO FOR 26K WITH "NOS" PARTS BUT HIGHER MILES AND JUST NOT AS PERFECT SO DON'T MISS OUT. I AM IN NO RUSH TO SELL HER. BUT IF YOU HAVE WANTED A PERFECT EXAMPLE OF AN '83 ELR THAT IS FIT TO BE IN ANY MUSEUM, HERE IS YOUR CHANCE.
More from the seller:
THE ENGINE:
ALL ORIGINAL UNMOLESTED WITH ONLY 1759 MILES SHE IS JUST BROKEN IN. I JUST SERVICED HER WITH A MOTUL 300V OIL AND OEM FILTER CHANGE, REMOVED ULTRASONICALLY CLEANED AND RE-SYNCHRONIZED THE CARBS (THE BIKE DID SIT FOR A WHILE), NEW NGK SPARK PLUGS.

THE FRAME:
THE FRAME IS ALL ORIGINAL, UNMOLESTED NO SCRATCHES OR TOUCH UP PAINT, THE WHEELS ARE SCRATCH FREE, NEW TIRES, ORIGINAL CHAIN AND SPROCKETS, ORIGINAL GRIPS, NEW BATTERY, THE PAINT IS "NOS" NEW OLD STOCK PERFECT NOT A SCRATCH,THE OEM KERKER EXHAUST IS LIKE NEW WITH NO SCRATCHES AND HAS A NEW OLD STOCK NOS PERIOD CORRECT KERKER EMBLEM, THE FOOT PEGS AND BRAKE/CLUTCH LEVERS ARE ALSO SCRATCH FREE AS SHE HAS NEVER BEEN LAID DOWN/DROPED.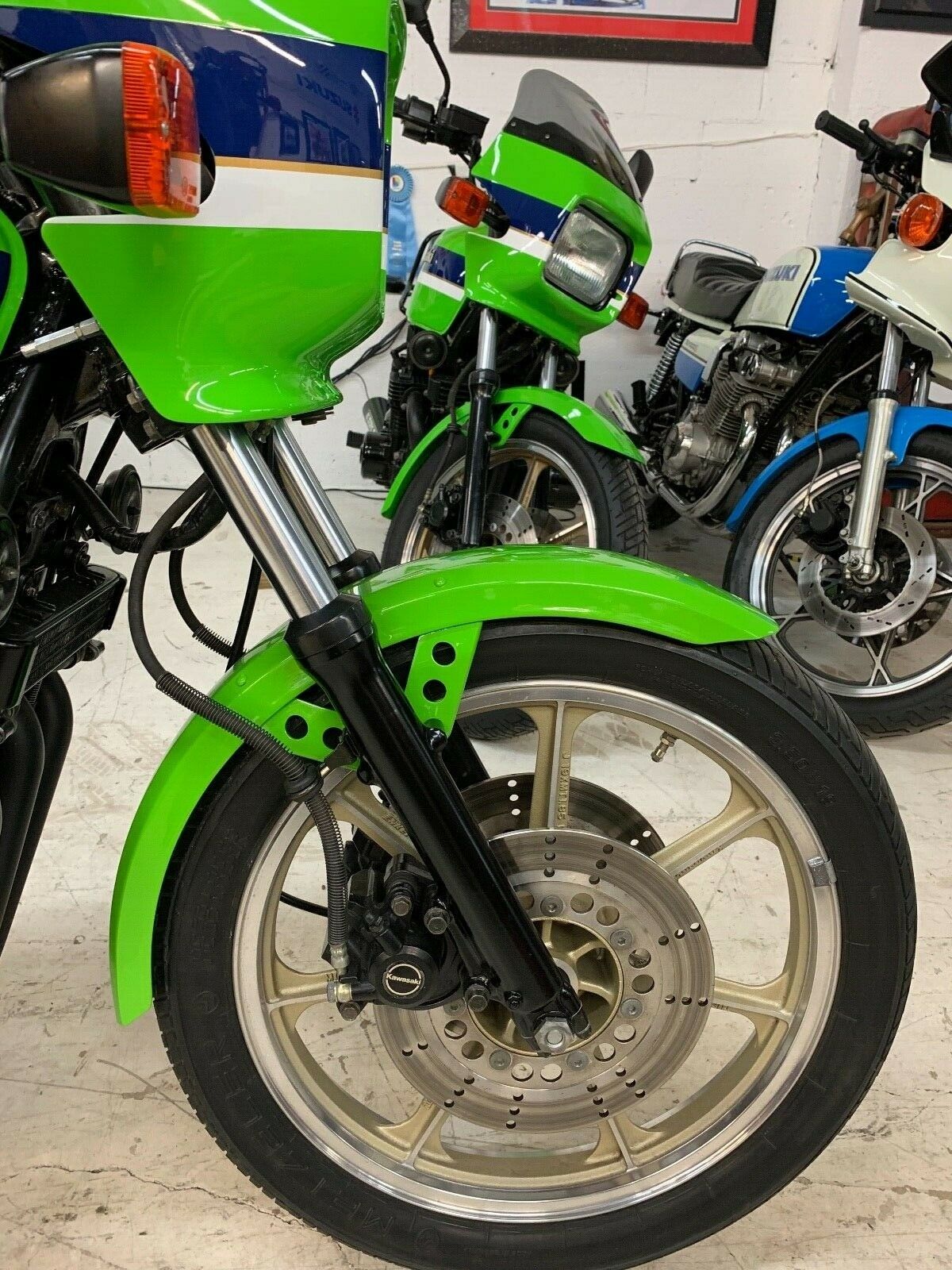 More from the seller:
THE BIKE STARTS, RUNS, RIDES, AND LOOKS LIKE IT JUST ROLLED OFF THE SHOWROOM FLOOR IN 1983.

I HAVE BEEN RIDING, RACING, BUILDING, RESTORING, AND COLLECTING SPECIAL BIKES SINCE BEFORE GRADUATING FROM THE AMERICAN MOTORCYCLE INSTITUTE "AMI" IN DAYTONA BEACH IN 1980. THIS IS A REAL HEAD TURNER AND SO MUCH FUN TO RIDE SO BID HIGH AND DON'T MISS OUT. DON'T WORRY TELL YOUR WIFE THESE BIKES ONLY GO UP IN VALUE 10-20% PER YEAR AND SHE WILL LOVE THE BIKE TOO.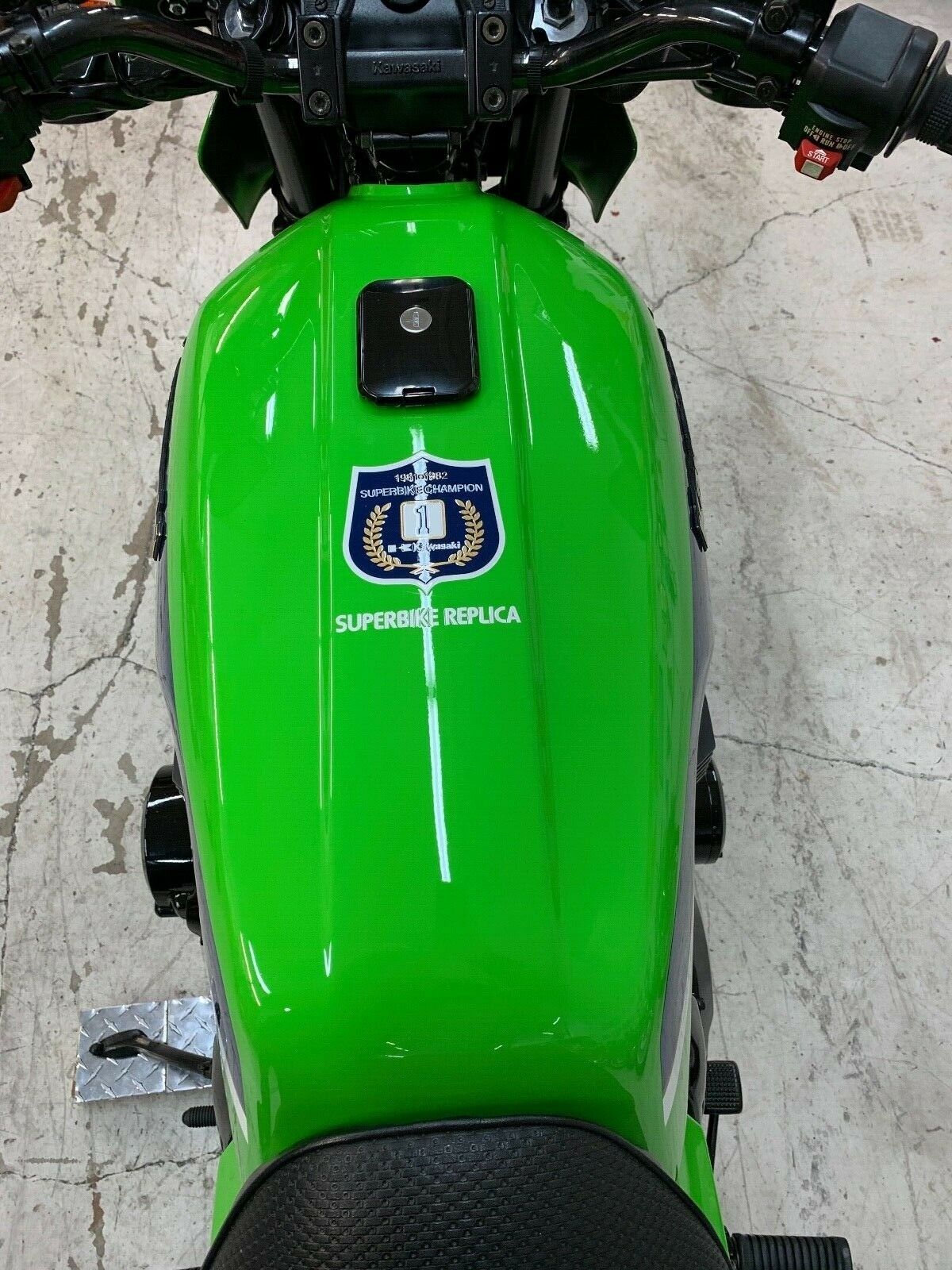 There's a good reason why the ELR is the color of money. These bad boys of a bygone racing era are worth bank today. Parts are difficult to locate, and truly low-mileage original machines are coveted. To find a clean, original ELR today will set you back a significant sum, and that sum seems to be rising faster than the overall tide. These were rare machines in the day, and as time goes on that situation only becomes more so. The laws of Supply and Demand are pretty immutable; Kawasaki isn't making any more of these, and there is a very limited supply of spares. These Lawson replicas are reaching the territory of the RC30 from a few years ago, and there is no reason to see that trend reversing. If you want in on the ELR craze, you'd better not wait much longer.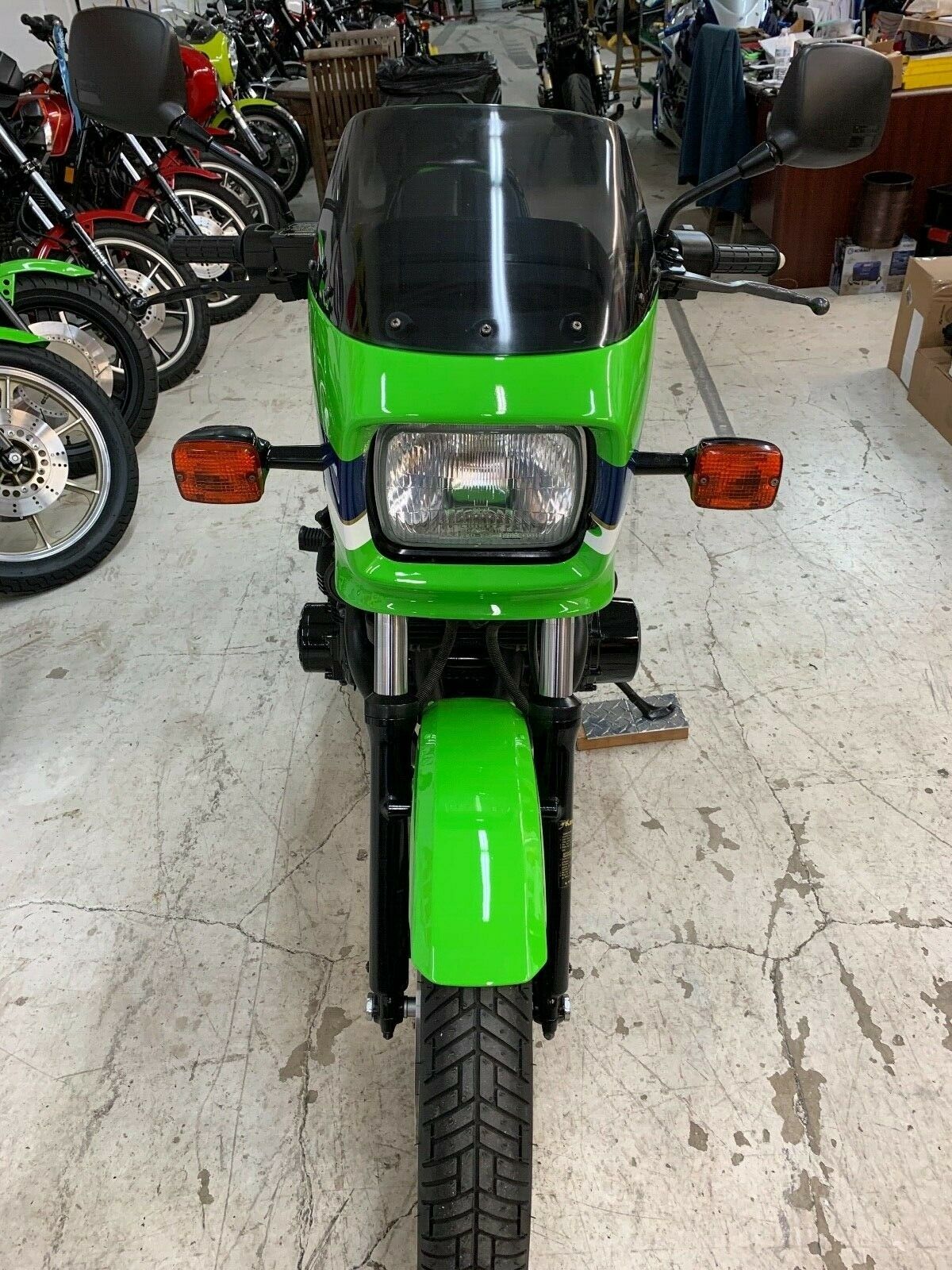 This particular specimen looks to be absolutely immaculate. We've seen this collector's bikes before, and they all represent as the best of the best. And you'd have to figure he knows the ELR model, given that this collector currently owns four examples of the breed. With only 1,759 claimed miles and a boatload of NOS (read $$) parts on hand, this is as clean an example you are likely to see. And the price? Well it wouldn't be the most expensive ask for an ELR that we have seen, and the market is certainly moving in this direction with no sign of slowing down. You could consider a good ELR about as blue chip as they come if you are speculating for the future (reference Bonhams, Mecum, etc). This bike is currently on eBay and you can check out all of the action here. Look closely, and then get in line to collect this homage to a legendary racer. Good Luck!!
MI