Warning!
This post is in our archives. Links in this post have been updated to point to similar bikes available to bid on eBay.
Every post will be sent right to your inbox every morning when new posts are made. We will never sell our list or spam you. Plus you can click links to bid or buy right from the email and skip the site entirely. Subscribe to Rare SportBikes For Sale today!
For Sale: 1975 BMW R90S in Daytona Orange
RSBFS Homologation sportbike enthusiasts might be wondering what a lowly Bay Um Vey is doing on this site. After all, these teutonic tourers from Der Vaterland are not exactly known for Superbike performance. But in the mid-1970s with the R90S model, BMW took the performance fight to the Japanese and became the FIRST manufacturer to win a Superbike championship. That's right: Reg Pridemore, riding a BWM R90S, won the inaugural AMA Superbike championship in 1976. Not bad performance credentials for the "gentleman's express" brand of bikes.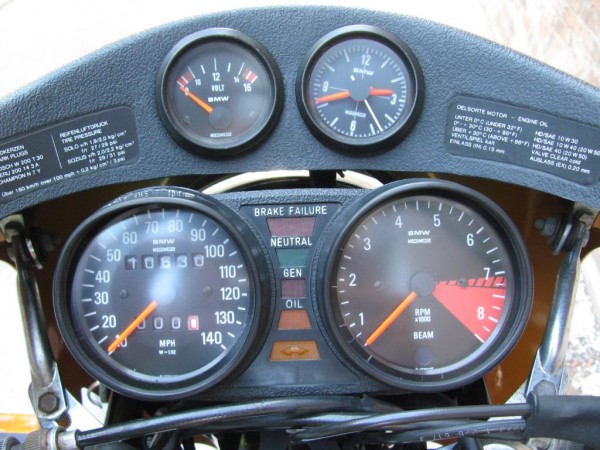 If you can get past the Creamsicle appearence of the orange sunburst paintwork (known as Daytona Orange), this is one sharp looking bike. The bikini fairing gives the bike an aggressive stance and provides a surprising amount of wind protection. The instrument cluster features a speedo and a tach (although the 7,500 redline is a bit low by today's standards), a volt meter and a clock. Top speed in stock form was reported to be approximately 125 MPH.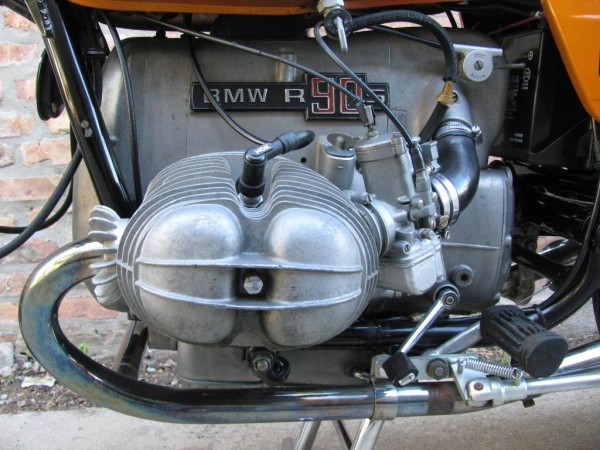 The classic airhead boxer twin pumps out a moderate 67 HP as delivered from the factory. Those are not big numbers today – nor were they in 1975, amid the era of the Japanese 750cc and 1000cc fours; certainly some creative tuning was utilized during the AMA era. This particular bike, while clean, sports non-standard plug wires. Sharp-eyed readers might spot the Brown Motor Works aftermarket sidestand – a huge improvement on the willowy stick BMW originally included on the bike.
From the seller:
Up for auction is a 1975 BMW R90S in Daytona Orange. This legendary and ground breaking motorcycle was only produced for three years. It is THE collectable BMW from the '70s. It debuted in 1974 as BMW's first sport bike and the first production bike to be sold with a fairing. It utilizes higher compression and BIG Del'Orto carburetors to produce a lot more power than the standard R90/6, making it a lot of fun to ride. This one is in excellent original cosmetic shape and has only covered 10,630 miles in its 36 years on the road. It got new tires two years/2,000 miles ago. It runs and rides beautifully. It has Lester mags, which were the hot aftermarket alternative to the original spoke wheels. It also has a Brown side stand and ride-off center stand. The front fender has a nice looking repaint, and the rest of the paint on the bike is original. It shows its age here and there but looks great overall. This is a bike that will only go up in value.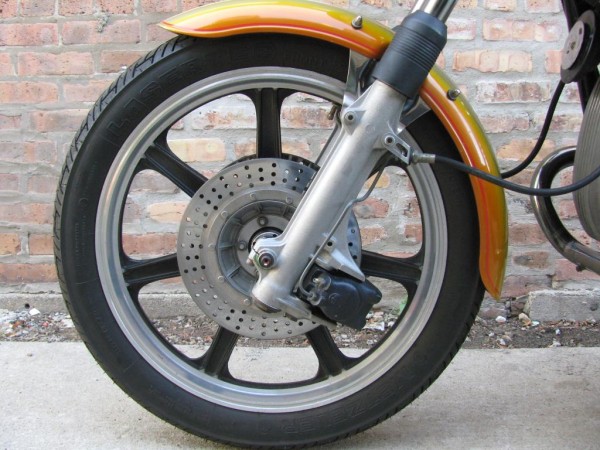 This particular bike looks to be pretty well cared for considering it is pushing 36 years of age. With the clock only showing 10,630 miles, there does not seem to be a lot of chance for abuse. The bike is quite presentable, and as the seller notes, this is one of THE collectable models in the historic BMW line. Located in the Windy City of Chicago, IL, this looks to be an interesting opportunity for prospective collectors.
This auction is on now, and bidding has been moderate. The current bid is up to $9,100 and there does not appear to be a reserve. This orange sportbike is going home with somebody in a few days! For your chance at this iconic boxer – or to check out the 58 pictures provided by the seller – click on the link and jump over to the auction. Good luck, and don't forget to tell 'em you found it on RSBFS!
MI