Warning!
This post is in our archives. Links in this post have been updated to point to similar bikes available to bid on eBay.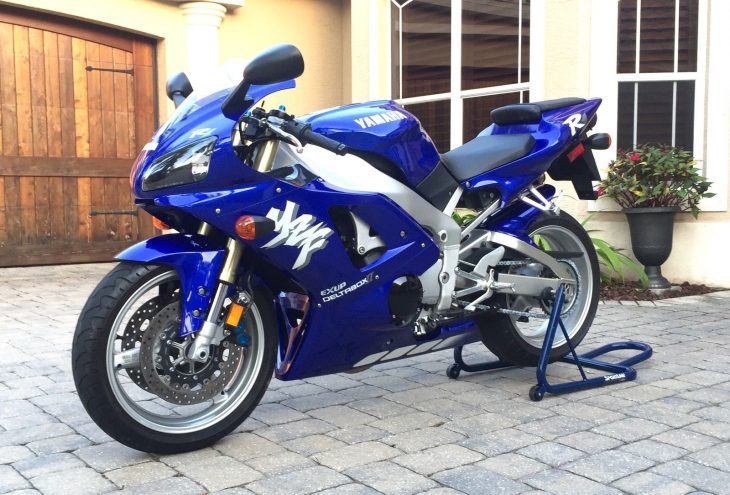 Ahh the Yamaha YZF R1…not just the bike that moved the motorcycle world beyond the legendary Honda CBR900RR/ Fireblade but also the template for pretty much every superbike that followed.   When it was introduced the YZF-R1 changed the expecation of what a street superbike could by packaging a power to weight ratio that had only seen on pure track machines with a bike comfortable enough to use everyday.  It shouldn't be a surprise the R1 was named as "One-Of-The-10-Sportbikes-you-have-to-own!" by Practical Sportbikes in their Oct 2016 issue.   As motorcycling editor Phil West wrote
"In producing the  YZF R1 (Kunihiko) Miwa and his team not only revolutionized sportbike design, they created the template for every superbike to this day."
For anyone unfamiliar with the R1 development history, in 1996 most inside Yamaha believed the market for super-sportbikes was static or decreasing.  Faced with this lack of growth Yamaha decided the only path was to get a bigger share of the market "pie".  Authorization was given to start working on a new superbike with a mandate that it had to position Yamaha for both race and sales success.  This was a tall order given that the competition included the legendary Honda CBR900/Fireblade.
Lead by Kunihiko Miwa, a team of Yamaha engineers undertook the project guided by thee major concepts; make it have the highest power, make it have the lowest weight, and make ii have the most compact dimensions.  The result was a design that shortened the length of the engine by vertically stacking the gearbox (an unheard of feature for a streetbike) and then joined it with a new lightweight frame developed around the concept of ultra-light weight and rider control/ergonomics.  New handlebars/clipons, one piece brakes and even LCD gauges were all incorporated into the design.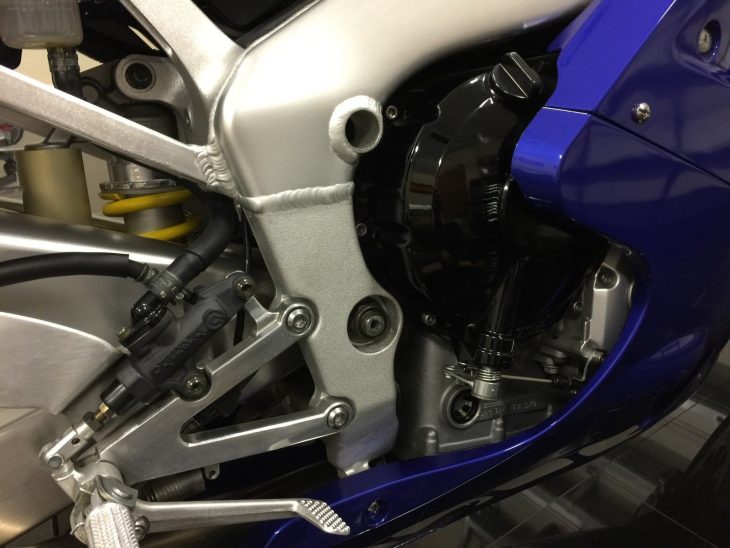 Upon its launch in late 1997 the R1 delivered 150ps while weighing only 177kg  (that's 148gbp and 390 pounds in Imperial).  Not only did the R1 dramatically exceeded the performance of the competition, it and reset the bar that had been established by the Honda CBR900RR/Fireblade earlier in the decade, it also seemed like it came from a different planet compared to the Thunderace it was replacing.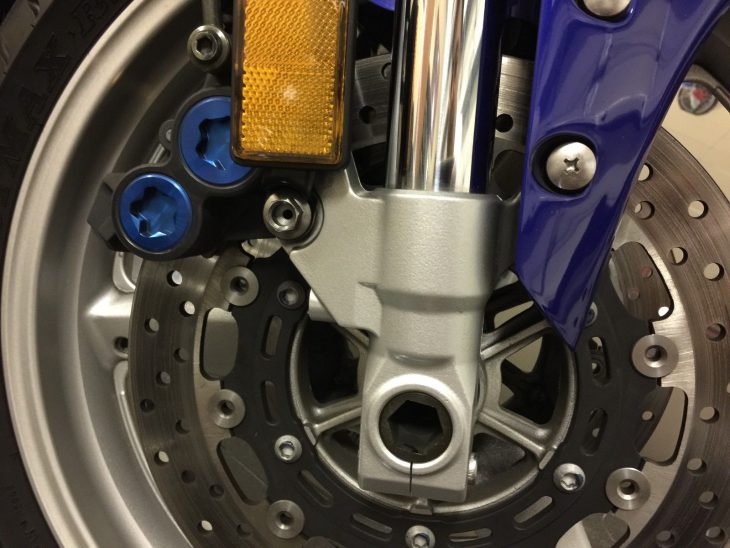 This particular R1 is in the first year blue/silver color scheme which seems to have been more popular than the white/red style.  Condition looks to be absolutely pristine and the seller does a very good job with the photos showing the bikes condition.   While service history/details aren't much that is to be expected given the very low mileage.
Here is what the seller has to say:
No scratches, only a few pin size marks from road dust
Mileage under 5000
Original exhaust changed when new, inever used and comes with the bike
Original paint, seats, tires and rear bike stand
Original books, keys, Bill of sale, copy of MSO, original title, service records and shop manual.
Bike has had only 2 collector owners in its 19 year pampered life.   Always stored in Heated and Air Conditioned Collector Garage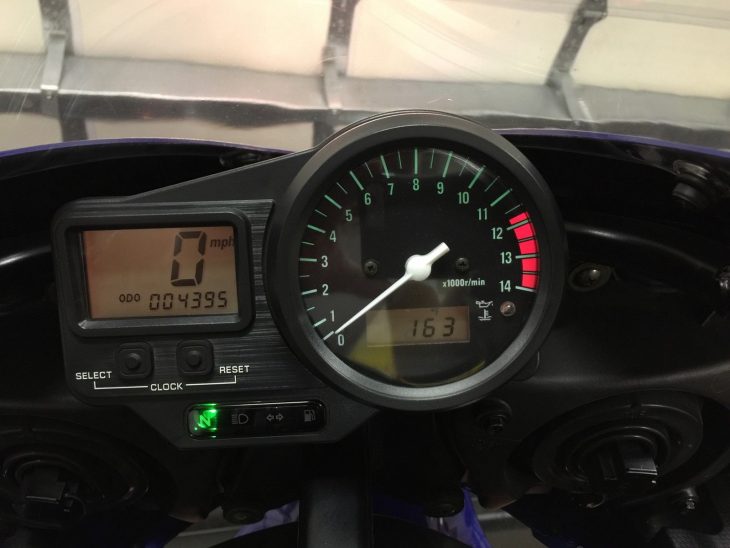 So what is this benchmarking blue beauty worth?  The current asking price for this one is at $6995 USD which is kind of high in my opinion but not out of line with what we have seen previously on RSBFS.  While this one is not in the red and white bodywork more currently prized by collectors, it is in amazing shape.  I think a fair price for this one is about $6400, maybe a bit more if the seller throws in fresh rubber or shipping.
One final note – I think is important to recognize that just a few years ago a 1st year Yamaha R1 wasn't high on the list of future classics for most collectors.  Everyone seemed to think it was a great bike, probably the final great sport bike of the 1990's, and yes it dethroned the Honda CBR900RR/Fireblade, but a future classic?  While these same collectors were probably still searching for a Ducati 916SP or Kawasaki Zx7RR or perhaps even a first year CBR900RR/Fireblade, prices for first year R1's were  starting to move up and are now no longer cheap.  The value will probably continue to rise over time so this might be a rare chance to get one before prices get out of reach.
-Marty/Dallaslavowner