Ducati's instantly recognizable 916 series of superbikes remain surprisingly affordable, considering their pedigree and perceived rarity. But the same basic design was in production from 1994 to 2004 and Ducati made a shedload of them. Sure, the SPS and R bikes are extremely rare, but regular production bikes like this 996 Biposto aren't too hard to find in good shape, although most have accumulated way more mileage than seen here…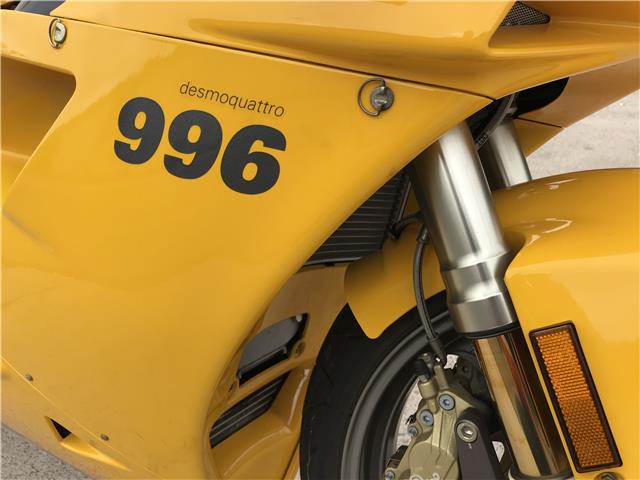 The 996 debuted in 1999 as an evolution of the 916. It might look virtually identical, but featured a host of subtle upgrades to the original bike, including changes to the frame, fuel injection and, most notably, the engine. The original 916 cases started to fail under racing conditions when punched out beyond 955cc, a disadvantage when World Superbike rules allowed twins up to 1000cc. The revised engine was first seen in the 916SPS and the 996 used the same cases, although the rest of the engine was in a lower state of tune, with milder cams and injection tuning to match.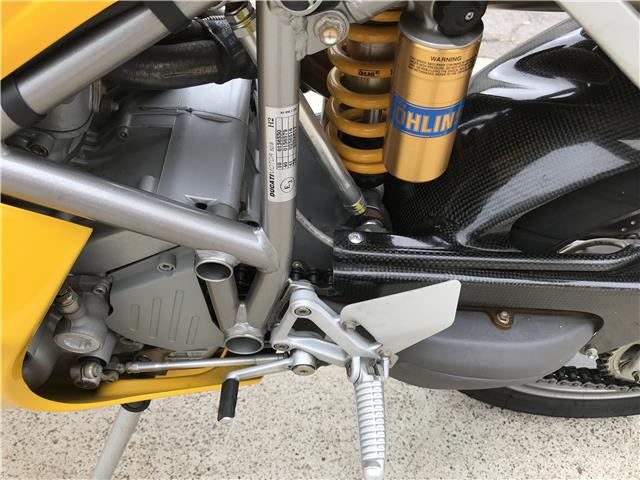 It was followed by the 998 in 2002 that saw the introduction of the "Testastretta" or "narrow-head" engine that offered significantly improved power, making the 998 the fastest version of the bike, although a torque-rich 112 horses meant that the 996 was considered to be plenty fast. An Öhlins shock is matched to a set of quality Showa forks, and I much prefer these later five-spoke wheels to the original 916's three-spoke design.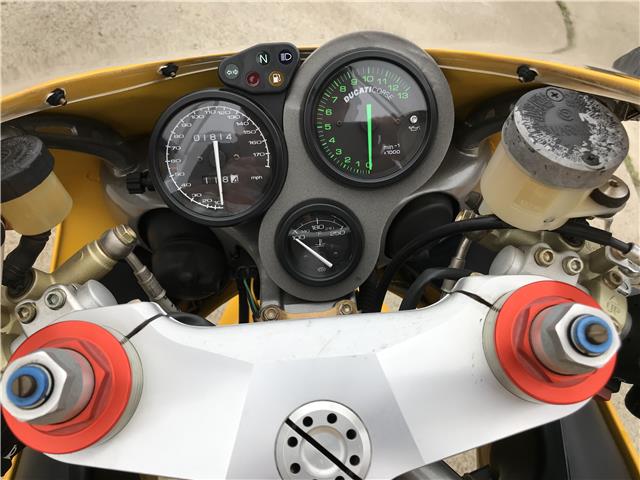 Right now, it seems like the 996 is the value proposition of the group. The 916 is the original and desirable for that reason, and the 998 the most powerful and well-developed. It's not the fastest, or the rarest, but if you want a 916-style bike, this 996 Biposto offers a blend of handling and power, along with marginal passenger accommodations if your significant other is both petite and brave. And yellow bodywork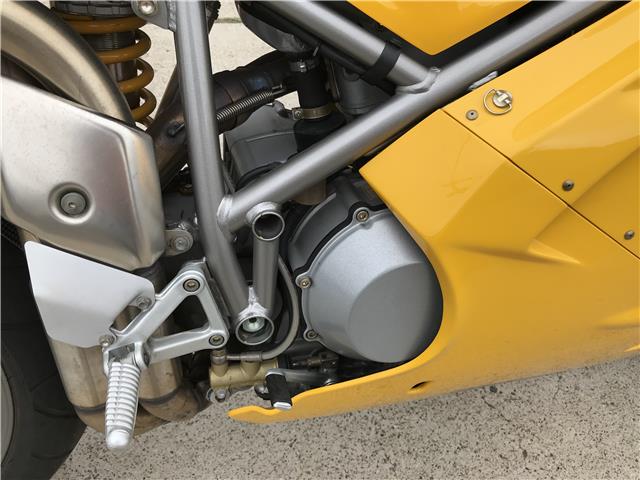 From the original eBay listing: 2001 Ducati 996 Biposto for Sale
Yes, this bike only has 1806 original miles! Collect it or ride it? You choose. Sharp looking yellow 996 that GP Motorcycles just changed all the fluids on and just replaced the timing belts. Bike still has original tires so you would want to change those if you are going to ride the bike but other than that, this thing is ready to go. Don't miss out on this classic Ducati Superbike.
GP Motorcycles down in San Diego is offering this very clean, very low-mileage 996 for $6,999.00. Aside from the corroded paint on the brake fluid cap and the fogged headlight lenses, it's very clean and comes with a set of Arrow slip-ons that were a popular choice when the bike was new. They aren't my favorite in terms of exhaust note, but easy to change if you don't like them. If you're looking for a very sharp collectible and can't spring for one of the more exotic Ducatis, this would be a pretty low-priced way to pick up a pretty pristine example of Tamburini's iconic superbike. Assuming you're okay with yellow, instead of classic Ducati red.
-tad