Update 3.1.2016: Previously bid to $7,100 reserve not met this past November, this SB8R is back on eBay and reserve is currently met at $7k. Good luck to buyers and seller. Links updated. -dc
Emerging from the V-Due induced bankruptcy, Bimota produced a master stroke, a beautifully designed monoposto based on the exciting Suzuki TL-1000 twin.  With only 150 built, they show up on the market with surprising frequency, but an appearance by the big twin is always exciting.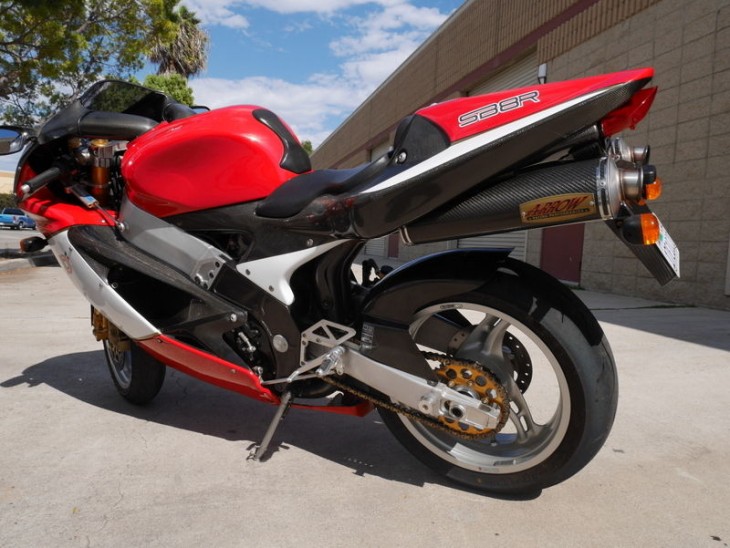 Based on the 996 cc V-twin, Bimota produced their own fuel injection system and exhaust for the engine resulting in 135 hp and 78 ft-lbs. torque.  Some street rideability issues emerged and many SB8R's have aftermarket controllers fitted.  The chassis is an art piece, twin aluminum spars mated to carbon frame connectors.  The seat sub-frame is also carbon, as are the fenders and fairings.
Suspension front and rear is by Paioli and fully adjustable.  In the braking department, top of the line Brembo 320mm front disks are followed by 220mm rear.  Reviewed as a bit of a hodgepodge, the full fairing has a wide presence for a tandem twin, the Suzuki headlight flanked by large ram-air intakes.  The carbon fiber intake tubes dominate the flight deck, at least until you're under way.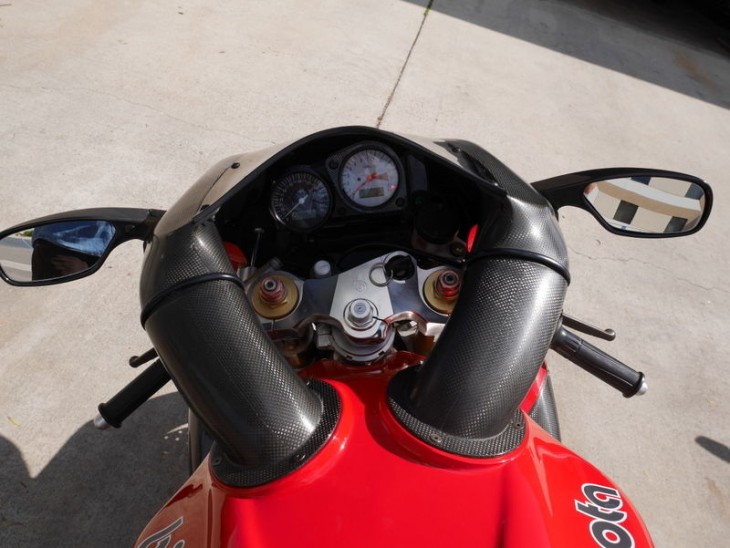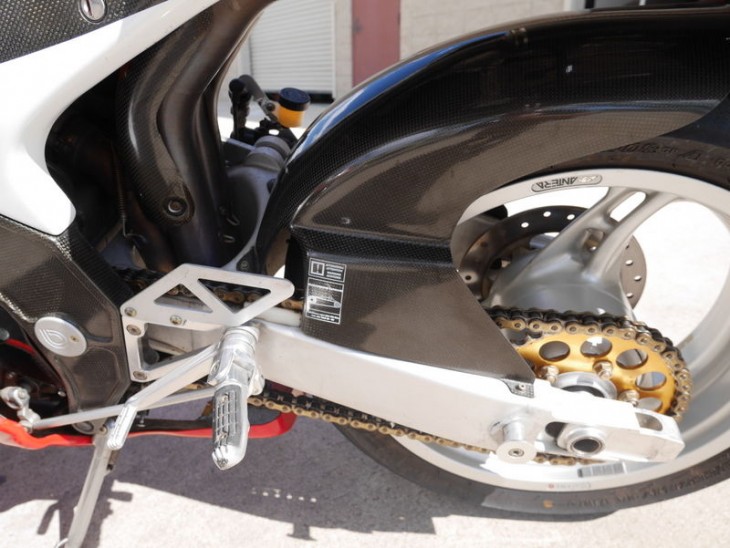 On display for several years after 8,000 miles, some renovation work has been done, but the bike still needs tires before riding at speed.  Looking good except for a scrape on the right swingarm and a craked left mirror ( might be tricky to replace ).  From the eBay auction:
This Bimota was recently serviced and a new battery installed.  It starts immediately and runs strong, with a very deep & throaty exhaust note.  The cosmetics look good overall, but there is some evidence of minor scratches and flaws (and a crack in one mirror base) that indicate that this bike probably saw some track duty early in its life.   Since this bike has been on static display for some time, the tires should be replaced for safety if it will be ridden regularly.
Bimota's of any year are exotic and rare, but the later bikes have technology that was leading edge then, merely special and expensive today.   The company had a factory race team in 2000, and Anthony Gobert won the Australian GP after having the bike for only 5 weeks.  Sadly, the sponsorship crumbled and the team folded halfway through the season.  Well-engineered as a make-or-break bike for the new partners, the Bimota SB8R is one of those keeper bikes, but ride it for a bit before you put it on display…
-donn