Aprilia had won two 125cc championships when Max Biaggi strapped on the RSW250 and took three consecutive 250cc crowns to affirm their competitive spirit.  Today's RS250 looks excellent even with 13,500 miles.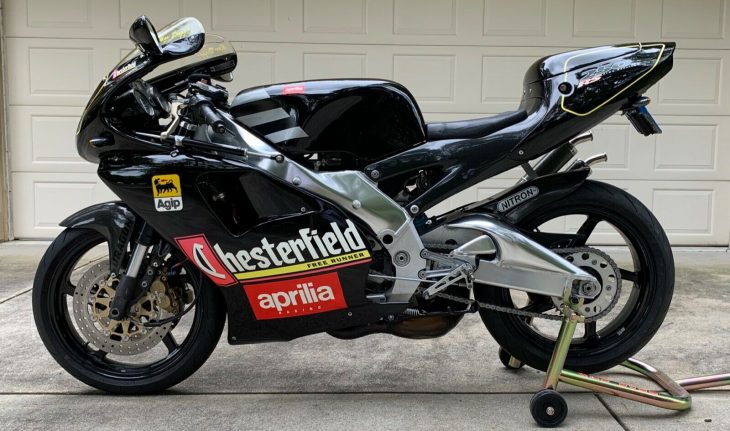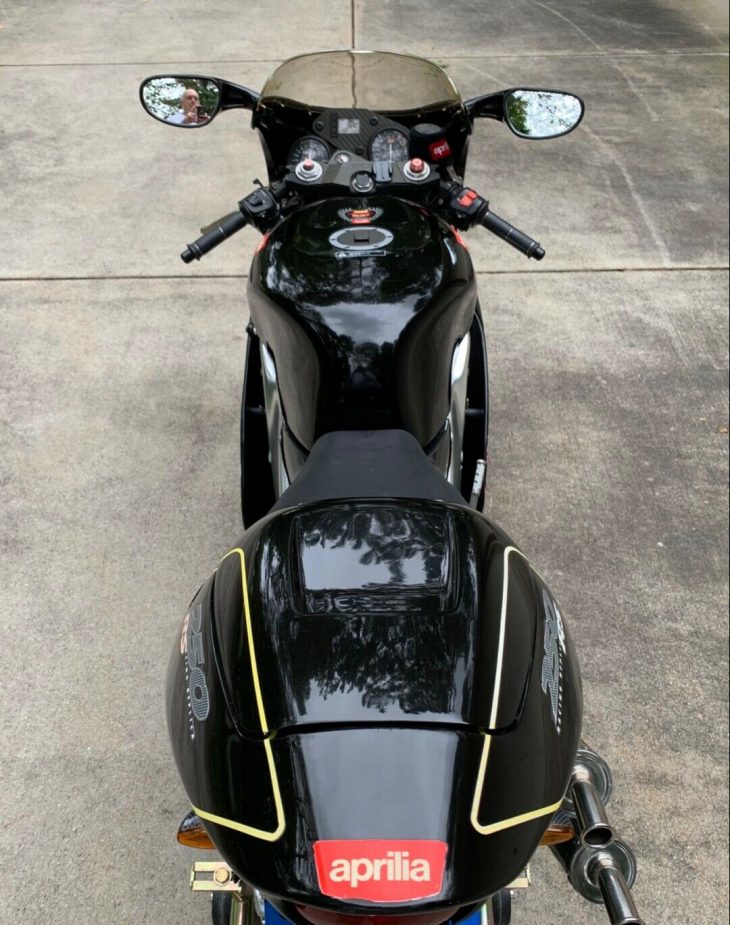 After some poorly timed teething pains with their own motor, Aprilia sourced the engine / transmission combo from Suzuki, with "Aprilia" on the castings and their own heads, ECU and exhaust.  72 hp were available, though mostly above 8,000 rpm, with peak power at darn near 12,000 !  The alloy spars were beautifully crafted and matched the banana swingarm, shaped to let the exhausts by.  Twin four-piston front brakes would be overkill except for the absence of engine braking on a smoker and the RS's supersport power.  The fairing is a good likeness of Max's race machine, and the seat console looks to be carbon but might be faux.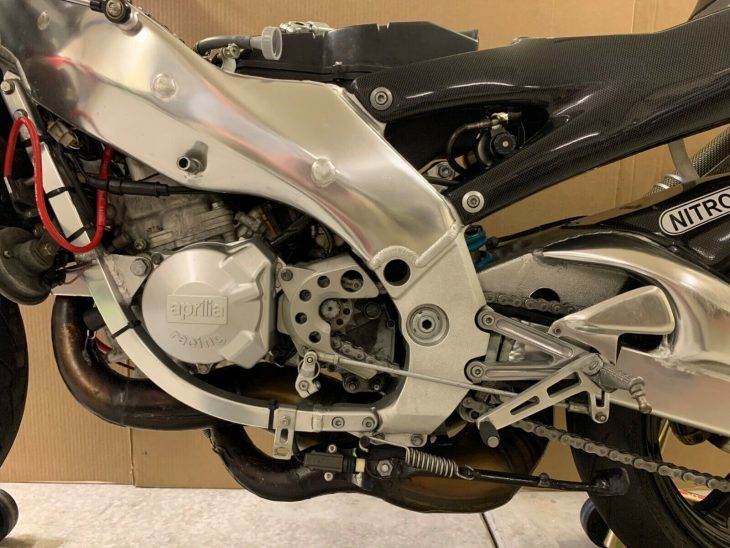 This RS250 visited California in 2018 before the riding season really got going in its home Wisconsin, but looks to have benefited from inside storage all along.  Unfaired pictures show the beauty isn't just skin deep, and the engine and suspension maintenance will pay dividends to the new owner.  Might not be too hard to find a couple of nicer signature decals.  Comments from the eBay auction:
Fantastic performance, suspension and brakes.  The bike has never been put down and the original fairing is in good shape.  The decals are not in perfect shape, but are in good condition for the age. The bike decals came originally on top of the clear coat, so after 26 years they have some sun fade, wrinkling and an occasional worn edge.  Garaged year round, heated not less than 60 degrees F. in fall, winter & spring.   Bike was on display at The Quail Motorcycle Gathering, May, 2018.

All the usual service completed in spring and a new battery this year.

Top end rebuilt at 10K with Wiseco pistons and Boysen reeds

Front & Rear suspension serviced in 2017, new tires 2017

New Battery 2021

After market parts –

Nitron rear shock and spring, 2017

Arrow full exhaust 

Toby steering damper 

Turn signals


Owners manual, workshop manual, also a OEM tank decal replacement kit

Aprilia's robust build wasn't the lightest, but made for a terrific track ride with muscle to spare.  Highlights on the black bodywork bring out the best in the brushed aluminum frame and carbon highlights.  All of which – including the reserve – will disappear in the rearview mirror when the new owner gives a twist of the volume control.  
-donn