2010 KTM RC8R LE RED BULL
7 miles
Louisville, KY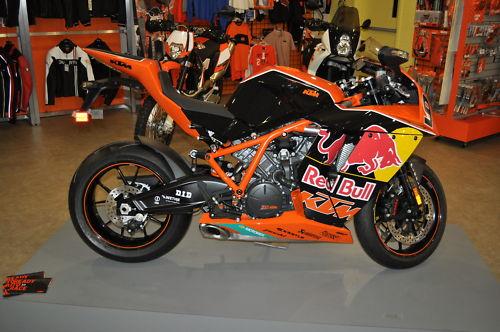 Those of us familiar with the off road scene are well versed regarding KTM's offerings, but a KTM on RSBFS? YES! I would like to digress before I even really get on track; most of us lament the near extinction of two strokes, so let's take a moment to pay tribute that to a manufacturer that has proudly and courageously flown the blue smoke banner almost single handily (albeit off road). My guess is that if two strokes ever make a comeback in street bikes (ie – clean burn technology), KTM will be the manufacturer to do it.
Now on to the bike – KTM has never been accused of lacking power and this bike is no exception pumping out 170 ponies from the 1195cc 75 degree twin – 15 hp more than the standard RC8. All the standard high componentry is there – Marchesini wheels, Brembo monoblocks, and adjustable ride height via eccentric adjustable frame pivot. For all of you techno junkies that can't get enough stats, KTM offers an excellent brochure on their website. It doesn't help team orange when their euro neighbors at BMW hit a home run with their own supersport offering, but this bike is hardcore nonetheless. The company mission statement is to offer race ready bikes to the masses, who can argue with that? From the seller:
This is one of 25 imported to the United States. This particular model is number 8 of 25. This bike comes with the Clubman Kit, which includes a full Akrapovic ti exhaust system (not installed). This bike is brand new, never titled or registered. We also have the Akrapovic limited edition model in stock (4 of 25), as well as two R models and two base models. Call if you are interested in these other models
Like most LE offerings these days, this bike will not sell at MSRP (the BIN is already $3k below). , and help support a motorcycle manufacturer that has a primary focus on MOTORCYCLES.
BG