2005 Suzuki GSX750R Barry Sheene Replica
8,749 KM
Middlesex, UK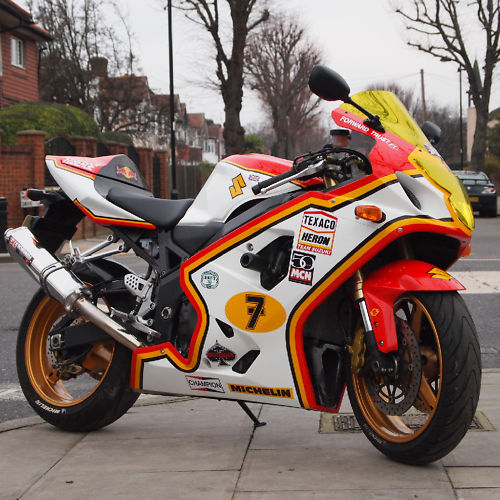 This one is really fun because Barry Sheene Replicas never came to the states, so bear with me as I attempt to describe what sits here before us. I felt especially compelled on this one as I love racing history (Barry Sheene – '76 & '77 GP Champion) and my personal Suzuki (RM250 2 stroke) also shares the K5 designation.
Enough pretext, on to the bike! There were only 50 Barry Sheene Replicas produced in model year 2005, certainly qualifying this bike for rare status. I believe that the only difference between a production GSXR and this bike is the paint scheme. The variations from stock condition are apparent in the mirror gold headlight cover/windscreen, frame sliders and the Yoshimura exhaust. More from the seller:
Here we have a genuine Suzuki GSXR750 K5 Barry Sheene ltd production run bike, This particular example is a genuine UK supplied machine 2005 55 reg: but comes with a private personalised number plate which is ( THE 7 A ) Relating as no: 7 which was Barrys famous winning number, also fitted on this wonderfull bike is a Yoshimura Tri Oval high performance exhaust, adjustable Power Commander, yellow tinted double bubble screen and stone protector headlight cover, Colour coded rear seat cover + passenger seat, + std exhaust and screen still in the original box, Full Suzuki service history, Handbooks, both keys, HPI Checked, Alpha dot security, Datatool alarm with both key fobs, all service reciepts, etc etc etc Part exchange more than welcome, These Barry Sheene bikes will only go up in value and this particular bike is a lovely lovely lovely example to keep and cherish
The asking price is about $12,500.00 in US dollars, which seems about right had it been imported here. The trouble for us yanks is the expense of putting it on a container. Luckily, our UK and certain European readers will not have such concerns. to see the seller's contact information and more photos.
BG