It is only fair that I point out straight away that this is titled in California. Yup you read that right! This particular beauty being the export model with a claimed 70Hp which should make this bike very quick given its dry weight of under 300lbs. With the VJ23 was the introduction of the 70 degree V Twin which had previously been a 90 degree engine. The VJ22 engine was the basis for the RS250 engine. So how rare is this bike, well there were 357 V models out of a total VJ23 production run of 2218, so pretty rare. Of those 357 only 119 wore in Lucky Strike colors. This is the V model as the 240kmh speedo and the grey rear brake reservoir cap show. The stock bike had a black cap. If you go and inspect the bike then you will also find a black plate on the side of the headstock which differs from the non V model. There is much dispute over the power claims for the bike with the factory saying 70Hp and Japanese tuners putting the number closer to 54Hp. Either way you know it would be fun to ride.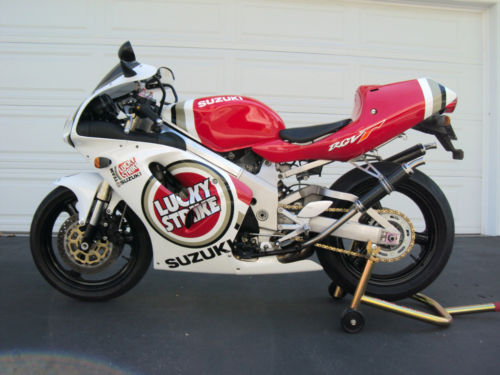 The owner gives you quite a bit of history of this bike and is very careful to point out the minor flaws:
Export "V" Full Horsepower Model
The Japanese domestic model had lower horsepower, this version was considered an "export" model and therefore did not have any horsepower restrictions.
This is an original "export" full power model, not one that has been "derestricted" by swapping ignitions.
The "V" model is a limited production of 357 units.
70 degree engine layout, dry clutch, close ratio gearbox, 32mm carbs, electric start.
"V" model has a large black i.d. plate riveted to the headstock on the right hand side which designates it's an "export" model.
240 kmh speedometer instead of the 180 kmh
Rear brake master cylinder has light gray lid instead of black

Jim Lomas Stainless Exhaust with Carbon Fiber Mufflers
Magical Racing Double Bubble Tinted Windscreen
Stainless Steel Brakelines
The Wheels Were Powercoated Black From The Original White (because I don't like white, too hard to clean)
The Upper Fairing Bracket Was Painted Black From The Original Silver (because it looks cleaner black)
The radiator was repaired on the left side by the previous owner, see picture. Seemingly damaged in transport. But it does not have any coolant leak issues.

The paint is all original Suzuki factory Lucky Strike colors in near perfect condition,
It has a few very very minor flaws that are not that noticable which can be seen in the last 3 pictures pictures.
This is an original Lucky Strike bike, not a standard model with swapped or repainted bodywork.
Small scratches on the left side panel near the rear of the gas tank,
Small scratch on the front fender, and a 1/16″ mark on the top right of the gas tank.
The paint is very glossy and like new!

Recent carb clean with new needle and seats
Compression at 146 psi on both cylinders

New NGK BR9ECMIX Iridium plugs
Michelin Pilot Race Tires with about 500 miles of usage
Rear 160/60 x 17, Front 110/70 x17
Motul 710 2T injector oil used

It has a clear CA title that is current to April of 2012.
The mileage is 6586 KM's which is approximately 4083 Miles.
Go on, hop on over to eBay and see the auction.
The pictures that have been posted on eBay are low resolution but you will note there is a link in the auction that will take you to a site with much higher resolution pictures of this rather gorgeous bike.
And the owner has posted a video so you can hear it:
The bidding already has the price at $10,000 and it has only just started. It may even make $15,000 by the time it is over as these do not come on the market very often. So if you want one you had better get over there and start bidding…
AS