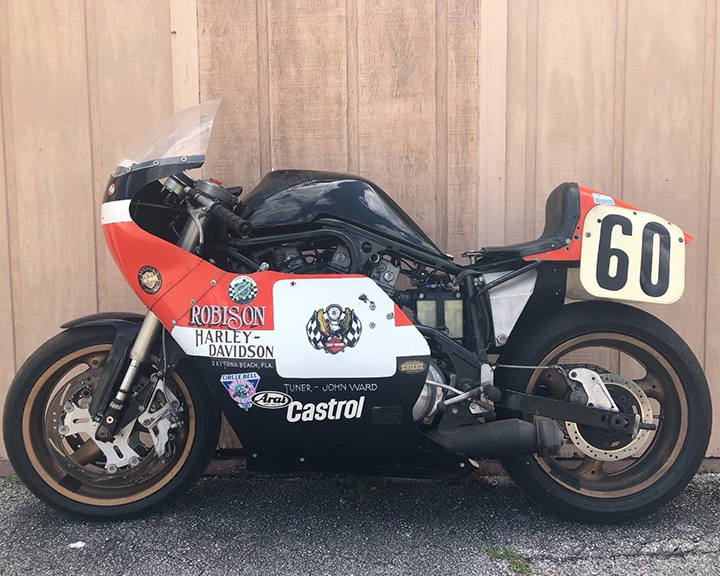 This bike is why I get frustrated by Harley's modern offerings. I'm not suggesting a sportbike is the answer to their financial woes, but trading on outdated "Bad to the Bone" Sons of Anarchy stereotypes clearly isn't working. Upstart [irony!] Indian already beat them to the punch with their new FTR1200, exactly the bike I've been saying Harley should build for years, a bike to cash in on the rich history of flat track racing both Indian and Harley have here in the US. Of course, Harley also has a much less rich but still significant history of road racing and, if the collection of trophies is to be believed, this Harley Davidson XR1000 race bike has the goods to compete against the best v-twin sportbikes of its era.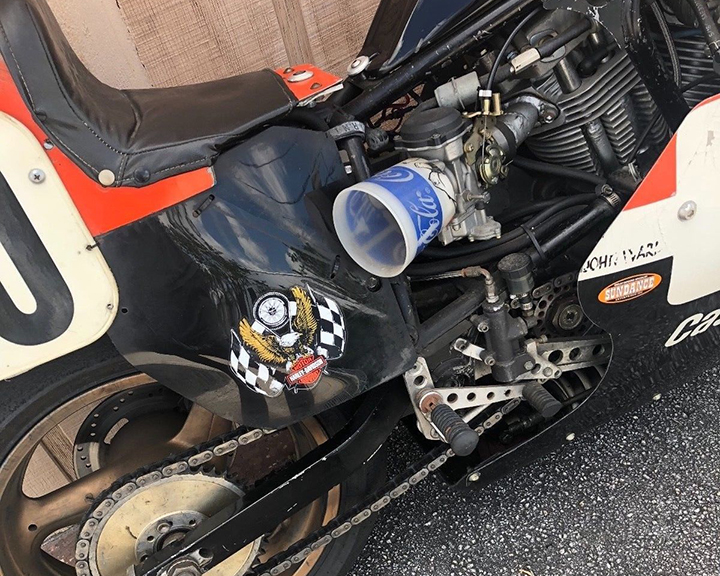 Let's be clear: this resembles, but is not an XRTT, Harley Davidson's production road-racer, although it obviously looks to the 60s and 70s for inspiration. The XR1000 was actually a limited-production, flat track-inspired bike with a solo seat, unusually good brakes, legitimate power, a left-side exhaust that will probably only seem odd to Harley fans, teeth-rattling vibration, and the worst ergonomics this side of an MV Agusta F4. It was actually a pretty fast and fun bike, drawbacks aside. So of course it didn't sell very well when new. But that's a stock XR1000, which this obviously is not. In fact, it sounds from the seller's description like it's really just the transmission, bottom end, and maybe some other engine parts that carry over from the street bike.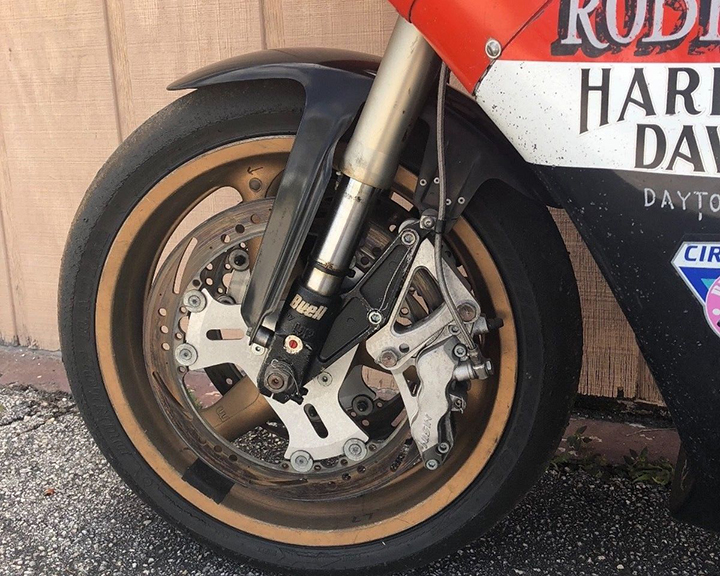 The frame on this XR1000 is claimed to be a Buell unit, which is a great place to start if you want a Harley to handle, but I'm not really sure how this bike came to be. Buell was working on racebikes in 1983, but they were powered by an odd square-four engine, not a big v-twin, and the race wins shown in the photographs are from the late 1980s. The frame and swingarm do appear very much like the S1 Lightning, and less like the original Battletwin, which seems to more closely resemble Buell's original two-stroke racebike. In any event, I'm not challenging the bike's authenticity, I'd just love a bit more information about how this bike came to be.
From the original eBay listing: 1983 Harley Davidson XR1000 Race Bike for Sale
We have listed here is a 1983 XR1000 but it really is not one year, it is a handbuilt engine that is not like any other engine. Bill of sale ONLY from Robison Harley Davidson. RARE 1 of a kind XR1000 race bike- you will not find another Harley Davidson like this. It's named the "unicorn" because of its rarity and uniqueness in the engine department. Although it sits in a Buell frame it is far from it- it's a Harley Davidson xr1000 engine built by race tuner John Ward (who actually produced the very first xr1000 engine out of Robison Harley Davidson in 1979 and presented it to the Motor Company) they produced the engine to the public in 1983 after testing Johns. This engine was built by John and has rare 1 of a kind Sundance Harley Davidson xr1000 heads specifically for this bike. It has been ridden by Roger Reiman, Pat Mooney, Yavon Duhamel,  Richie Morris, Bobby Bossardet and a handful of other lucky riders. It has won more races than I can list but we have walls full of winner plaques and trophies around our shop. If you know anything about our shop and the history that it has produced you understand this bike and how rare it is. For this thing to actual come on to the market is a miracle and it's time for us to pass it on to a new owner. You can watch this thing all you want but you have to bid to win- it will sell during this auction so don't try to wait it out and get lucky then miss out on it- once it's gone it's gone. Good luck to everyone and if you have any questions we will do our best to answer them. 

From Pat Mooney who was the last racer to ride it. "The chassis came from Don Tilley and it's a Buell tube chassis. John Ward built the engine, which came from that Mert Lawwill chassis that you have there. We won the Daytona Battle of the Twins class in 2000 on that bike. The cylinder heads on that engine came from Take San (Zak) in Japan (Sundance Harley Davidson). Let me know what you want for it as I know Zak in Japan would love to get those cylinder heads back and he may buy the bike to get them back"
So it's not really a classic factory Harley racebike, and it's not a road bike. It sure isn't pretty, but many racebikes are pretty rough around the edges since their primary goal is to be fast, not look good, and teams on a budget have better things to spend money on than cosmetics. But it is absolutely a genuine race bike, and one with an established track record of success. So it's proven, but not especially pedigreed: a very fast mongrel. So what's it worth? Well the seller hasn't set a Buy It Now or reserve price and this really is one-of-one. But there is interest in the bike and bidding is up north of $10,000 with another few days left on the auction.
-tad