Warning!
This post is in our archives. Links in this post have been updated to point to similar bikes available to bid on eBay.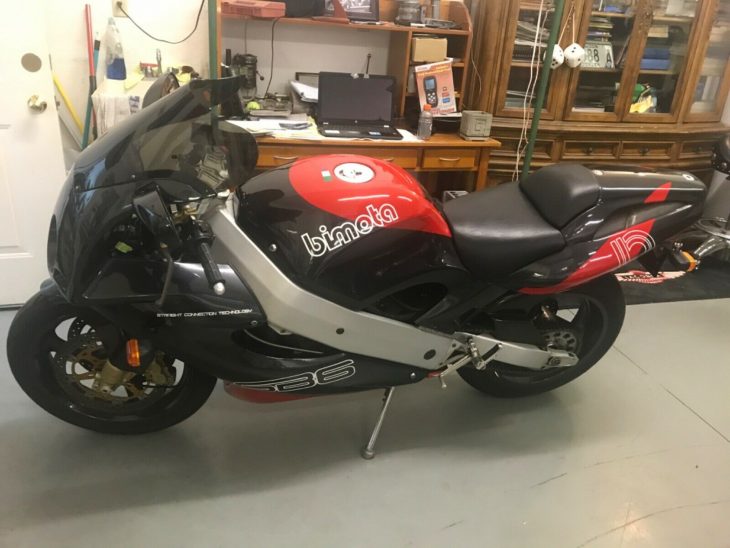 Bimota's tried-and-true formula is on display in the exotic SB6: take a powerful Japanese lump, hang it from an innovative frame and top-quality suspension, and then wrap it in wildly futuristic bodywork. In this case, the "lump" was from Suzuki, the liquid-cooled 1074cc inline four and five-speed gearbox that powered the final iteration of their GSX-R1100. Straight-line performance increases came from the Bimota's extreme weight loss program: the donor GSX-R weighed in at 487lbs dry, compared to the SB6's 419lbs.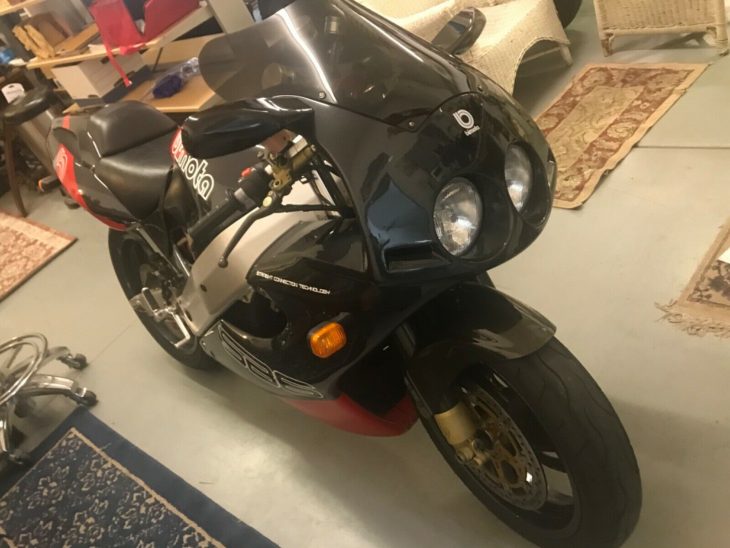 Aside from the swoopy, carbon-fiber bodywork, the most distinctive feature of the SB6 was the massive aluminum frame that was designed around Bimota's "Straight Connection Technology" that, put simply, linked the steering head as directly as possible to the swingarm pivot. The concept was simple enough, but difficult in practice, since the improved chassis rigidity came at the expense of packaging: the thick aluminum spars block access to several critical components. This example appears to use a set of white-faced dials that look like the Veglia components used on contemporary Ducatis, but earlier bikes used the donor GSX-R1100's dash and gauges.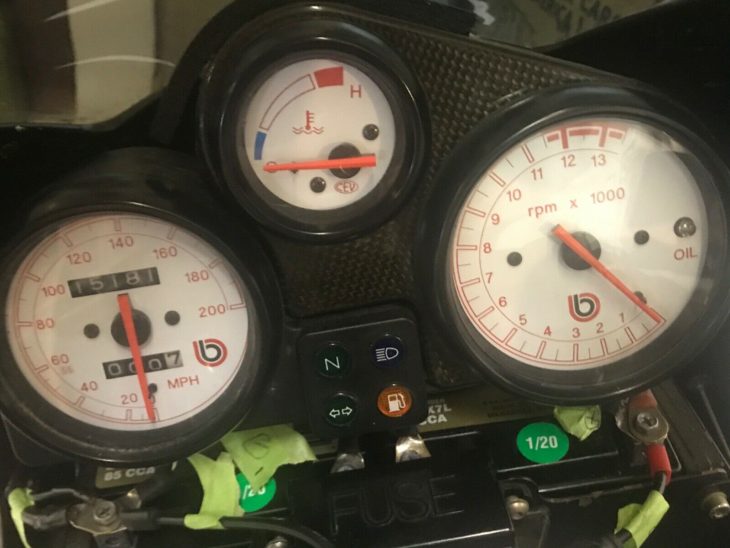 Note that the seller's description below refers to "batteries." You're not reading that wrong: the SB6 had two 6-volt batteries wired in series. I'm sure this made sense at the time, possibly to distribute the weight of heavy lead-acid batteries more efficiently, but is definitely a hassle now. Not to mention that I've heard from someone who used to work on them that the battery tray had a bad habit of falling out!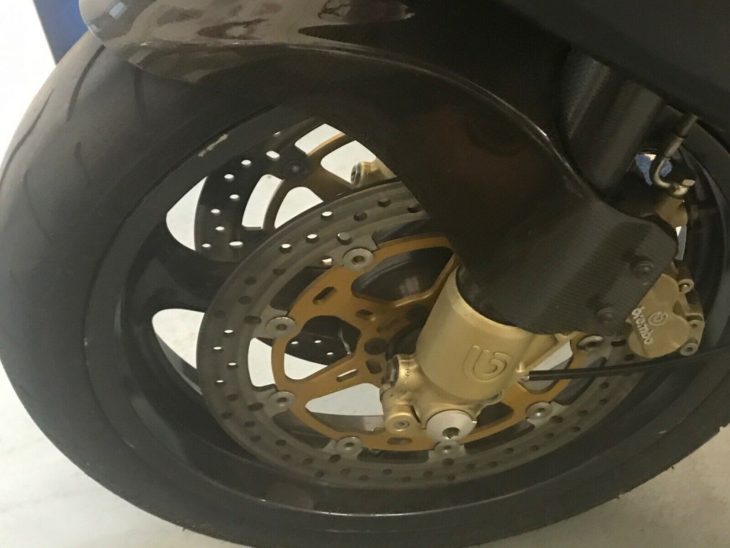 In addition, in true Lotus-ish fashion, anything not absolutely necessary was left off in the interest of saving weight. That means the exhaust is almost as self-supporting as the tail section and has a habit of cracking at the headers. Hey, do you want to be a Bimota owner or not? The SB6 was a pretty big hit for boutique Bimota: approximately 1200 of the first-generation bikes were built, although production of the later SB6R was unfortunately cut short, with just 600 produced.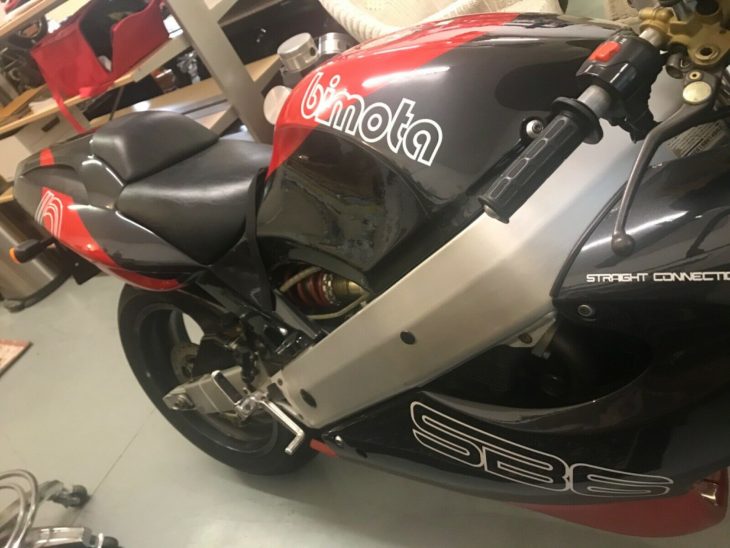 From the original eBay listing: 1995 Bimota SB6 for Sale
1995 Bimota SB6. Rare, NO RESERVE  excellent condition, runs well, 15k original miles, new batteries, bike has been stored in a heated hanger, selling for senior owner that no longer rides. Clean California title, never laid down. Paint is excellent, rare color combo. Front windshield has minor scratch. Small mesh tear in rear fairing, super easy fix. We at buyers expense can ship worldwide. Questions 503-999-0790 bike has not been detailed, it will clean up very nice. Rare opportunity to acquire a iconic Bimota! These bikes are very undervalued and will do nothing but go up in value .

Bidding for this Italian exotic is up to around $4,200 at the time of writing. Recent examples I'm aware of have sold for shockingly low figures, although I don't imagine that will last forever. These are relatively simple, compared to modern motorcycles, and parts to keep the Suzuki engine easy to source, but keep in mind that these low-production exotics were a bit fragile. In addition, although they embodied sound engineering concepts, they didn't always work as well on the road as they did on paper and had a bit of a shed-built reputation in terms of build quality. None of that would deter me from buying one, but I've always .
-tad