A Very "Giallo" 1997 Moto Guzzi Sport 1100i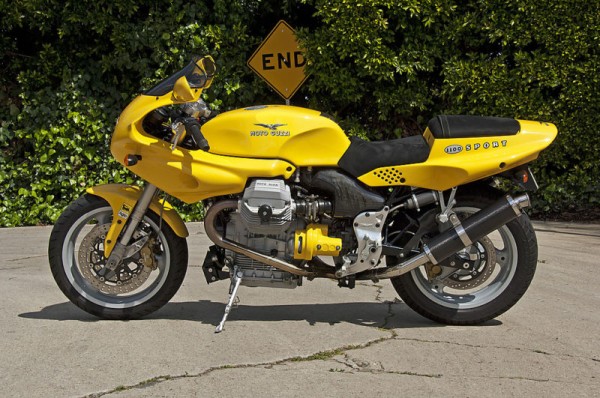 That is some serious yellow, giallo in Italian, paint.  No, I'm not worldly, I just know how to use Google Translation.  This is another bike I picked just because of its' eye appeal.  I guess you have to like yellow but other than that I think you would have a hard time finding a fault with this bike.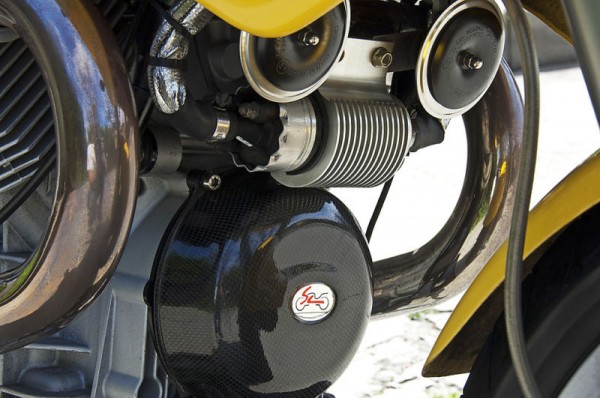 If the engine is this clean I think the rest of the  bike should speak for itself.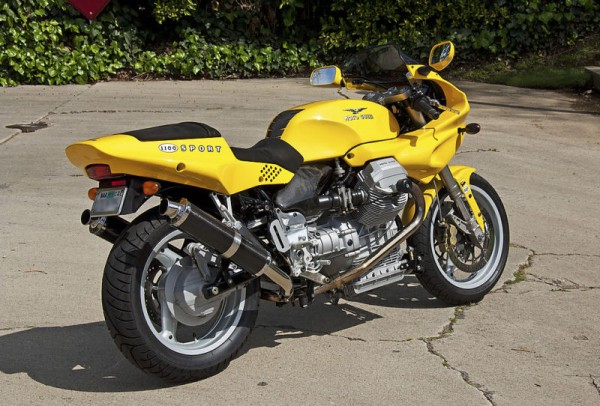 Writing for RSBFS is becoming bad for my wallet.  You couldn't have paid me to own a Guzzi but since writing about several of them I'd like to own: and a Bimota, and a Ducati and a…..and so on.
The seller gives a nice account of the bike.  It's a little long but be sure to read it.  The bike has some fine details that aren't obvious by just glancing at the bike:
The previous owner came into possesion of this bike by purchasing an entire Moto Guzzi collection, the other bikes in the collection; including a Daytona RS of the same year, were of a similar museum level quality. Needless to say, the original owner was a true Moto Guzzi fanatic.

Because all four bikes were purchased at once, and because each one had so much work completed, a lot of the details were passed by word of mouth at the time of sale, the description of work completed below is what was communicated to my by the previous owner and various reliable sources including Ken Zeller at Evoluzione Cyclesports; who has worked with the original owner and his bikes through the years. I am unable to reach the original owner for confirmation however, so I cannot guarantee the accuracy of the information communicated to me relating to the history of the bike. Details of the amount of time and money spent on this bike could fill a novel, the Cliffs Notes are below.

As communicated to me, the bike was purchased new by the original owner who immediately had Pro Italia pull the engine and crankshaft to balance it. The brand new bodywork was also removed and repainted by Pro Italia in the original color. Why would someone do this you may ask, because the owner simply wanted a money is no object, perfect version of what the factory imagined for the bike. Pro Italia is famous for their paint work and they currently use Tony Marcus who is a true artist and charges thousands of dollars to paint a sport bike. This yellow paint on this bike is simply stunning, glass smooth and perfectly even. After the brand new engine was put back together, all of the fuel lines were wrapped in heat resistant protection before the engine was reinstalled. The bike features a full Staintune, stainless steel exhaust system including crossover and is finished with carbon fiber canisters, Before I saw this bike I was unaware that Staintune even produced carbon canisters but apparently they do, if you are willing to pay, a lot. They are beautiful, far beyond the quality of any Termingoni systems I have ever purchased. The bike sounds amazing, no other way to describe it, exotic and angry. Staintune does not list a system for the 1100 sport on their site, I would not be surprised if the original owner had this system custom fabricated by them as a one-off. The bike also features a full carbon fiber airbox, I have been unable to locate any information on this piece and in addition to looking incerdibly trick it is a wildly complex design and I assume a one-off item as well. The bike was apparently tuned on a dyno and a power commander is installed under the tail section. Power is unlike any Guzzi I have ever ridden. The bike also features Braking Tech brake rotors with carbon fiber carriers, and a Sport Cycle Pacific carbon fiber alternator cover. It features a rare set of Evoluzione Cyclesports billet adjustable levers and the seat and passenger pillion have been recovered in synthetic suede, with yellow stitching on the passenger grab handle to match the paint. The bike features a custom carbon fiber gauge cluster with a functional veglia oil temp gauge from a Daytona RS. The grey speedo is standard for US spec bikes of this era I am told. The bike features beautifully made Rossopuro billet rearsets, a note on these, the shifting effort with these rearsets is very high and I do not have the originals. I contacted Rossopuro who explained that while the rearsets are marketed for the Sport1100, they were originally developed for the V11 and the leverage required to change gears with the 1100 5 speed is higher than with the V11 six speed. If you intend to ride the bike in traffic often I would source a set of the originals, out on the highway and in the canyons I do not find the extra effort required bothersome. Bike features a carbon fiber rear hugger and even a Ventura headlight protector. Only minor paint nicks here and there typical of a bike with only 3K miles can be found. Bike includes one key, manual, and numerous period magazines featuring tests of this model when it debuted. Bike has a clean CA title with registration paid through March of 2012.
It has not been ridden much since 97:  3982 miles.  Fit and finish looks pretty good to me.  Can anyone compare Moto Guzzi's fit and finish compared to other Italian bikes?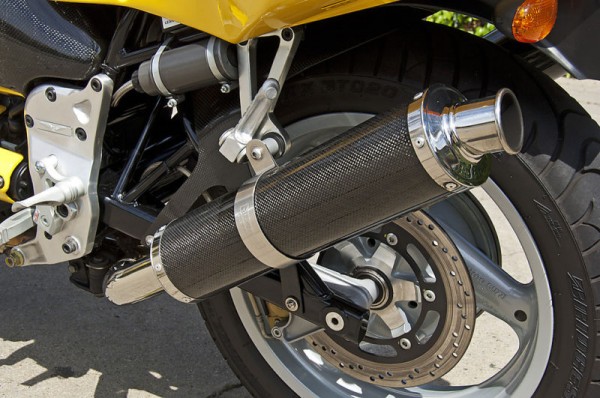 Mmmmm, carbon fiber glistening in the sun.  I bet it sounds as good as it looks.  Obviously we've showcased some Moto Guzzi's that are more rare but this one sure ranks up there in quality.  The bike is in excellent shape and the components that have been added are top notch.  If the reserve is reasonable I would think this bike would find a new garage to call home in a hurry.  .
Ian