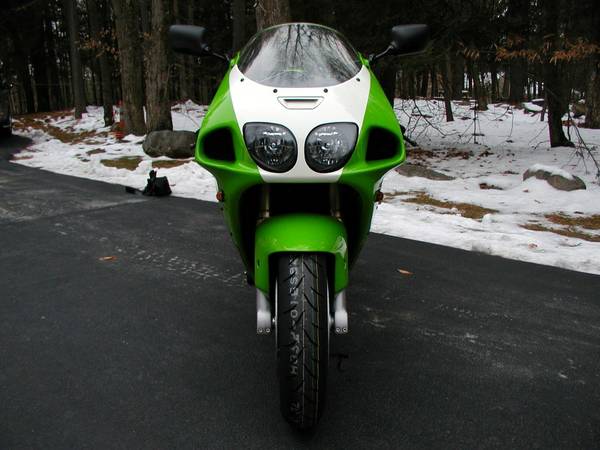 One thing you have to say about the Kawasaki ZX7R- its got a distinctive look.  When it was launched reviewers took a look at the front fairing and stated things like "looks like it has the mumps".."did it get its wisdom teeth out?"…and one of my all time favorites "front looks like it was designed by Russ Meyer".  It was certainly different than other narrow fairing bikes of the same era such as the the R1 and Ducati 996.  But once you get past the wide fairing with its double ram air scoops, there is a really good bike waiting for you to experience.
Even when it was brand new in 2001, the ZX7R was a bit of a holdover from earlier times when the 750cc class was a market leader.  Kawasaki wanted to keep pace with Suzuki and their GSX-R750 so a series of regular tweaks were done over the years to keep the ZX7 on the same level as the GSXR750. But in 2001 most of the focus on development was going into larger displacement bikes that weighed little more than previous generation 750cc bikes, bikes like the Yamaha R1 and Kawasaki's own ZX9.   Consider this-  the ZX7R weighed 203kgs but the200c larger ZX9-R was only 215Kgs, the GS-XR750 was 179Kgs and the Yamaha R1 was 177kgs.  Given a Kilogram =2.2 pounds its easy to see why the ZX7R wasn't the bike most track fans picked.
So why was the ZX7R still even still for sale? Well the ZX7R was still a good bike with a stonking fast engine and was cheaper than the ZX9. Also it was more refined on regular roads than the hyperlightened ZX9, in part due to its extra weight which gave the bike a lot of stability in fast corners.  Even with the heavier weight the ZX7 had excellent braking due to a pair of six piston Tokico calipers mounted up front.  And oh by the way, the bike made noises that its big brother couldn't come close to making, an airbox snarl that sounded like the bike would rip your face off.
Another rumored reason that the ZX7R was still for sale in 2001 was that some within Kawasaki were loath to abandon the 750cc lineup, given that this was the link to the companies most recent success in the high end Motogp/WSB racing.
As the folks at Carole Nash wrote,
"We'll look back at the ZX7R as one of the last great rocker's bikes, a hooligan.  Comfort? Forget it. Fuel economy? Hopeless, you have to rev it to enjoy that 13,000rpm engine, which then glugs petrol at 35mpg. Pillion friendly? Only in a way that a member of the Spanish Inquisition would recognise… The ZX7R is a relic, but still glorious, anti-social fun. Something your mother wouldn't like and sometimes, being out of fashion is the only way to go."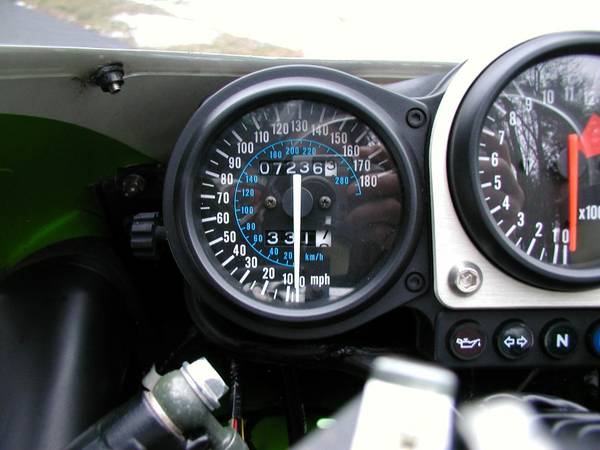 This particular ZX7R has only 7236 miles and has been recently refreshed, including fresh rubber.  Here is what the seller has to say
2001 Kawasaki Ninja ZX-7R ~ $4200
Mint Ninja ZX-7 with only 7236 miles.
New Bridgestone BT-016 Pro's front and rear.
Head to toe service just completed with Repsol synthetics.
D&D slip-on,
Flush mounts, intergated tail light,
New Gel battery, New rear EBC brake pads, Carbs rebuilt and all fluids flushed.
A few scratches on stickers but overall outstanding condition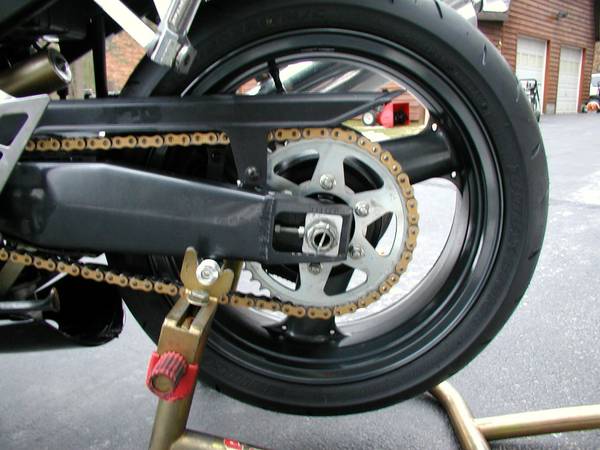 So what's this ZX7R worth? Well its not completely OEM but the changes are small, mostly turn signals/indicators and some aftermarket exhausts. Major fluids have been done and the bike comes with fresh rubber. Asking price is about 1000 above KBB retail but is well below what the ZX7 we listed on RSBFS sold earlier this month (and that one wasn't an R version). Perhaps this 2001 green machine might look nice parked near your christmas tree.
-Marty/Dallaslavowner