Location: Fresh Meadows, New York
Mileage: 24,500
Price: Auction, $3,879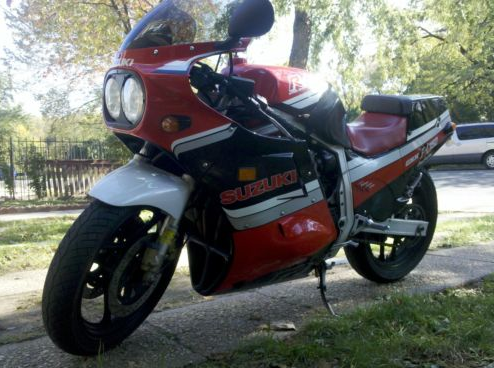 Lots has been written about the Suzuki GSX-R 750 this let year in celebration of the 25th anniversary of one of the most iconic sportbikes to ever be introduced. A true game changer when it hit US shores in 1986, it was the most race replica bike offered at the time. It's 16 valve in line four was a 106 hp powerhouse and it brought all sorts of acronyms to describe the trick suspension and cooling system, among many other parts. It was and remains one of the most important bikes in the evolution of the species. The fact that the GSX-R 750 has consistently been one of the best sportbikes offered every year since has not diminished that standing.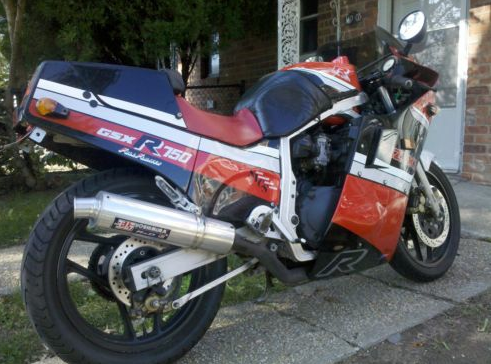 The seller of this particular bike doesn't have lot to say in the listing. Here it is-
1986 Suzuki GSXR 750. All original except exhaust. Only 24,500 miles. Chance to own a legend for only $3,879.00.This model was the first of the super bikes to be introduced to the USA. Call if you have any more questions.
Not a lot to go on there. Here's the pics-
The seller lists the bike as stock except for the exhaust and the photos look that way with the exception of the windscreen, which looks aftermarket, and the front fender (normally black on that paint scheme). The exhaust appears to a Yoshimura, a name long synonymous with Suzuki, so not unusual. Mileage isn't too bad for a 25 year old bike and the motors are sturdy, so if maintained, should provide much more ride time in the future.
The seller is asking $3,879 to take this bike home. Seems like a pretty good deal to me but some more information on the history of the bike may help as not much is described in the auction. However, if the bike checks out you may have a chance to get a killer piece of sportbike history at a good price. It's no secret I love these bikes. If you do too and you want to give yourself an early Christmas present, go place your bid!
-RN