Stunning bike, stunning hardware, stunning photography. Move quickly: there's not much time left on this American superbike from maverick Erik Buell's reborn EBR.
It's a tragedy that this came just a few years after Harley euthanized their sportbike division. With a ball-peen hammer. Harley has been resting on its laurels for far too long: they've made some cool bikes over the years, but their racing days are more legend than fact at this point, and Buell could have brought back those glories if they'd been allowed to make bikes like the 1190RS.  I'm a fan of classic bikes and classic styling, but seriously: pre-unit gearboxes in 2014 might just be a bit too vintage for me…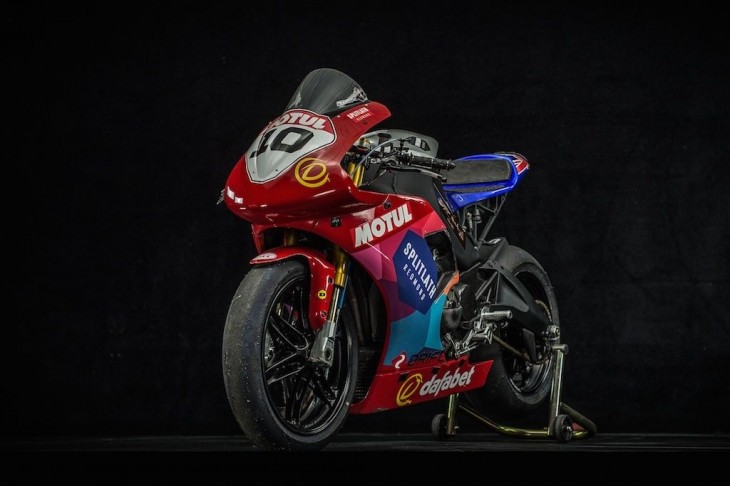 Erik Buell's early bikes might have been better off with something lighter than Harley's classic, air-cooled, 45° v-twin lump, but he worked with what he had at the time. The Sportster powertrain is emotive, but leadenly heavy, so Buell went on a weight-saving, mass-centralizing binge, with the frame doubling as a fuel tank, the swingarm holding the oil, a single, rim-mounted brake in place of a dual-disc setup.
An air-cooled twin that's all torque stuffed into a compact, point-and-squirt machine? Sounds sort of like an American Monster… If you didn't know any better, you'd think that this kind of bike would fit right in with Harley's "American Badass" motif. Except: where is the stereo to blast Skynrd out on the open road? The hands-free BlueTooth system for ignoring your boss' phone calls while you're out riding in $1,500 worth of Harley-branded gear?
Luckily, Mr Buell found a far more accommodating partner in Rotax and a far more effective powertrain in their 72° degree, liquid-cooled v-twin. What we have here, is possibly the second-coming of the American Superbike.
From the original eBay listing: 2012 EBR 1190RS for Sale
This is an AMA Pro Spec Superbike was last ridden by American rider Mark Miller in 2013 Macau GP
This bike is a closed course only factory superbike.
Is NOT street legal, nor can it be made to be street legal
Bike is located in Portland, OR
Motor & Chassis components were freshened before the Macau weekend and the bike is for sale as it finished that event.
Nothing has been removed or added since the completion of the event and it is for sale as is.
Ohlins Gas Charged Superbike Forks
Ohlins TTX36 Rear Shock
Complete Motec CDL Dash & Data Logger (Logger is configured to record all ecu channels via CAN Bus as well as the following analog inputs: Front & Rear Stroke sensors, oil pressure, air fuel ratio front & rear)
The list of performance upgrades accessories on this bike is much too long to list so I will summarize it "as it was last raced"
This EBR ["Erik Buell Racing"] 1190RS is, at the very least, way better looking than the 1125RR it replaced. It's still much more "purposeful" than it is "beautiful," unless you count cool-as-hell details like those little carbon brake ducts beautiful.
Then this bike is gorgeous.
As I write this, bidding is around $8,000 with the reserve not yet met. I bet that money would just about cover the cost of the suspension…
-tad