1996 Honda CBR 600 F3 Smokin Joe's edition with only 1 mile!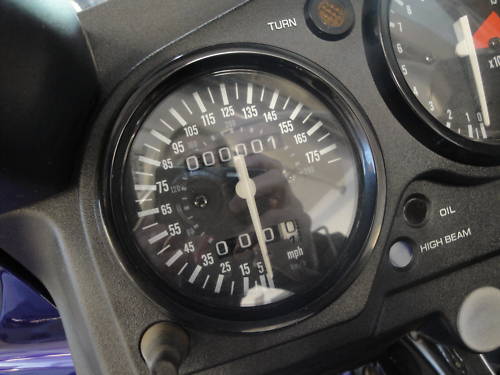 1996 HONDA CBR600 SMOKIN JOE'S EDITION! AFTERMARKET LIMITED EDITION KERKER EXHAUST! FACTORY WARRANTY! NEVER HAD GAS IN IT!
Hmm… So when I first saw this on the auction site today I was a bit undecided about what to do with it. Should I push it to the other guys, post it myself or just leave it be? Well, I guess you know what I decided to do by now so here are my thoughts-
1. Since it has "never had gas in it!" I applaud the owner(s) for pushing a 400+# motorcycle for 1 mile.
2. Why would anyone want to keep a run of the mill F3 for 14 years?
3. No gas + Snazzy Kerker exhaust = no tuning, but you get a factory warranty?? SWEET!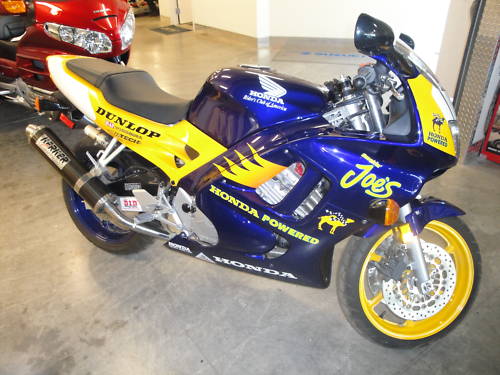 So I have to believe that this gem is sitting at a dealership in Amherst, OH on the MCO. Which is all fine and dandy, but at what cost you might be asking? Well, the starting bid is $8,999.00 with no reserve to climb over. Not cheap by any stretch and certainly more than it sold for when new. I had a 97 F3 that I think I paid something like $6,500.00(?) for. I'm guessing the market for a 14 year old F3 is pretty narrow by anyone's standard and by my standard it's about as narrow as a gnat's butt. However, I know there are several collectors who follow our site so maybe it'll get picked up for the shelf because I know there can't be anyone around who would pay 9g's for 14 year old technology and ride it on a daily basis, but maybe I'm misjudging someone and if so I apologize in advance.
The upside to all of this opinionated blabbering is the bike is brand new, comes with a tasty Kerker exhaust already installed and has the full factory warranty still in place! Interested?
Cheers!
dd