Warning!
This post is in our archives. Links in this post have been updated to point to similar bikes available to bid on eBay.
Every post will be sent right to your inbox every morning when new posts are made. We will never sell our list or spam you. Plus you can click links to bid or buy right from the email and skip the site entirely. Subscribe to Rare SportBikes For Sale today!
Collin has given me the heads up that he's ready to part ways with his 93 NSR250SP. Here are some details:
Its a 12,000 kilometer (7456 miles) 1993 SP.
The motor was rebuilt and the barrels were modified a bit by someone in California (Im told, Ive never seen stock ones off a bike so I cant say what was done, I know with the stock pipes its probably not really doing much)
have some paperwork, and its been de-restricted.
I have reason to believe, someone used it as a track bike or a race bike in Japan, Its been down I think, but never by me or the last guy who is a Portland local. Its not in bad shape anywhere
Oil pump is there and still working
includes a complete and nearly perfect painted set of Tyga Fox-eye bodywork painted like the teal Repsol racers to go with it.
Plastics are currently either airtech, or otherwise repro stock looking stuff painted like a YZR GP bike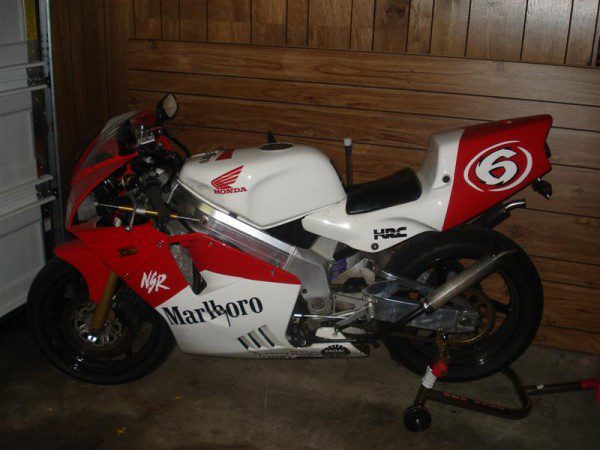 Collin is asking $6500 and he's in Vancouver, Washington. Interested parties can email him directly.
Good luck with the sale Collin!
Update: Colin has re-listed this bike since last October and has lowered the price to $5500. Here is the new link and some additional pictures and video:
(movie of it running/making noise, this isn't a cold start)

Titled and Plated in WA

According to the subframe numbers, its a '91 SE. (I bought it thinking 93 SP/SE bike)
12,900kms
Top end was done by Eric Gorr with a mild port, but I'm not sure exactly when in the bike's history.
It is de-restricted, so it should be around 50-60hp at the back tire just guessing.

Comes with a full set of TYGA spares body work in perfect shape, with a painted matching tank, and a few other parts (spare ignition, etc)

5500 firm, I'm not interested in any trades, unless you've got a Ferrari F40 your sick of. I just need more money for racing.
dc