This is one of those listings that sell themselves from the owners description and lovely pictures. A huge RSBFS fan favorite, the K1 needs little introduction. This example has a tick over 15k miles and the starting bid is at $7k reserve not met. While it's been fitted with CV carbs and various other street riding improvements/adjustments, it includes most of the stock bits should you want to restore it in the future.
dc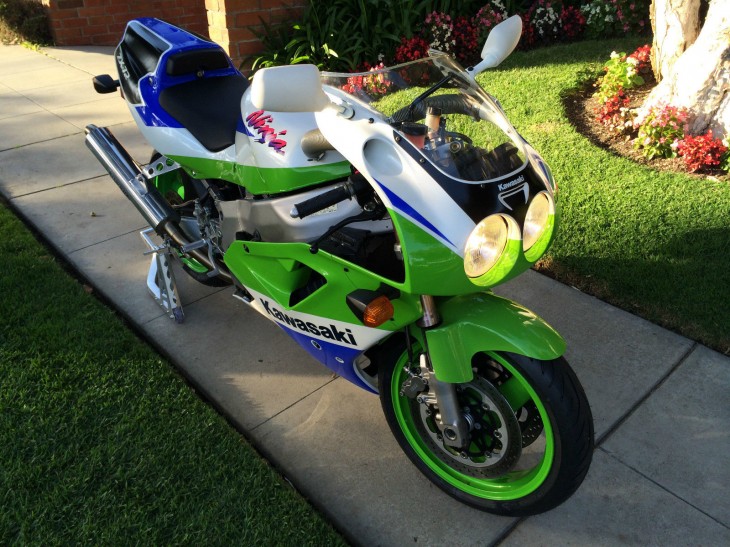 from the seller:
You are bidding on a 1992 ZX7R, true K model as you can see in the VIN.

If you're not aware of the R models they came with an Aluminum tank, Magnesium motor covers, a special Race transmission with a very tall 1st gear (not great off the line by the way), a solo tail section with special lightened subframe, larger cams and higher HP, reservoir shock, higher redline and the very cool Flatslide carbs which retail for around 2500 or so on bike bandit by themselves! This bike is truly worth more in parts but as you know…few of these left as it is.

A bit of a long story on this one so please bear with me. First and foremost, if you are looking for a true collectible, there are very few of these left and even less in this condition. I literally checked Ebay and a few other various sites a couple times a month (for last few years) in hopes of finding one when this one finally came up. Almost closed on one from HI last year but we had a challenge connecting to close the deal and the freight would of been pricey. This particular bike is more of a PROGRESSIVE restoration. I'm told I"m the 4th owner and as such have worked on it a bit myself to correct some flaws, etc. Haven't had it terribly long but spent a bit more $ on it.

Reason I'm selling. I bought this bike to hold in my office with two other highly collectible bikes as these 3 were the top of the class back when I was still goofing off at Willow, etc. At the time, Scott Russell was the man and this was his bike of choice. Anyway, I spend a lot of time working in Asia and by luck would have it, I came across a VERY special GP bike that I simply MUST HAVE. So much so that I'm selling all 3 of my rides to get it and then some! Getting it into the US has been a hassle but I can't wait to get my hands on it. The other two bikes I just sold to a local well known vehicle collector (to remain nameless) and sure enough, he has a ZX7R already in his arsenal.

I was told by the last owner that he was the 3rd owner but haven't confirmed it (he's a motorcycle mechanic to boot so probably why she runs so well). I haven't had it long and to be honest, I really don't need to sell so please understand that I will not take a low ball offer.

Back to the bike…

Bodywork is in amazing shape. Nose looks like brand new without even a rock chip. Clearly someone replaced it although I'm not sure where you could find a near new one. There's a small fingernail scratch on the left edge but you can barely notice and barely worth bringing up, it truly shines like it's one day old.
Sides have a few knicks but again, exceptionally good shape. I'll post a bunch of picture to see. Tank is near perfect, tiny little knick on top but very small and a small rock chip but again…very nice! Tail is in good shape, no cracks, side plates look great but there's a chip in the paint by reservoir and a couple of scuffs on the under edge. It's really difficult to pull the seat back off where the storage compartment is so that area has some rub marks from the seat tabs. Thing is, they didnt make a ton of these bikes so the tail section mechanicals are a bit jimmy rigged from factory.

Headlights, signals and taillight are all like new.

I replaced many of the non OEM bolts so that's all good to go. Also replaced all 3 rotors as others weren't in as good of shape but looks good now. While I was at it, cleaned calipers and put new pads all the way around.

Shock is an aftermarket Penske unit and as such, rides great with it although if you're an OEM fanatic like me, you could easily sell and likely find a nice stock one to replace it with.

Frame has some wear and tear for a 22 year old bike, no scrapes or damage of any type but some wear marks in the paint just from services, maint, riding…etc. Wheels are great shape, no marks, bright green and in excellent shape.

Swingarm is a little problem for me… It's the stock one but it looks like he may of painted or power coated. Looks beautiful condition wise but the color is off a little from the frame. Enough that I would likely redo it if I don't sell but again, I'm a fanatic so not sure it would bother you as you can only tell under certain light.

All signals, rear wheel valance, fender etc are fine shape…no worries there.

Rearsets are NOT OEM although pcs of them are. You could easily find the right parts on Ebay and get it back to factory if desired.

The last owner (as a bike mechanic) didnt want the hassle of dealing with the flat slides as they make it VERY hard to ride on the street not to mention they need a lot of tuning… Therefore, he put on a set of CV carbs for rideabilty. However, it does come with a pristine set of OEM flat slides, the proper air box and a spare bright green windscreen. They too are worth quite a bit but exceptionally hard to find so keeping with the bike. Wouldn't take long to put them back on, just may require some tuning after.

Bike runs GREAT! Starts right up but it's a cold blooded machine so needs the choke. Chain is near new and tires are new as well. Just registered it in California so plates are good for a year. As you can see from pictures, has a Muzzy exhaust and I DO NOT have the OEM system although I do see them on Ebay from time to time.