Since becoming an author on RSBFS, I have become more interested in 2 strokes.  I have always been a huge fan of the limited production 4 stroke race bikes, but I can see myself picking one of these up real soon.  
MC 21 on with no reserve and a starting bid of $3200.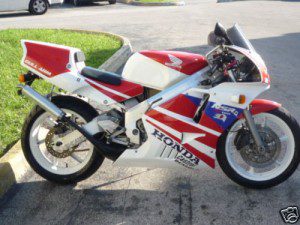 With 12,584 miles on the clock this one is used and ready to ride.  The pictures show some wear and tear, but I did a quick search and the starting price seems to be market correct when considering the condition.  The plus is this one appears to have the ever elusive registration that was current up until yesterday.  The seller posted a lot of pictures on ebay that show some of the age marks; you can  to view them.  This one is not a garage queen so it can be ridden without fear of someone scratching it.
The seller didn't have much to say about the bike so I won't post up any quotes, but the one thing I did notice about this particular MC 21 and that is it comes with the aftermarket "go fast stickers!" 
dd