Warning!
This post is in our archives. Links in this post have been updated to point to similar bikes available to bid on eBay.

Fast, classy, and just a bit different, this Triumph Daytona T595 represented a huge change in thinking for the recently resurrected company. Early on in Triumph's John Bloor era, cost-cutting measures that didn't compromise reliability or quality were in full-effect, and basically all of their bikes were based around a common frame and two engines, which gave plenty of versatility to create new models by simply swapping parts around. So a 900cc triple or a 1200cc four could be slotted in, with different bodywork and suspension fitted to create a range of motorcycles that eventually included a dual-sport, a sport bike, a sport touring bike, and a naked roadster.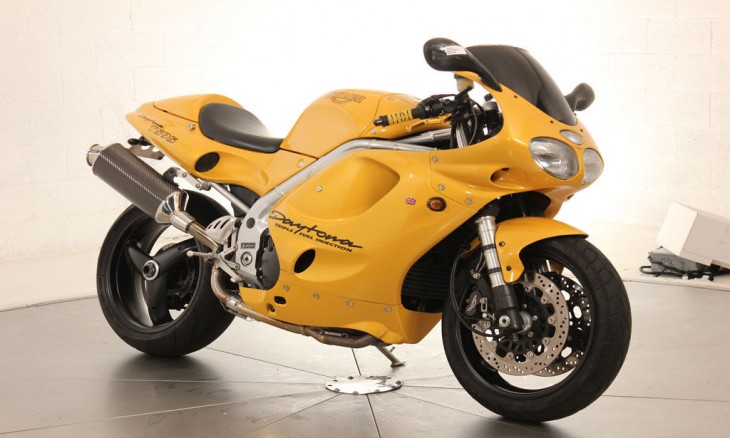 The resulting motorcycles were never be able to compete directly with more pure and focused designs: multi-purpose engines and frames were always going to be too heavy, and not optimized for specific tasks. But the designs were modern and significantly improved on the reliability and usability of the older Triumphs, helping pave the way for the Triumphs of today.
And even though the bikes were generally not focused enough to really compete against dedicated sportbikes from Japan, they had far more character, good looks, were sized for larger riders, and were uncommon enough for folks looking for something different than the usual shrieking fours. The original Daytona came in both four and triple flavors, although the added weight of the larger four cylinder moved it even further towards the sport-touring end of the spectrum.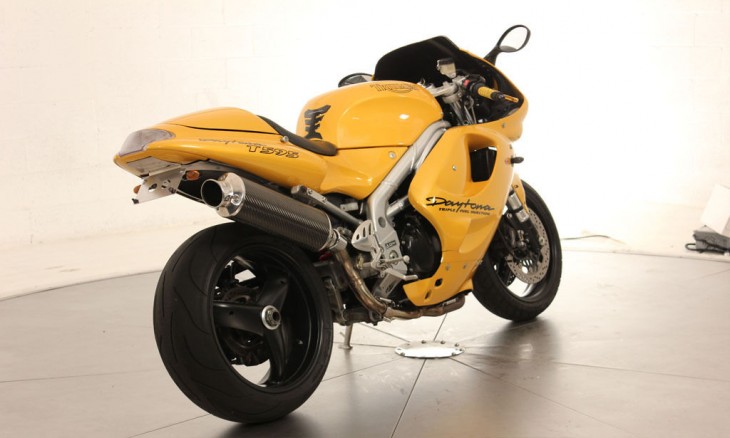 The second generation of the Daytona was a big leap forward in terms of both style and performance. While the unfortunately-designated T595 sounds like it should be packing a 600cc motor, it's got a big, meaty 955cc triple that pumps out 130hp. Like the earlier Daytona, the T595 was a bit too heavy for serious track duty, but as a road-weapon it was hard to beat, with a comfortable seating position, excellent brakes, and plenty of torque. Very much a GT, the perfect bike for folks who wanted to buy British but also wanted a completely modern machine.
Some minor low-production-volume quirks aside, the Daytona delivered.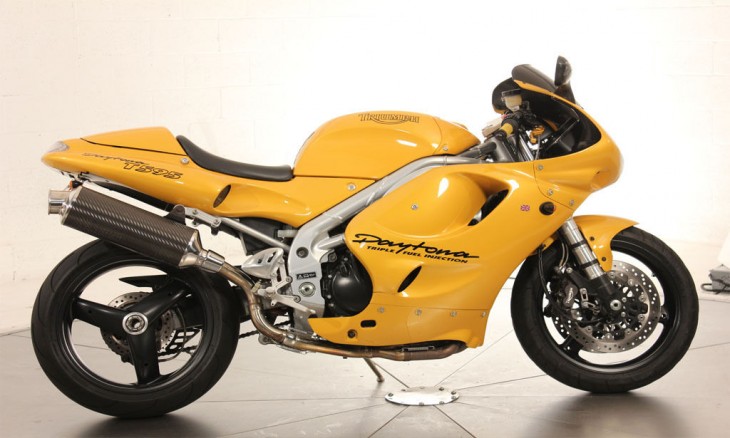 From the original eBay listing: 1997 Triumph Daytona for Sale
Check out this super cool and hard to find bike!! 1997 Triumph Daytona T595 in Strontium Yellow. A real classic sport bike. Lots of performance and great styling to boot. The 955cc in line three cylinder engine with 130 horses and 74 foot pounds of torque makes this baby boogie. With almost a five gallon fuel tank, a six speed transmission, and a low weight of only 435 pounds you can great range and travel on this bike.  This bike has super low miles for the year with only 11,280 clicks on the odometer the Daytona has only averaged about 660 miles a year. Very clean bike and freshly serviced. Priced right and ready to roll today.
These aren't especially rare, but they're pretty hard to find in such nice original condition. I loved the styling at the time, especially in silver, and I think it's aged pretty well. Too curvy by far to look modern, the proportions are very nice and a lack of outrageous graphics favored by Japanese manufacturers keeps things simple and elegant. This is one of those bikes that, like the GSX-R 1100, I'd love an excuse to buy: a long highway commute, or as a weekend getaway machine.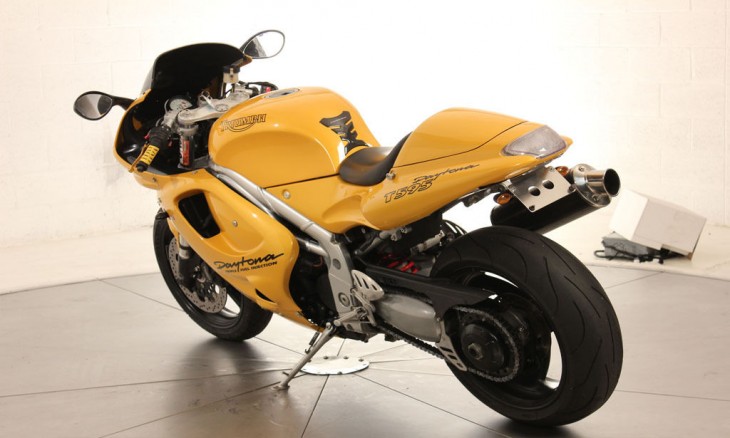 It's unfortunate that Triumph doesn't make a big-bore Daytona today: just take a Speed Triple and fit a fairing. It wouldn't be competitive in  any eligible race classes, but neither was the old one. In today's market, where "win on Sunday, sell on Monday" seems to be less and less of a concern and bikes with oddball-displacements like Kawi's 636 and Ducati's 899 offer additional choice and high performance in a very sporty package, it seems a no-brainer, especially considering the success and popularity of Triumph's 675 Daytona.
-tad