Warning!
This post is in our archives. Links in this post have been updated to point to similar bikes available to bid on eBay.
In the 1970s and 1980s, the Big Four Japanese motorcycle manufacturers appeared to know little about frame design and its effect on handling. Enter the small shop known as Bimota, formed as a hobby by Valerio Bianchi, Giuseppe Morri and Massimo Tamburini. Using existing motorcycles as a jumping off point, the Rimini firm created stout new frames and sensuous bodywork made to accept a variety of Japanese engines. These were initially offered as kits; buyers received the chassis, bodywork and suspension, to which they affixed the engine, transmission and electrics from a donor cycle. Completed Bimota motorcycles were ridden to rave reviews; razor sharp handling (usually to the compromise of comfort and convenience) was the order of the day.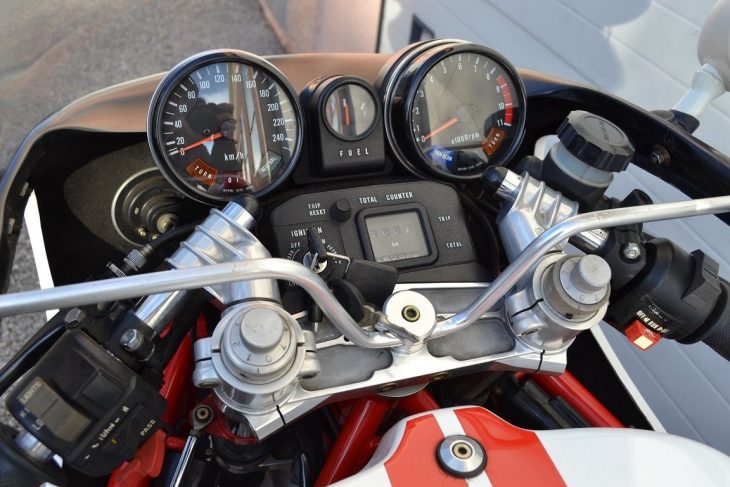 This 1984 Bimota KB3 (the 3rd model in the series of Kawasaki-powered Bimotas), shows the company making a massive turning point. Unlike kit-built bikes assembled by amatuers or hired guns, by the early 1980s Bimota was starting to assemble them in their own factory. This tiny company from northern Italy near the Adriatic Sea was making the jump to become a full-fledged manufacturer of motorcycles. And whereas the kit-built bikes were all unique and custom – showing the nature (and skill level) of their builders – this move by Bimota to assemble in house leads to a more consistent offering across the model type. This KB3, powered by a Kawasaki KZ1000 engine, was one of the early Bimotas that could be considered "factory built."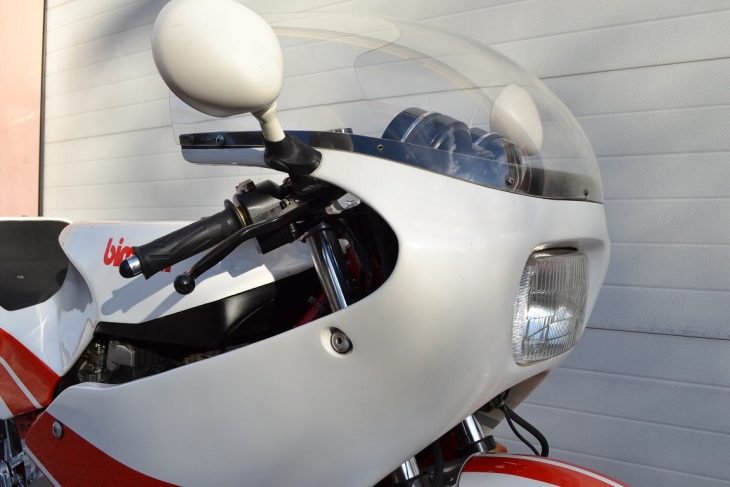 From the seller:
Bimota KB3 1000cc – ONE OF ONLY 30 UNITS FACTORY BUILT
model year 1984
VIN 0051.

Fantastic original preserved shiny conditions, one of only 30 factory built kb3 (not a kit), just 15k kms from new. Perfectly working. Unique opportunity.

Ride and collect!
The KB3 came on the heels of the watershed bike for Bimota, the GPz550-powered KB2 Laser. And whereas the KB2 frame was created using short, straight sections of chrome moly tubing welded in a pyramid matrix to handle loads, the KB3 chassis incorporates longer sections of tubing and novel aluminum stress plates – all of which have been welded, bolted and epoxy bonded together. Billet aluminum sections join upper and lower sections, and provide a base for the swingarm pivot. The sleek bodywork is created from Kevlar – a magical substance of strength and lightweight in 1984. Maximizing stiffness to ensure optimum handling while shaving off an estimated 65 lbs from a standard KZ1000, the KB3 was perhaps the ultimate literbike in existence.
There were only 112 KB3s created, ensuring the rarity of these special bikes. We have seen a few on the pages of RSBFS, and they never fail to enchant. These are bikes that do not come around often, and never in such original condition. This bike is located in Italy (naturally!), appears to be in the best original condition we have seen, and is looking for a new home. When first offered by Bimota, these were very expensive machines ($13k and up). Collector status has done well for these incredible bikes, and while the opening ask on this one was a single US dollar, I expect the final auction result to include a few more zeros. No idea where the reserve is set, so this will be one to watch. Check it out here, and then share your thoughts on your favorite old-school Bimota in our comments section. Good Luck!!
MI