For Sale: 1978 Moto Guzzi 850 Lemans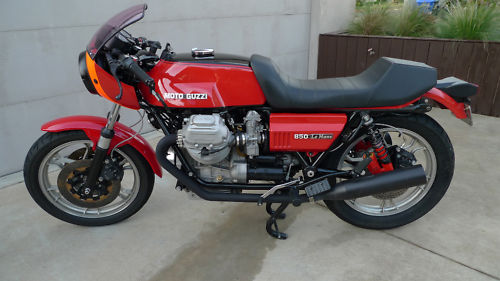 Funny how times change. When this bike was released in 1978, it was considered a heavyweight, large displacement, fast sportbike; a race replica. Fast forward some 30+ years, and what we have here is an interesting vestige of European thinking. In fact, this bike has been around long enough to where the Cafe Racer craze has come back to being cool!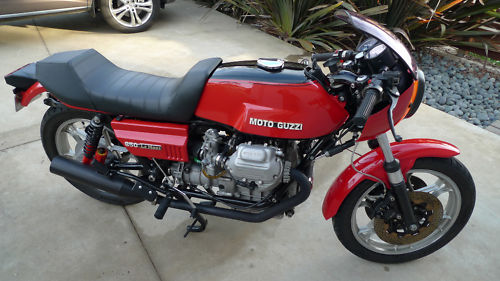 The great thing about the Cafe Racer craze making a comeback is that this bike IS very cool. With the distinctive Guzzi v-twin look, decent power from 850cc, a decidedly sporty riding position and great paint, this bike really looks the business. It is no wonder that the value of these bikes are rising at auctions everywhere.
From the seller:
For sale is my 78′ 850 Lemans. I bought it off the 2nd owner in Glendale California. He owned it since 81 and purchased it from the original owner, also in Glendale. It was purchased at Pro Italia in Glendale and serviced there for 31 years. I've owned it since November of 09 and had it serviced by my friends at Moto Guzzi Classics in Long Beach. I have to get rid of a couple of my toys to buy an Alfa Romeo. I did the following on 10.9.09 with 32,101 miles; – Changed engine oil and filter
– Changed gear box oil
– Rear drive service including oil
– New plugs and valve adjustment
– New brake pads
– New fork seals, dampers and fork oil
– New Conti Go tires

I also changed the oil on 8.3.10 at 34,005 miles and added a new Odyssey dry cell battery. This bike runs and brakes like it should – Sean at MG Classics said I found a strong runner. This bike has no mechanical issues that I am aware of. Cosmetically, it looks great as you can see by the photos but; please do not bid on this bike if you are expecting a show bike/concours bike. This bike looks amazing from 10ft, excellent from 5ft but upon very close inspection, it shows scratches and wear on the frame. It also has some but not all fasteners (now 33 years old) that show light rust or corrosion. The header pipe clamps have light rust too. The four areas of the bike that could be cleaned up a bit; 1. Front fender has light surface scratches (a bone headed move on my part, losing my grip on a wooden box from above and it grazed the fender), please see photo. 2. Some light paint missing from battery acid leak (right side of frame when the frame tubes form a "Y"near swing arm pivot). 3. Horn button missing (but horn works). 4. Scratches on exhaust on left under side pipe near center stand (from my boot buckle). The red paint still looks incredible, especially the tank, side panels, fenders. The fairing looks good but some of the day glo orange has sun fading. Original seat included and in amazing shape. Replacement Stucchi seat looks and feels even better. 3 out of 4 turn signals and manuals included. Marzzochi shocks original manual actually shows how to rebuild them – cool. To my knowledge, this bike hasn't been restored. It really looks amazing.
While the seller clearly states that this is not a new bike, the pictures speak for themselves. This is undoubtedly a clean and well-cared for example of a rare species. Similar LeMans models that have recently been posted on RSBFS all sold north of the $8k mark. This bike is currently in the $5k range (with reserve not met), but should certainly go up above previous bikes. Should this bike fail to ignite a bidding war, you might find yourself with a well-priced, well-loved LeMans. The only way to find out is to click the link and . Good Luck!
MI