Warning!
This post is in our archives. Links in this post have been updated to point to similar bikes available to bid on eBay.

 

1st up is a TZR 250 on the South Florida Craigslist located in Hollywood, FL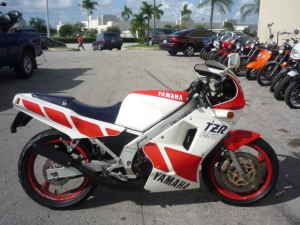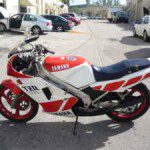 YAMAHA TZR 250
Very Good Running Condition
2 Stroke Very Fast
Sold as is with bill of sale
The seller didn't disclose the year, but if I had to guess I would say it is a late 80's due to the color scheme; my 89 400 looks very similar.  I really like this little bike and I think it would look nice next to my 400 and at $2,600 it seems to be on par with previous post on RSBFS.
=================================================================================
Next up is an Aussie 1985 RZ 500 on the Tucson, AZ Craigslist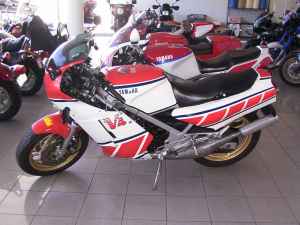 The pictures aren't that detailed to see the quality, but the seller gives a very detailed description of the bike and offers more pictures if requested.  It is being offered at $7,000.  You can compare past RSBFS RZ500's here.
The plastic is in good condition with a couple of broken corners but nothing serious for a 25 year old bike that hasn't sat in a museum. The paint is okay with a spot on the upper cowl where it's cracked. I'll send more detailed photos to interested parties.  I imported this bike a number of years ago and have ridden it very little.  It has a fair number of miles on it at 50k but, it's been well cared for and not abused. It has the original Solo Cowl and even still has the Aussie license plate on it.
This one is registered on a Canadian frame that is currently on the bike, but the owner states he has the original frame as well so it could be put back to original if you chose to do so.  I've never had the opportunity to ride a big 2 stroke, but they sure look fast sitting still.  There's nothing like the smell of burnt oil in the morning!
dd