Warning!
This post is in our archives. Links in this post have been updated to point to similar bikes available to bid on eBay.

What Smokes And Has Six Cylinders?  Two 1986 Honda NS400R's Of Course

Update 1.22.2012: These bikes are now available on eBay. Links updated. -dc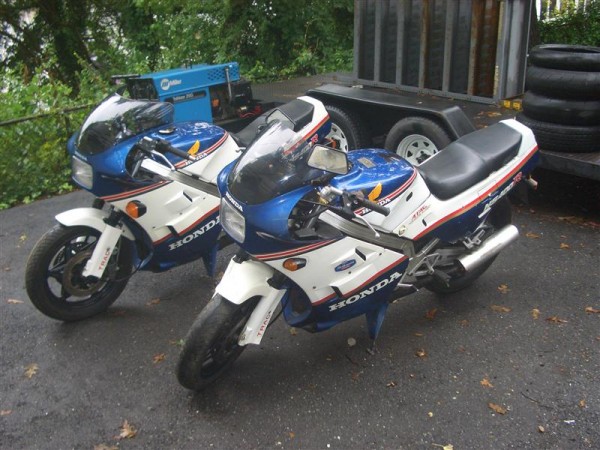 Here is a little something for those of you that like package deals. It isn't very often you find an NSR400 for sale so keep reading because the seller is offering two plus some spares. Let your mind run wild: one for the street, one for the track, restore one, part one. It's all up to you.
From the seller:
I picked up these bikes for my brother but he's too deep in projects and too wed to big bore four strokes so I would like to sell them. I'm too big and not a rider and as neat as these are, I'm not putting one or both in my living room.

The original plan was to detail the nicer of the two, a '7' (out of 10, and maybe an '8' given its vintage) and upgrade the '5' for use as a track bike. Both bikes start right up on the first kick or two.

The extra wheels allow for fitting a VFR 1000 17×3.5 on the rear in place of the stock 17×2.5. The original 17×2.5 rear goes to the front, replacing the narrow 16-inch unit. This allows fitting newer, bigger tires. There are enough parts to do this to both bikes.

The other upgrades are an NC30 rear shock, a spare set of carbs that can be bored out, and a set of CBR250RR forks, calipers and brackets, and CBR600 discs and a front spindle to suit. Lastly, there is an NSR 250 front fender to complete the package.

There is also a brand new set of tires for the stock wheels, a pit stand, and a cover – I think that's everything.

The bikes are in Maryland. Both bikes have Oregon titles. All the parts except a pair of wheels and the extra set of carbs are also in Maryland (those three items aren't pictured).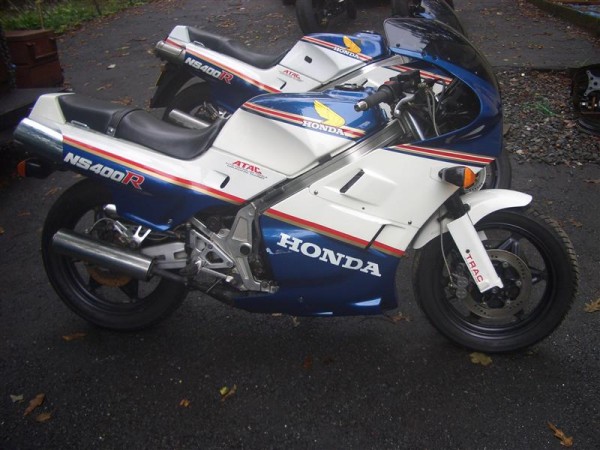 What were you doing in 1986?  Honda was rolling these two off the production line.  Both bikes have some mileage/km's on them (30,093 and 17,776 respectively) and your usual wear and tear.  Shoot the seller an email for the specific needs on the bikes.
Here are the spares included:
Carbs (above)
17inch Front and Rear Wheels (above)
Front 17inch Wheel
Rear Spokes (for 17inch Wheel)
Rear Hub (for 17inch Wheel)
Rear Bolts  (for 17inch Wheel)
Solo Cowl
Pair new CBR600FM Discs
CBR250RR Forks
Calipers & Brackets
Front Spindle
Front Mudguard
NC30 Rear Shock
The Honda sometimes get left out of big bore two stroke discussions but I think you can argue it is the rarest.  I've yet to see one in person.
If you are saying to yourself, "here is my winter restoration project", here is what you are aiming for.  If you're like me it would be the Rothmans Edition.  I think you are only a few stickers away.  You have to love the Japanese with their English slogans:  "Hello! Good Rider".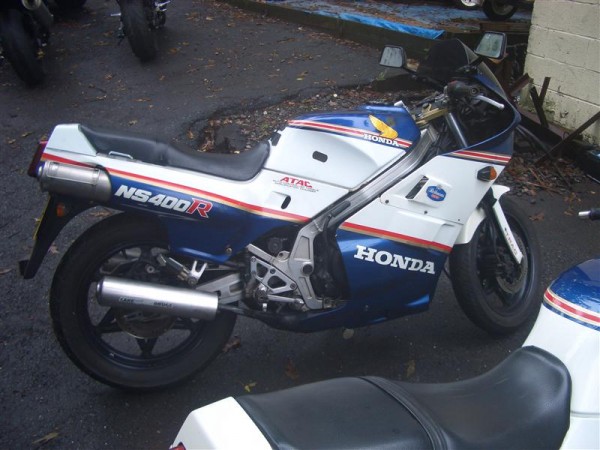 Freshen them up and you will be the envy of many.  Be sure to check below for all the close up pictures the seller supplied and the seller would be more than happy to answer your questions about the bikes.
IK