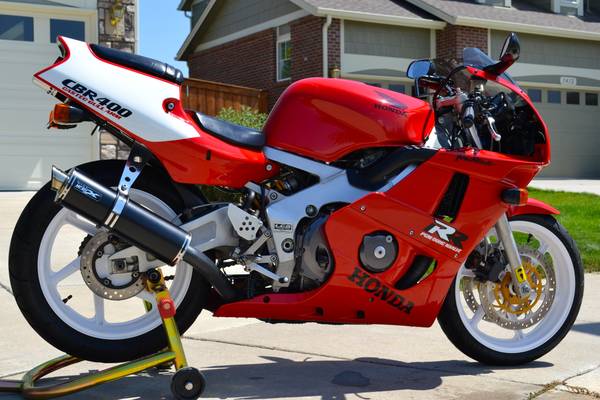 As you can see, I've  passed our poltically correct human resources class here at the RSBFS towers.  The seller points out that this bike is great for shorter riders but I'm telling you, the 400's are great fun for all.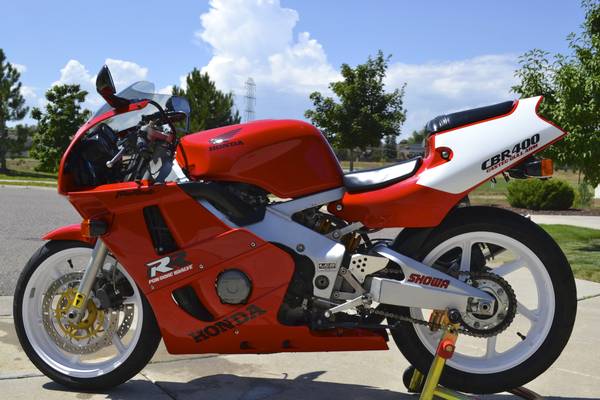 We've seen a couple of CBR400RR's for sale in the past few months but this one looks like the gem so far.
From the seller:
Perfect for shorties and small riders!!!

We purchased this bike here in Colorado 5 years ago and it has been one of the most consistent, easy, fun bikes I've ever ridden. If you're short — this bike is for you!!! I'm 4'10" and could whip this thing around anywhere with utmost confidence and it's smooth engine makes it a dream to maneuver in small spaces. The suspension is perfectly tuned for someone smaller in stature so it handles amazing and I never had trouble keeping up with the liter bikes in the mountains.

Even the paint is custom, the bodywork is all OEM and aside from the suspension and some braking goodies, most of the bike is still stock. It is in immaculate mechanical condition and runs very strong. I'm really sorry to see this bike go (honestly it has been the "happiest" bike I've ever ridden), but with our second child we just realized we don't have enough time for the bikes anymore.

I'm also selling all of my gear so if you are short and interested in gear (zip together Tiger Angel leathers, textile jackets, vented jackets, gloves, etc.) I have plenty and am willing to make a deal for the buyer of the bike.

Features include:
Fully titled in the state of Colorado
Always garaged
10,000 miles (9,000 km + 4400 miles)
All OEM body panels with custom paint and custom decals

Modifications:
Race Tech Front Suspension rebuild/revalve (Professionally tuned for light weight rider)
Ohlins Rear Shock
Hel Steel Braided Lines
Pipe Werx Slip on
EBC Rotors
EBC HH pads
Recently rebuilt front calipers
Powder coated wheels, subframe and miscellaneous brackets
Header wrap
Safety Wire
Tyga light smoke windscreen

Additional included items:

Rear Pit Bull stand
Spare double bubble tinted screen
OEM clear screen
Stock silencer
Riser clip-ons (still need some assembly to use them)
Passenger pegs
Immaculate bike cover
Haynes Owners Manual
Miscellaneous OEM and aftermarket parts

Asking price: $5,300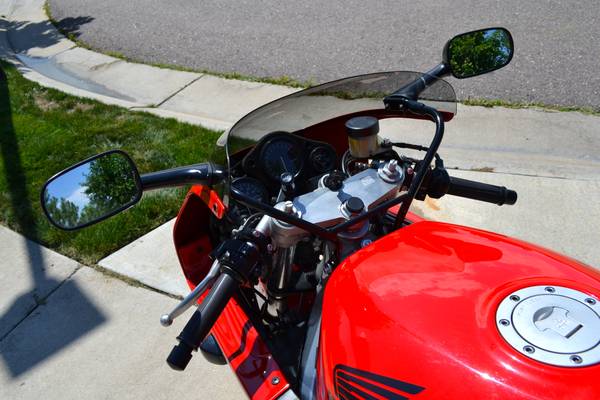 A obviously well cared for bike that just needs a new owner (short or tall)  to twist that throotle.
The asking price is $5,300 and the bike is listed on Denver Craigslist.
Ian