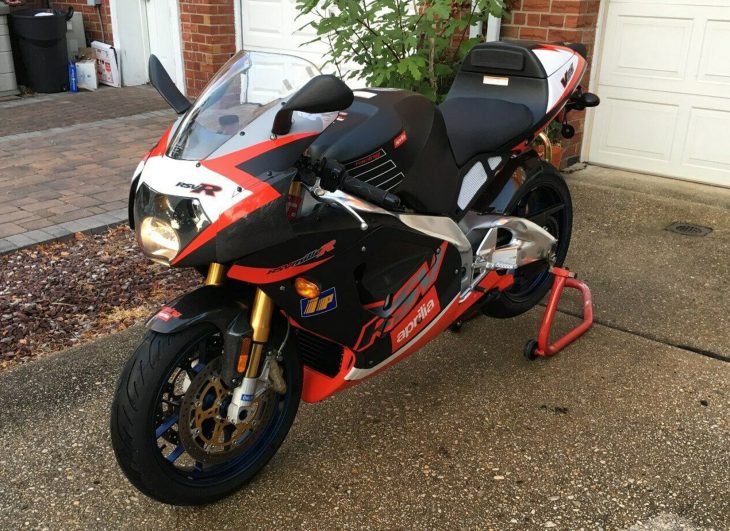 Everything was coming up twins in the early 2000s. Ducati's continued success on track and in showrooms inspired other manufacturers to throw their hats into the ring: Honda and Suzuki decided that, "if you can't beat 'em, join 'em" and built v-twin superbikes to compete against the 998. Obviously that's oversimplifying things a bit, since Honda was apparently fed up with bias towards the Bolognese v-twins in WSBK and wanted to make a point by beating Ducati at their own game, which isn't exactly the same thing. For Aprilia though, it just made sense to use a v-twin for their first superbike, and they managed to knock it out of the park with the RSV Mille R.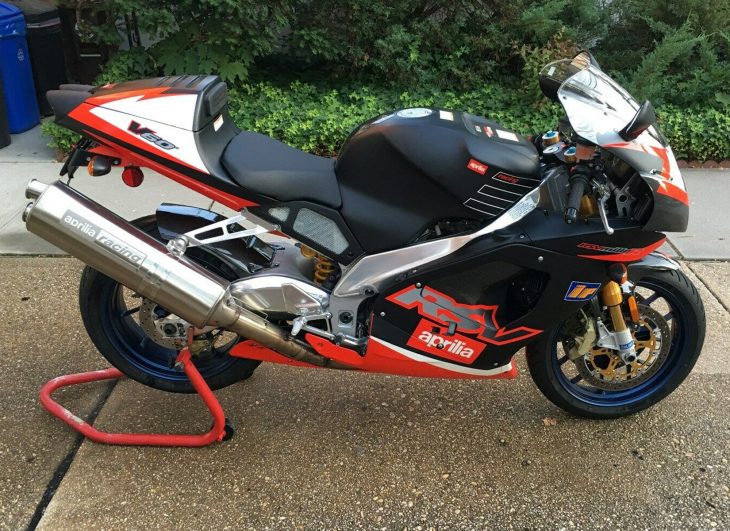 The bike was well-reviewed, had some success in World Superbike, and made for a real Italian alternative to Ducati, with wildly different looks but the same kind of v-twin grunt matched with better reliability. With their brand-new bike, Aprilia opted to avoid the kinds of mechanical nightmares experienced by Bimota, outsourcing powertrain development to Rotax in Austria. The resulting twin's unusual 60° configuration meant a more compact design that allowed a longer swingarm for increased traction in a shorter wheelbase than is usual for a v-twin. Ergonomics and handling were closer to the Japanese inline fours than Ducati's famously uncomfortable machines, and the R model seen here features plenty of go-fast goodies, including lightweight carbon bits, Öhlins suspension, an Öhlins steering damper, and forged aluminum wheels. The vacuum actuated "Pneumatic Power Clutch" mimicked the function of a slipper clutch to keep the rear wheel from skipping across the pavement during downshifts.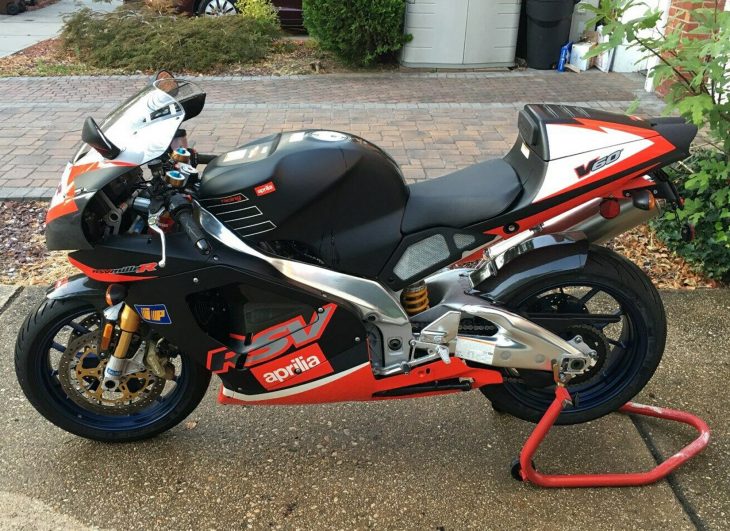 The frame and swingarm of the RSV Mille are utterly gorgeous, although they do get overshadowed by the rest of the package. The flat-black paint looks brutally functional and follows Aprilia's habit of making unusual stylistic choices, as with the silver foil lettering on the RS250 or the purple and red Reggiani graphics. Small wings on the fairing predate the aero trend seen in WSBK and MotoGP, although the mesh vents on the flanks never really caught on… The "Mickey Mouse" headlamp may be a questionable choice, but should provide good illumination for evening rides and a Mille won't ever be mistaken for anything else.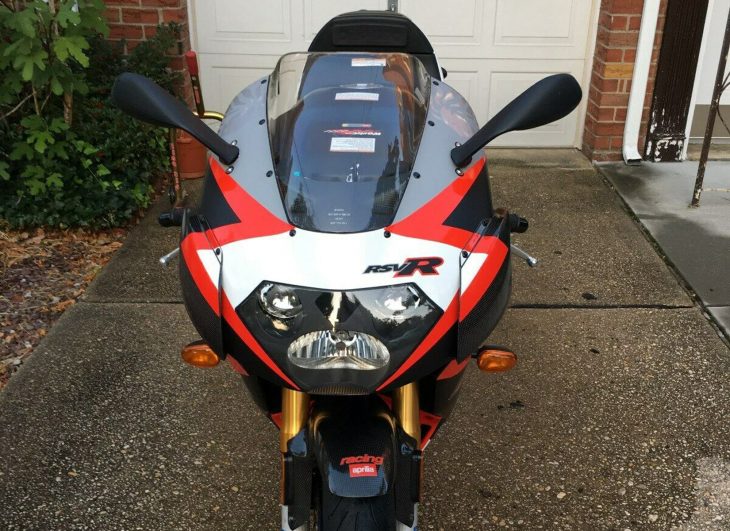 I hate to harp on the looks when I post these, because I really do like them. They're a bit like the old Alfa Romeo Milano: not pretty by any means, but very striking. They're especially appealing in flat, stealth-fighter black with red and white graphics seen here. The huge silencer looks very 2001, but somehow less dorky than the ones you find on Japanese bikes of the period. Maybe it's the twin outlets? I'm sure it works fine, unless you want more noise. Because who doesn't want more noise from their Italian sportbike?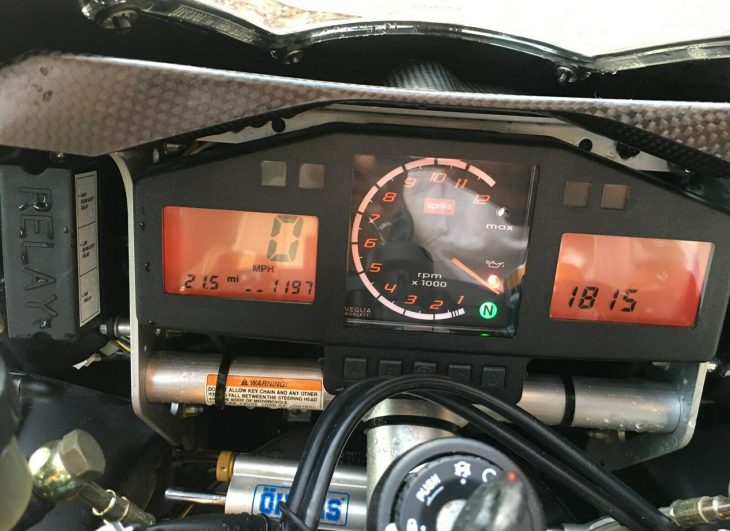 From the original eBay listing: 2001 Aprilia RSV Mille R for Sale
For sale a 2001 Aprilia RSV Mille R with very low mileage and in almost new condition. I purchased the bike from the original and it was in a garage in the past 8 years. I changed all the fluids and the fuel pump. The bike runs and drives like a new bike. The bike has two small dent/scratches on the fuel tank (see attached picture).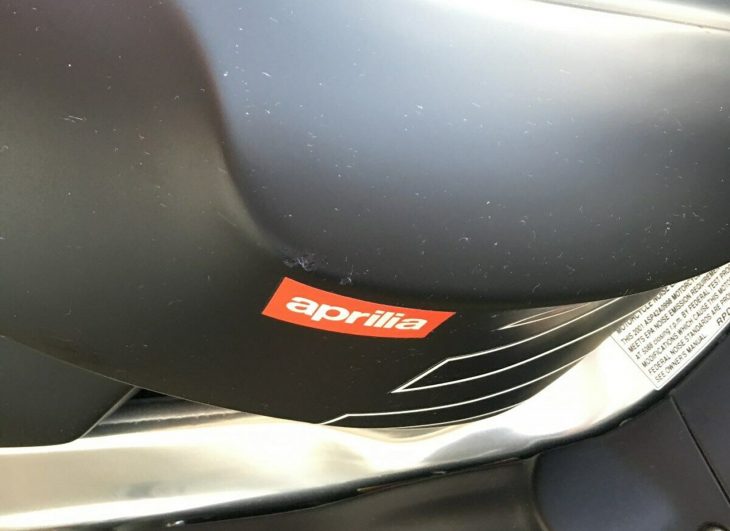 With just 1,197 miles, this thing is tragically unused: the looks may be an acquired taste, but there's no denying these RSVs are great to ride and very reliable, especially considering their Latin origins. If you're looking for Italian v-twin music on a limited budget and don't have time for mechanical drama, grab this one and ride it!
-tad