Warning!
This post is in our archives. Links in this post have been updated to point to similar bikes available to bid on eBay.

Two Stroke Goodness:  1992 Yamaha TZR2503XV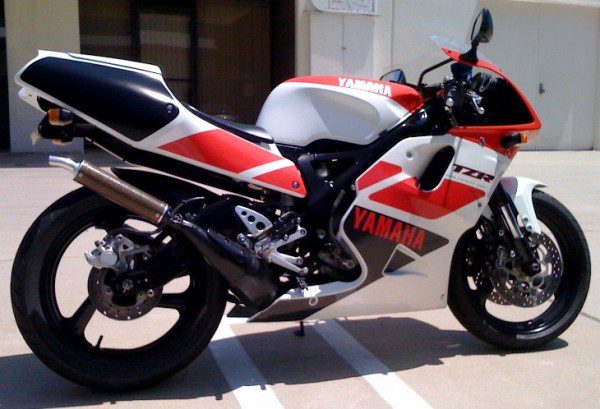 I think we've had a pretty steady stream of strokers this spring and summer but later model TZR's are far and few between.  In my opinion late model TZR's are the rarest 250cc two strokes here in the good ole USA.  This is sure a good looking example of one.  From the sound of it this bike has had a ground up restoration.  During that time they sprinkled in some SP suspension parts for a nice upgrade.  Nonadjustable suspension was common on all home market standard 250's.   Since they were home market bikes they were generally softly sprung thus causing problems for our more, emmmm,  robust frames.  It looks like they've taken the time to match paint and stick with Yamaha parts.  Only the end cans stick out as aftermarket.
Here she is:
And from the CL ad:
This machine has been completely restored from the frame up by a professional motorcycle technician.
The frame, swingarm and wheels were all stripped down and powder coated in a semi gloss black.
Chassis assembled with a TZR250 SP swingarm, SP suspension linkage and SP adjustable shock absorber.
TZR250 SP triple clamps and adjustable forks replace the 'pre load only' standard TZR250R forks.
New swingarm bearings and steering head bearings were installed, any worn hardware replaced with OE Yamaha parts.
All hand and foot controls are OE Yamaha, in very good condition.
I know what you are thinking:  what about a title?  There is no mention of one but the bike has plates on it, so maybe.  How about price?  They are asking $9,950.  Hmmmmmmm.  That seems really high in today's market.  Generally only bikes that have incredibly low miles, are bone stock, have a title  and maybe an SP model are fetching those prices.  As I said though, late model TZR's are rare.   Almost $10,000 rare, I'm not sure.  If it was a true SP then I think the price is in the ballpark.   I know they've spent a lot of time and effort rebuilding the bike but price wise that is a bit of a knock on it in my opinion.  Any of us who have rebuilt a bike from the ground up know it is never quite exactly the same.  Nothing wrong with it but it's just not that factory fresh anymore. 
One other factor to consider with the price is derestriction of the bike.  Home market bikes were restricted to 45hp in Japan.  Each brand has it's own  little tricks to extract the extra hp.  I've heard the TZR's can be a bit expensive to derestrict.  They don't mention any of this with this bike other than it has an M Max derestirction box.  I have to be honest,  I've never heard a good thing about these things on any brand of bike.  I've seen a couple of discussions were guys have said SP barrels, a CDI (such as Sugo) and a set of pipes are needed to gain the extra ponies.  I'm sure some rejetting would be required somewhere in there as well.  That could easily run you another $2000.  I've gone through this process with my RGV.  Here is some advice.  If you want to hop on and ride on the street and not worry about things like jetting, premix etc.  keep it stock and enjoy the 45hp.  If you like to tinker and don't mind being frustrated every now and then,  then open her up.  The extra hp is fun but comes with a price.  Expensive or not, there is no denying it is one pretty bike.
Check out the bike on Craigslist here.
IK