Turkey And Two Strokes:  Tasty RG500 In FL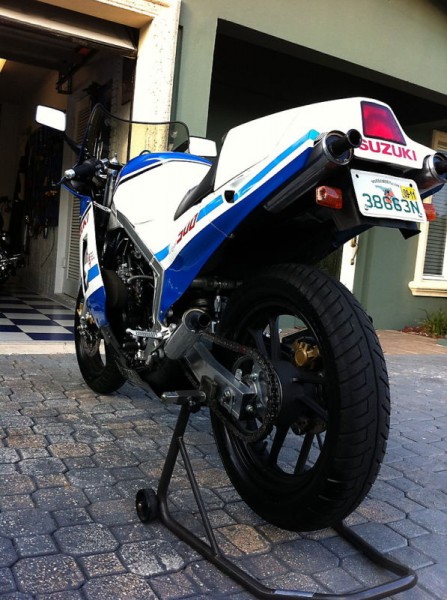 Man was not meant to survive on turkey and football alone!  This actually couldn't be set up any better if you are in the market for an RG500.  Let the Mrs. go shopping on Black Friday, let her tell you about all the deals she got and then inform her of your own Black Friday deal. 
What we have here is another classic RG500 with very few mods.  All I can spot is the aftermarket chambers and the Lance Gamma filter/jet kit.  It even has the original RG wheels.  It seems like the majority of RG500's I see have updated Katana or GSX-R wheels on them.  It is also sporting a solo seat.  It keeps getting better; it only has 5500 miles on it and is titled.  It's all there for the taking.
The details:
THE SUZUKI RG 500 GAMMA  SPEEDO SHOWS 5500 MILES   TITLE SAYS  EXEMPT  SO I HAVE NO WAY OF KNOWING  FOR SURE   VERY CLEAN  RUNS LIKE NEW  SUPER RARE  THIS  IS PROBABLY THE RAREST OF THE JAP 2 STROKES IT IS VERY CLEAN RUNS LIKE NEW HAS TOMMY CRAWFORD EXPANSION CHAMBERS WITH LANCE JET KIT BILLET RIDE HEIGHT ADJUSTER UPDATED GEAR BOX  EVERYTHING WORKS MUST SEE AND HEAR THIS AWSOME BLAST FROM THE PAST
A sliver of a video of said bike. Take note on how a motorcycle should be started.

Starting bid is $14,000.  It's on the high end of the scale but not not out of line for a nice, titled RG500.  Check out the auction though, the seller is open to offers.  Don't waste time, you can have the Mrs. out of the house early on Friday with all the stores opening at 4 am.  That leaves you plenty of time to contact the seller and snag this nice RG.  .

IK