Any casual reader of RSBFS will know that must of us here are always very excited to see a special framed bike.  There is just something about the pure focus of them that stirs the emotions.  Many will be aware of Rickman, Egli, Bimota and maybe even Seeley.  Those of you over in the UK will undoubtable know of Spondon and Harris.  Here in the USA these British framed bikes are much less common, and that makes this Yamaha SRX powered Harris even more appealing.
This bike offers and amazing package for someone that is looking for something out of the ordinary to enjoy on track.  The Yamaha engine will offer low service costs and plenty of power.  There is still plenty of support for this engine, and Wiseco makes affordable pistons.  The less is more ethos means there are less components to wear, or need replacing over time, thus leaving more funds left over for track fees and slicks.  Seller states that much of the suspension is TZ250 so spares are available.  A factory service manual should help the new owner learn the ins and outs of the engine, another plus of having a race bike with a special frame, but standard based engine.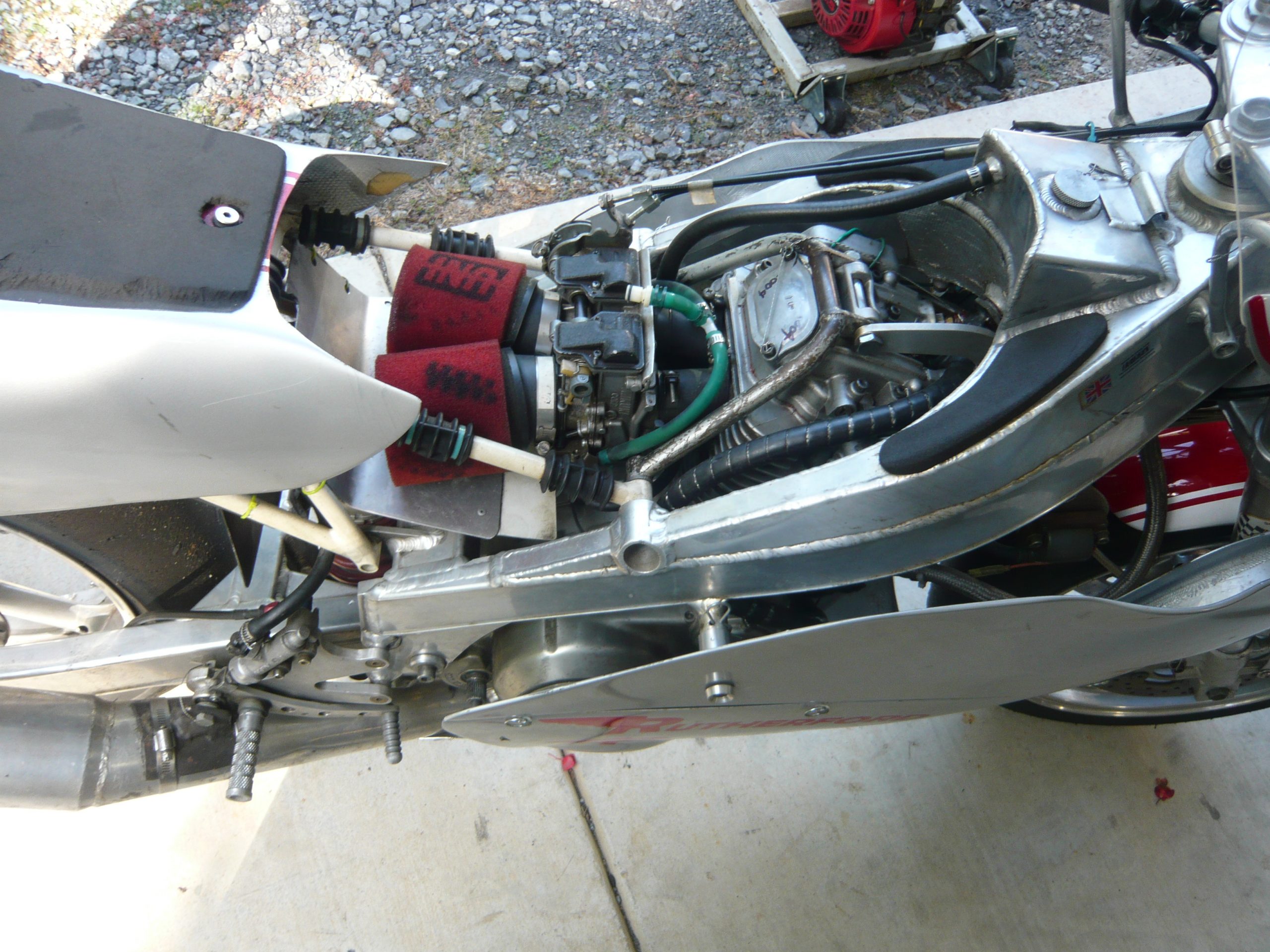 In 1993 and 1994, Harris Yamaha's (SRX engine) won the British Singles Championship (Steve Ruth 1993; Dave Rawlins 1994). 1994, Jim Moodie won the inaugural Single Cylinder TT on a Harris SRX.  This Harris SRX is frame No. HPF1206.  I've owned and raced it, occaisionally, in AHRMA (SOS2), AMA (Mid-Ohio) and WERA (Clubman) since 2007. The frame, wheels, suspension (Ohlins shock) and brakes are TZ250 spec. The engine is built with +1 mm Arias 10.5:1 pistons, Megacycle cam, valves and springs, and oil cooler. Twin Mikuni flat slide carbs. 54 RWHP on MSP Cycle dyno.  It weighs nothing, has God's own brakes, handles like a GP bike, is sized like a GP bike (it does not fit me at 6′-2″ and 200 lbs, and arthritis and multiple crashes no longer allow me to fold myself into the bike). It is a FUN bike to race.  The bike comes with gearing and some spares (footpegs, levers, clip-ons, brake pads, fork seals, belly pan for use without fairing) and the side stand shown.
$7,995 in Talking Rock, GA.
As with many of these types of bikes, pricing is difficult at best.  The $8k asking price feels inline with other options in the class.  With the rise in prices of 90s street bikes one would be unlikely to be able to track a stock framed bike for much less.  The only optional downside is that these GP style bikes normally demand a jockey sized rider.  There are ways people have adjusted foot and hand controls to accommodate a full sized rider though.